If you've watched the trailers for "A Bad Moms Christmas," you know that Kristen Bell and her co-stars, Mila Kunis and Kathryn Hahn, let loose for the holiday season. Really loose. They drink, they cuss, and they do all sorts of other things that are more naughty than nice.
Bell believes it's actually something every mother can relate to.
"This movie focuses a lot on the stresses of the holidays as a mom, but also how you become a rebellious teenager when your mother comes to town," the 37-year-old actress told TODAY.
Never miss a parenting story with TODAY's newsletters! Sign up here
While the original "Bad Moms" was about autonomous women, Bell said, the sequel (out Nov. 3) "reminds people that moms are autonomous women, but also children."
Cheryl Hines joins the crew as Bell's on-screen mother, a casting move that Bell found comical since they're longtime friends and Hines is less than 15 years older than she is.
"We had a lot of fun annoying each other — in character," Bell said.
In real life, a typical holiday season for Bell — who has two daughters, Lincoln, 4, and Delta, 2, with husband Dax Shepard — tends to be more low-key.
"We decorate like crazy, which is always really fun, but other than that it's just relaxing. I have no problem calling it if everyone's stressed and saying, 'Let's order out,'" she explained.
Bell can recall one holiday moment that was stressful for her family: a visit with Santa Claus.
"We've only met Santa once and it was the obligatory picture where both girls were crying. One girl was hysterically crying and the other one was sort of giving him the stinkeye," she said.
The kids weren't sold on Santa, which is just as well, since Bell isn't going to push them to believe in a jolly man flying in the sky on Christmas Eve to deliver presents worldwide.
"We have to tell our kid that one night a year breaking and entering is OK and that a dude in a jumpsuit is going to come down the chimney and is going to rifle through our stuff, but it's OK because he's going to leave us gifts?" Bell said. "That's a crazy story to tell your child."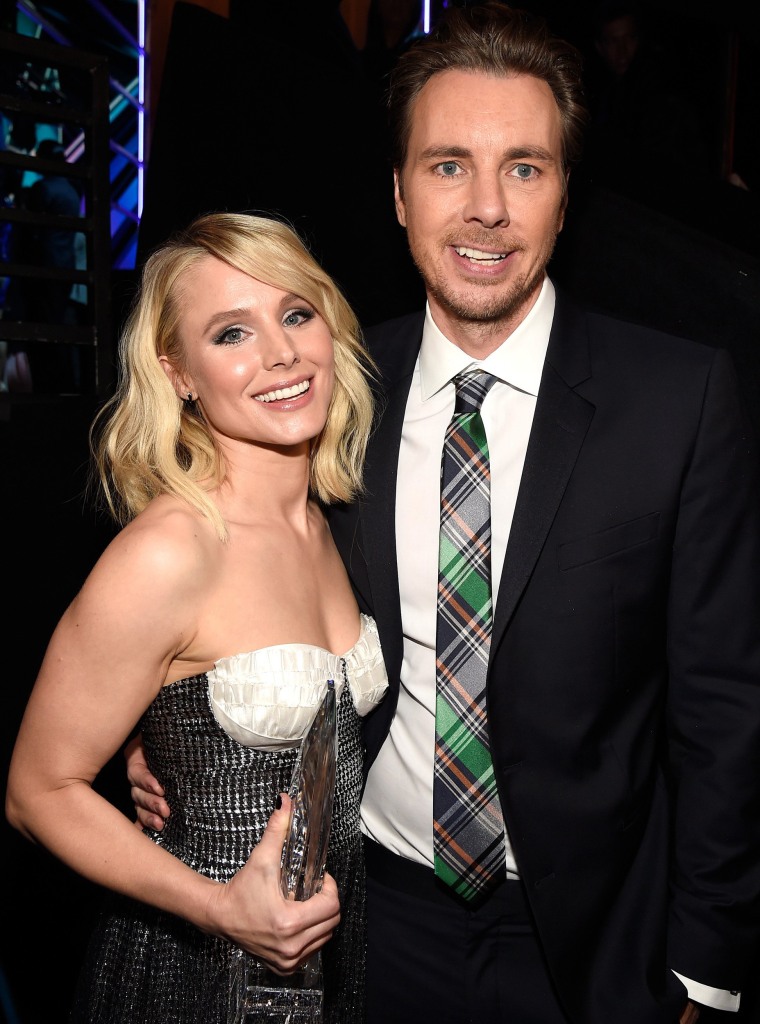 It's one example of how both she and Shepard emphasize being honest with their children and trying not to, in Bell's words, "succumb to telling fibs." Having said that, the actress isn't one to lecture parents on how to raise their own kids.
"I hesitate whenever I give advice on parenting because every kid is different and I'm a firm believer in accepting all advice and figuring out what works for my kids," she said.
Bell spoke with TODAY to discuss a cause that's close to her heart: helping mothers in need. She's involved in a new CrowdRise fundraiser tied to her film that will raise money for Alliance of Moms, an organization that supports teen parents in foster care with the goal of breaking the cycle of babies born to teens in foster care. Each donation will count as an entry to win a trip to Chicago to meet the "Bad Moms" stars and go on a holiday shopping spree.
Bell took part in a similar fundraiser for Alliance of Moms around the time of the release of the first "Bad Moms" movie last year. "It feels very good to be that support system to someone else and (the first) 'Bad Moms' seemed like such a perfect alignment with moms coming together," she said.
"A Bad Moms Christmas" isn't exactly a kid-friendly movie, but Bell has been hard at work on another film that will be: "Frozen 2." She's reprising her role of Anna for the Disney film, which will hit theaters in 2019.
"It's fabulous. I just recorded a lot of it a couple of weeks ago. I'm so impressed on how long they waited to turn out the second one because they really waited to tell a story that needs to be told," she said.
While there are countless children who are obsessed with all things "Frozen," Bell's daughters aren't hooked. (Hard to believe, right?)
"They have watched 'Frozen.' They're sort of unimpressed, or they don't like it more than any other movie," she admitted.
So, it's not on repeat in her household, then? "No, no, no, no," Bell answered.
Clearly, Lincoln and Delta value honesty just as much as their parents do.
Follow Shane Lou on Twitter.