One Tennessee school custodian got a most amazing and unexpected gift of song for his 60th birthday.
A pair of kindergarten classes at Hickerson Elementary School in Tullahoma, Tennessee, sang — and signed — "Happy Birthday" to James Anthony, affectionately known as Mr. James, who is in his 15th year as custodian of the school.
The students followed the lead of their teachers as they sang and signed the classic tune once Anthony walked into the classroom last week. They continued on as a shocked Anthony shrieked in delight and put his hands on his head, clearly moved by the children's effort and gesture.
Allyssa Hartsfield and Amy Hershman taught their kindergarten classes how to sign, with some help from teacher's aide Shelly Lucas and school nurse Angela Ridner.
The students learned how to sign the song the same day they performed it for a clearly elated Anthony.
"Everybody loves him," school secretary Vonni Scott said. "They wanted to surprise him with it."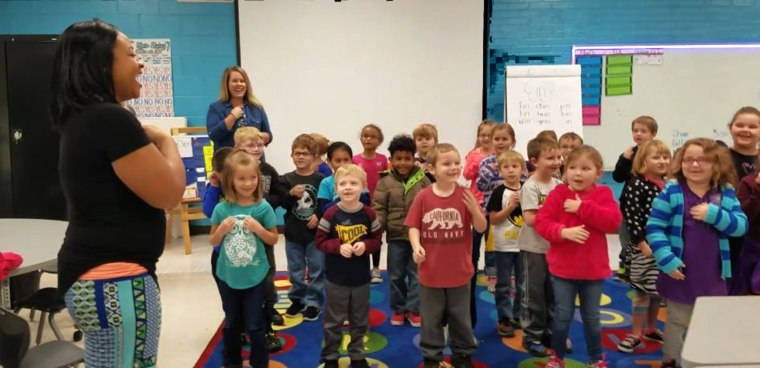 Hickerson is a little school of 218 students spanning pre-K through 5th grade, but what it lacks in size it more than makes up for in spirit.
"He was in tears and very humbled by it," Scott said, adding that Anthony, who has been deaf since birth, is a favorite among students. When presented with the idea of signing the song, Scott said they were "more than willing. They were wanting to do something for him."
It was a perfect way for students to express their appreciation for Anthony, who has a real connection with them. He can speak and students can understand him, although not always clearly. Despite any barriers, Anthony's bond with the children is strong.
"They high-five him through the hallway all the time," Scott said. "He signs with a lot of the special needs kids."