One of Kim Kardashian's latest Instagram selfies garnered more than 460,000 "likes," but one of them was definitely not from the Food and Drug Administration.
The FDA issued a formal warning letter after Kardashian posted about the benefits of the morning sickness drug Diclegis to her 42 million Instagram followers on July 20, writing that the post "fails to communicate any risk information." Kardashian, who is expecting her second child with Kanye West in December, wrote that Diclegis helped her combat morning sickness and has "been studied and there was no increased risk to the baby."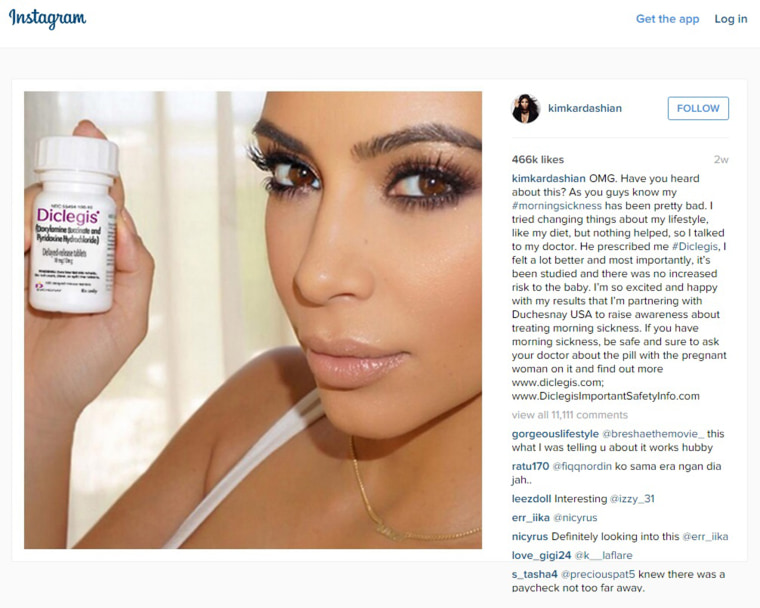 The post has since been taken down, and the FDA has asked for Kardashian to issue corrections to her claims "using the same media,'' which means she could have to post a follow-up on Instagram.
On Aug. 7, the FDA sent a letter to the drug's manufacturer, Duchesnay USA, noting that "the social media post is false or misleading in that it presents efficacy claims for Diclegis, but fails to communicate any risk information associated with its use and it omits material facts. These violations are concerning from a public health perspective because they suggest that Diclegis is safer than has been demonstrated."
The Diclegis website notes that one side effect is severe drowsiness and that it hasn't been studied in women with a rare and extreme form of morning sickness. Kardashian is a paid endorser of the product, Duchesnay told NBC News. The company has announced it will take immediate action in wake of the letter.
"Duchesnay USA takes its regulatory responsibilities very seriously, and acknowledges that its communications, including in social media as in this particular instance, need to be in accordance with applicable rules and regulations," the company said in a statement.
However, following the "any publicity is good publicity" adage, Duchesnay has seen a 500 percent spike in digital awareness of Diclegis since the FDA issued the letter.