Half of Americans are still failing to get vaccinated against influenza, even though it kills thousands every year, health experts said Thursday. But they've got plenty of scare stories to help persuade people — think perfectly healthy 8-year-old boys dying in the intensive care unit, or pregnant women gasping for breath as they deliver premature babies.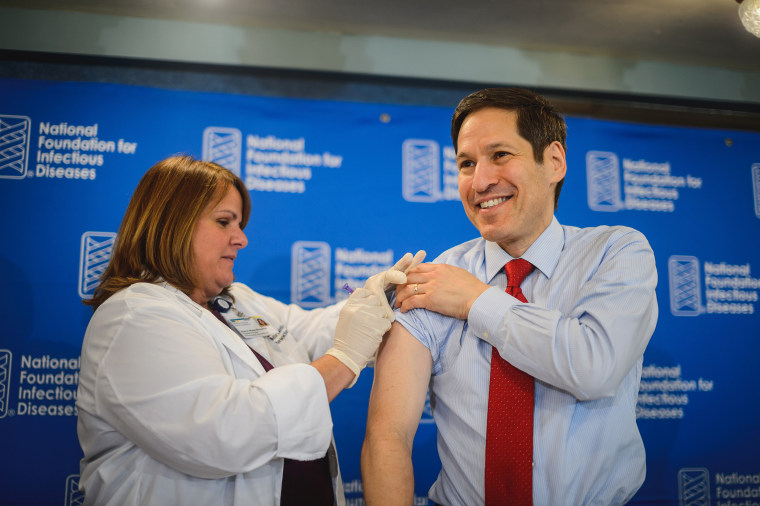 Flu killed more than 100 kids last season, and 90 percent of them had not been vaccinated, the Centers for Disease Control and Prevention says.
But there's progress: now, 90 percent of doctors and nurses have been vaccinated against the virus, which protects them and their patients from flu. Policies requiring vaccination as a condition of employment have helped get the numbers this high.
Only a third of young and middle-aged adults have been vaccinated, and that was a big mistake last year, says Dr. William Schaffner of Vanderbilt University. "Flu hit young and middle-aged adults hard last year and just over 100 children died," he told a briefing sponsored by the National Foundation for Infectious Diseases. "There is simply no reason to take the risk."
Everyone over the age of 6 months should get vaccinated against flu every year, the CDC says. This year, 150 million doses will be available.
"Influenza vaccines are safe, plentiful and we have more vaccine options than ever before—at least one is right for everyone," Schaffner said. "People should not wait to get vaccinated if their first choice is not available." Among the vaccine options are the traditional flu shot, a nasal spray vaccine, an intradermal vaccine given with a much smaller needle, a high-dose vaccine for people age 65 and older and an egg-free vaccine."
But the latest numbers from the CDC show that just 46.2 percent of the entire U.S. population age 6 months and older was vaccinated during the 2013-14 season. That's just a 1 percentage point increase over last year, despite heavy lobbying by the CDC.
And new federal laws mean people should not have to pay a penny for their vaccine. Insurance companies have to pay for the full cost with no co-pay.
So what are the obstacles? Many people still believe flu is a trivial disease, even though it kills between 4,000 and 36,000 people a year. People are afraid of needles and they incorrectly believe the vaccine can give them flu. It can't.

"You say, 'well, it is just the flu virus'," says Dr. Paul Offit, a pediatric infectious disease specialist at the Children's Hospital of Philadelphia. "But influenza makes you sick." 
Really sick.

"You can often remember the exact hour when your illness started," Offit added. Unlike a cold or other virus, influenza hits like a brick wall with intense high fever, headache and weakness. "We confuse it with other viruses like rhinoviruses which are much more trivial," Offit said.
He says people are bombarding him with questions about enterovirus D68 (EV-D68), which hasn't killed anyone, or Ebola, which is not spreading in the United States. But flu is.
"It's out there lurking, ready to strike," Schaffner said. He described the case of a 90-year-old woman who was perfectly healthy and living independently, still driving, who died of flu just two weeks ago. 
CDC is urging pediatricians, especially, to make it easy and routine to get vaccinated
Offit says he sees perfectly healthy children die of flu almost every year. Last year, an 8-year-old boy died in his hospital. He hadn't been vaccinated.
"Here's what it looks like," Offit told the briefing. "He came into the emergency department laughing and joking." But over the next eight days the boy became increasingly ill, going from an oxygen mask, to a machine called a CPAP, to a ventilator and then a heart-lung machine. "And then he died," Offit said.
"The parents' reaction? They can't believe it. They can't believe it happened to them," he added. " It is impossible not to be passionate about this."
More than 105 children died of influenza last year. "First off, we know the actual numbers are higher," CDC director Dr. Tom Frieden said. "We know that about half those kids did not have a pre-existing condition. We know the overwhelming majority, around 90 percent, didn't get a flu shot."
Pregnant women, too, should all get vaccinated, yet only half did last season.
"One thing that's clear is that no otherwise healthy pregnant woman should have to go to an ICU gasping for air and trying desperately to prevent her child from being born prematurely,' said Dr. Laura Riley, an obstetrician at Massachusetts General Hospital and Harvard Medical School.
Pregnancy suppresses the immune system, making a woman more vulnerable to infections such as flu.
"When mothers become this acutely ill they are at risk for delivering their babies way too early," Riley said. "An overwhelming number of studies have shown the flu shot is safe in pregnancy in all three trimesters. The vaccine benefits the mother because it prevents severe illness for her and it protects the baby from infection during the first 6 months of life before the baby can be vaccinated."
The CDC and NFID also released new recommendations for a second type of vaccine, the pneumococcal vaccine, for people over 65. It says people should get two shots, 6 months apart, of two different vaccines.
People over 65 should first receive one dose of pneumococcal conjugate vaccine and then one dose of pneumococcal polysaccharide vaccine, CDC said. Either can be given at the same time as the flu vaccine, and each is only needed once in a lifetime for most adults.