/ Source: TODAY Contributor
Back-to-school season also means a whole new crop of parents are sending their children to high school for the first time and wondering how to navigate that new, daunting parenting landscape. Luckily, moms who have been there and done that have some wisdom to share.
In her book "From Mom to Me Again: How I Survived My First Empty Nest Year and Reinvented My Life," author Melissa T. Shultz, the mother of two grown sons, discusses the evolution of her life and motherhood after her children finished high school and left home. Part of this, for her, was looking back on her parenting and reflecting on the things she had learned that she did not know when she was deep in the throes of motherhood.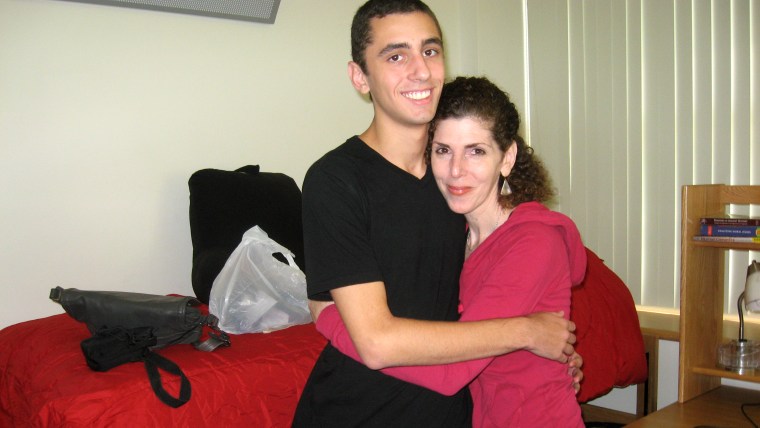 "If I could do it all again — raise a family — I would in an instant," she wrote. "But I'd do it a little differently, because hindsight, it turns out, really is 20/20."
If she knew then what she knows now, Shultz said, among her changes would be, "Let the laundry pile up. Because, let's be honest, nobody is going to fire me," and "Be less grumpy about the state of my kids' rooms. They'll be empty far too soon."
Never miss a parenting story with TODAY's newsletters! Sign up here
TODAY Parents asked other mothers of grown children what they wish they had known when their own children were just entering high school and becoming teenagers, and they had plenty of advice for other parents still in the thick of it all.
Here's what these moms know now that they wish they had known when their own children were in high school:
1. Talk less, listen more, and make sure you are there when those opportunities to listen happen.
"Stop talking so much and start listening. Early. Often. Always," Randi Chapnik Myers told TODAY Parents. "And be around when they are. You know, when you hear them rummaging around in the fridge after school or when they come in late at night. Opportunities to hear what they're all about and what's happening in their lives happen all the time. You just have to be there."
"I never stopped waking them up for school and making breakfast," said Lynn LaColla Barnsback. "And I hate 6 AM. I hope they remember that for 18 years, we started each day together and they heard I love you."
"If only I were more careful in my responses to the things they said," Sue Long Paul said about her relationship with her children. "Your reaction REALLY matters."
2. Keep an open mind about your expectations for their behavior.
"For our first child, we set the bar so high for behavior that she began to lie and sneak around," said Susan Souren Bangs. "We realized for our family this was a bigger problem than what she was actually doing when she was out.
"With our second child, we focused more on keeping communication open. She will tell us exactly what will be going on — for example, that drinking will be present at a party — and we all agree to a plan for safe transportation. There is no perfect solution to these older teen issues, but for our family, the open communication is working better."
3. Back off the nagging about homework and don't micromanage their grades.
"If I knew then what I know now, I would never sign up for alerts for my kid's occasional crappy grade," said Donna Kirk-Swaffer.
"Don't nag about homework so much," advised Lori Burg. "The more we nag, the less likely they are to do it. Better that they learn the consequences in high school than in college."
4. Sports parents, remember the big picture.
"I would have skipped a few club team tournaments. Ultimately, my soccer player hung up his cleats going into junior year, and my swimmer gave it up after freshman year for a summer camp job he loves," said Adrienne Hay Randall. "We spent so much time and money. I don't regret all the wonderful experiences we shared through their sports, but I would definitely not have felt the pressure to do every tournament/invitational/etcetera if I had known that over time, other things would become more important to them."
Cathey Hall Stoddard had similar advice. "I wish I would have realized early on that VERY few kids will become a professional athlete or even a collegiate athlete," she said. "I would have been a much more relaxed parent with my oldest and would have sat back and enjoyed the sporting events instead of being so nervous for him."
5. Parent the child you have.
"It took me a long time to learn this, but you have to parent the child you have, not the child you want," said Sandi Belaief-Siegel.
Lori Burg echoed that sentiment. "Don't push them to be what you want them to be," she said. "My son is an introvert, and I wish I had recognized and accepted that my vision of him hanging out with a houseful of friends wasn't what he wanted or needed to be happy. Everyone has a different path, we just need to help our kids find it."
6. When it comes to college admissions, keep calm.
"I would have spent less time looking into the future and trying to figure out what should be done to prepare for it and more time just enjoying the present," said Jennifer Shafer Becknell.
"Don't drink the Ivy League Kool-Aid," warned Laura Malone Millward. "College prep companies prey on your panic and promote unrealistic results. Your child will organically land where they're meant to be."
"I would encourage my daughter to enjoy more free time," said Jenny Craig Britt. "All of the activities, clubs, and other time stealers — some very worthwhile — that were meant to help her get acceptance into a top college caused a lot of stress for her. They need more time to be kids."
7. Set a good example of self care.
"I would have stopped stressing about my weight and my need to diet. My constant concern and criticism of my appearance had a major effect on my four children, especially my daughters," said Marcia Kester Doyle. "If I could go back and do it all over again, I would have only expressed my gratitude for my health and for the body given to me so that my own children would learn confidence and have a positive body image."
"I would have made sure that while being a stay-at-home mom all these 15 years, I made time for me to keep up with my own education, job training, or some other type of life skill, so that I would not become obsolete in the working world," said Kristen Winkfein-Cryderman.
8. Don't forget the basics.
"In my son's senior year of high school, he opened a kitchen drawer and pulled out a tool and said, 'What is this?'" said Patricia Knight Newman. "I looked up, cringed, and said, 'Do you mean I never taught you to open a can?!!' I would have spent more time teaching him daily life skills — cooking, cleaning, running a house — rather than doing it myself to save time."
9. All together now: Let them fail.
"I think I would have let them fail more — not big things, but little things," said Michele Cary. "I was prone to come to the rescue, and then they just expected it. I wasn't doing them any favors."
10. Make sure you teach them the importance of time management — especially when it comes to Netflix.
"I would have started watching "Gilmore Girls" with my daughter long before her senior year," lamented Laura Catherine Hanby Hudgens. "Now we will have to divide our time between binge watching and college applications. That was poor planning."
Shultz told TODAY Parents that no matter what, parents of new high school students should accept there will be challenges ahead, but things generally work themselves out. "Accept that mistakes will be made and that you can't fix everything," she said. "Find the humor whenever possible, and know that regardless of how much more advanced you think everyone else's child is, yours, too, will eventually find their way."