It's been four years since Allie Casazza had her "aha!" moment. Pregnant with her third child and fed up with constantly cleaning up their California home, the 29-year-old had a revelation:
Stop tidying stuff up. Start throwing stuff out.
Today, the now-mom-of-four has accomplished the improbable: She's given away many of her own possessions and decluttered her home. And she's whittled her children's toy collection down to a single small bin.
"I just had this day when I realized that I was yelling," recalls Casazza, the parenting blogger behind The Purposeful Housewife. "I was basically pushing my kids aside and getting them busy and out of my way so that I can maintain my house."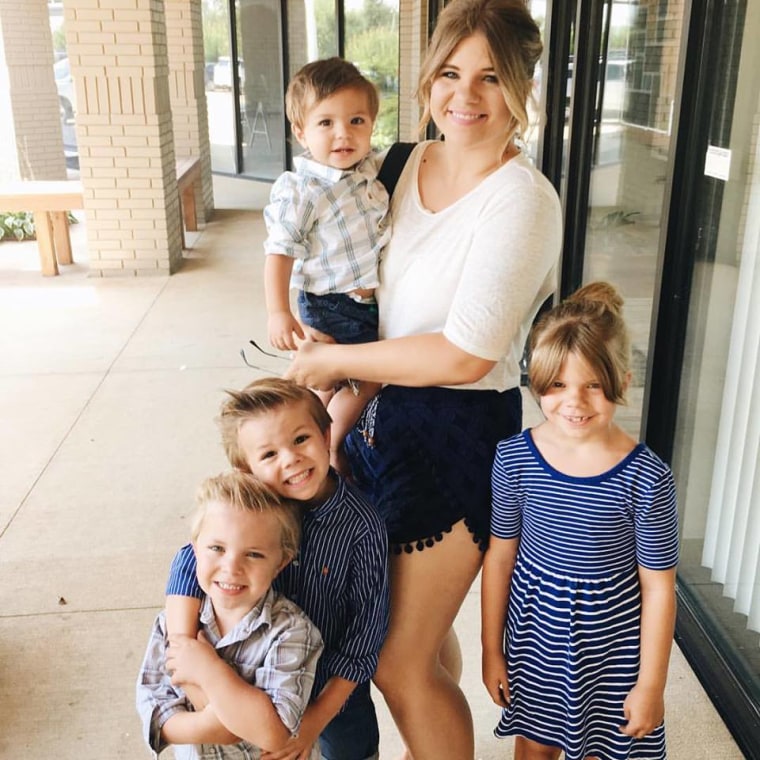 "I was very unhappy, overwhelmed," Casazza said. "My kids' childhood was slipping by me while I was cleaning up. My stuff was owning me, rather than the other way around, and I was determined to find a different way."
So she did. Today, when one of her kids loses interest in a toy, it doesn't just get put away. It goes away for good.
Related story: Minimalist mom spends nothing on toddler and new baby
And the kids are on board. Bella, 7, Leland, 5, Hudson, 4, and Emmett, 1, are helping Casazza maintain her family's minimalist lifestyle. They play with their toys until they're no longer interested in them, and then they decide what they want to keep.
"Once a month, I'll get into their toy bin and I will ask them, "OK guys, what are you playing with? What are you not into anymore? What can we give to people who don't have any toys?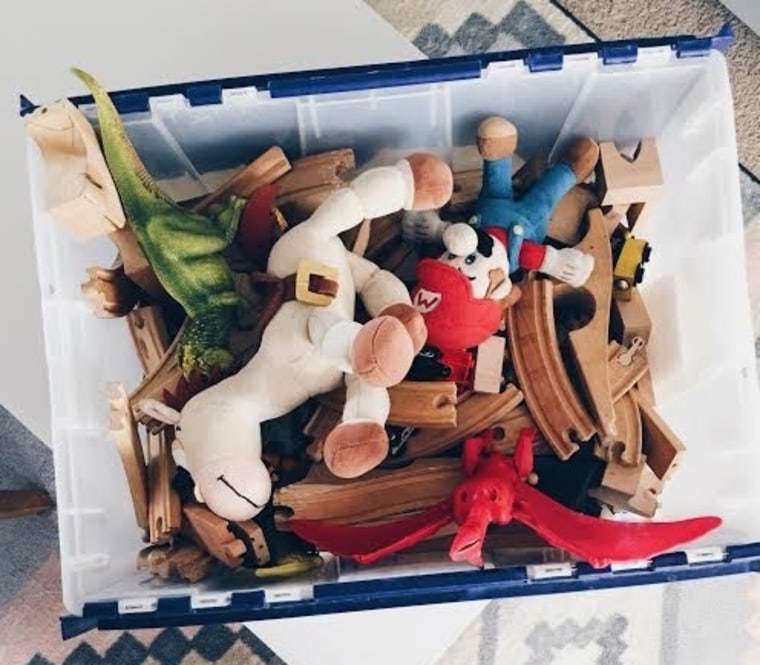 "And they'll just voluntarily say,'Mom I don't want play with this anymore, or I really want to keep this,' and [it] keeps the toys in a rotation where there's never really too much."
Some toys, like trains and Legos, are kept off the giveaway list. "When you get rid of toys," Casazza says, "you want to keep those open-ended, imaginative items that will fill the day and build their brains."
The kids got with the program seamlessly, Casazza says. But their 29-year-old dad, Brian, held out for two years.
"I reached a point where I stopped trying to convince him, because I could see that it was just going to turn him off to the whole idea," Casazza said. "With men, if you nag them about something, it's probably never ever going to happen."
They agreed that Allie would declutter only her own things, and they'd leave Brian's stuff alone. "So for two years, his half of the house was a freaking disaster and mine was perfect," she says, laughing.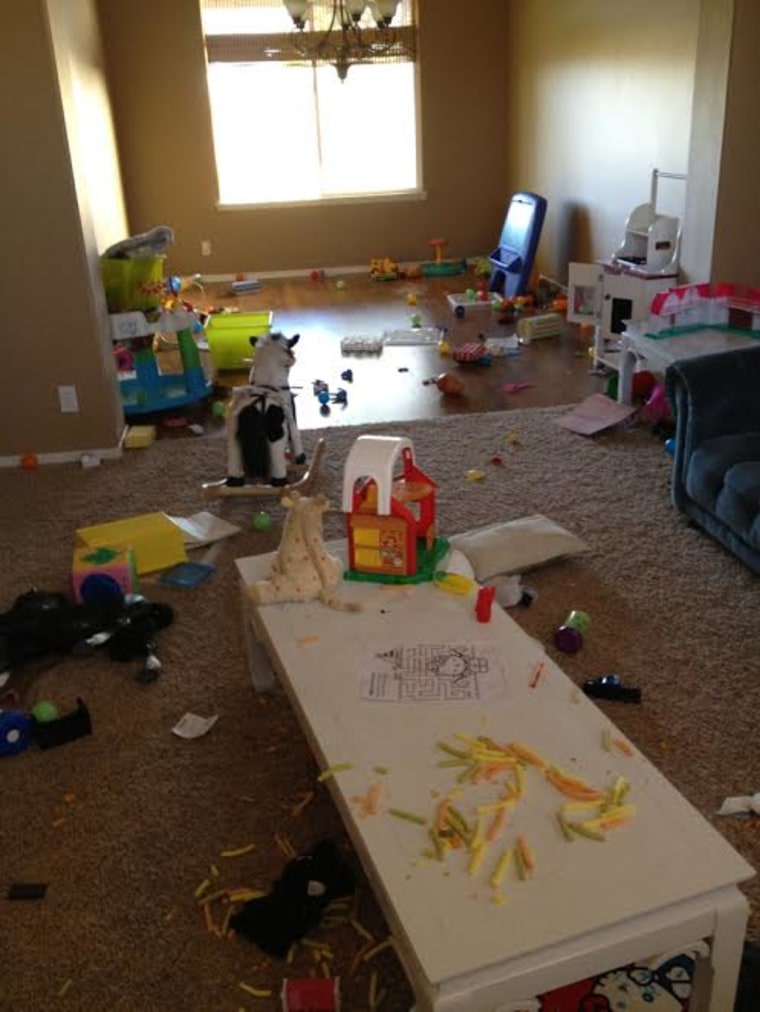 Brian finally saw the light when the family was getting ready to move from California to Fayetteville, Arkansas. He thought it would take a weekend to clear his stuff out of the garage, and it wound up taking seven weeks.
"He realized, 'Oh my gosh, I am literally holding our family back by being a hoarder. I totally see what you mean, and I want you to help me get over this,'" Casazza recalls. "Ever since then he's been on board."
Now Casazza is convinced that the secret to experiencing the fullness of life is to have less stuff.
"I think a lot of moms really have a deep desire for a simpler lifestyle," she says, "and they either don't know how to get there, or they're afraid to let go of the things that they think they might need. It's kind of a shame because this really is the answer."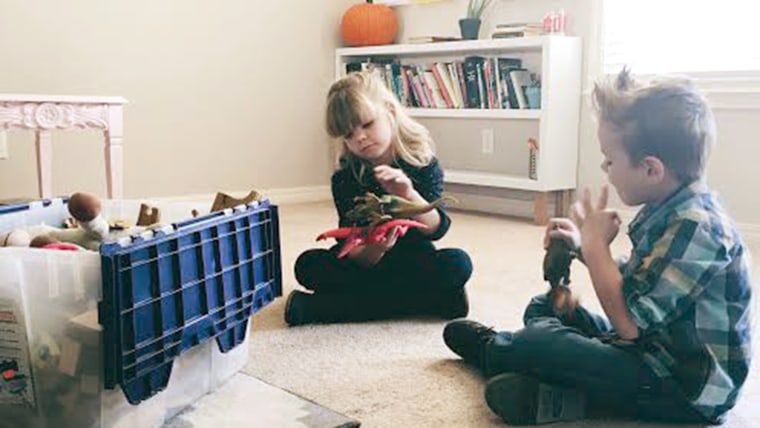 It's also a good learning experience for the kids, says Dr. Dale Atkins, a psychologist. It gives them a chance to "reassess and discover what is worth keeping and share with others."
Kids can also proactively "clean or mend toys and wrap them in good condition for other kids to enjoy," she said. "This makes the child feel he or she is helping others "
But Casazza's minimalist lifestyle isn't right for everyone, says Dr. Robi Ludwig, a psychologist and the author of Your Best Age is Now.
She compared it to "a diet that works for one person, and they want to share it and assume that it works for everybody. But that's not always the case."
"If Casazza feels tidying up keeps both her and her household a happier place, I think that's great," Ludwig said. "She has found a method that works for her and her family. [But] when parents are working and going to doctor appointments and going to meetings and trying to put so much on their plate, I think this idea that one-size-fits-all is a dangerous one. This goal/desire to keep things tidy can cause stress and get some moms to engage in unnecessary 'self-attack' if they can't achieve this."
If you want to adopt Casazza's minimalist lifestyle, Ludwig says go for it. But "if it feels too burdensome with all of your other responsibilities, then do what you can when you can, and then call it a day."