Laurel Hutsell figured she had her son all set for his pictures on the first day of middle school last week.
They had gone over the best way to smile and how to fix his hair so that it looked good. The bright green shirt he was wearing was the least of her concerns.
That was until her son, Carter, 12, came home from his first day of seventh grade at Seckman Middle School in Imperial, Missouri, on Aug. 15 and said there might be a problem: The photographers were using a green screen for the background.
"We had this whole conversation, which makes this hilarious,'' Hutsell told TODAY. "We practiced the smile, like don't squint your eyes and look like someone is coming up beyond you, and run your fingers through your hair right before.
"I never thought that his shirt would be the thing that would be the issue."
Hutsell got an email two days later with the photos from Inter-State Studio, complete with Carter's disembodied head and arms floating above various backgrounds.
"I opened it on my phone and I did a double take,'' she said. "I couldn't believe it. I said out loud, 'He was right, it really happened.'''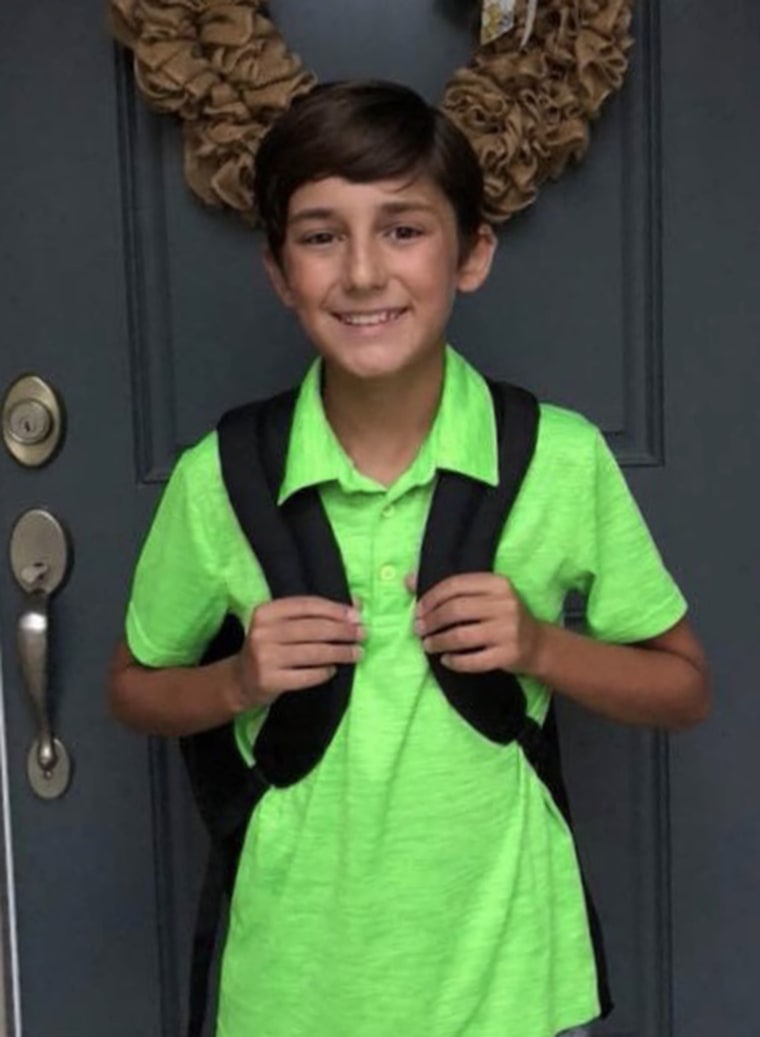 Hutsell shared the photos on Facebook for a funny back-to-school moment that any parent could relate to.
"Moms for all over are reaching out saying, 'This is something I would do!''' Hutsell said. "You try really hard to prepare, and it doesn't always come out that way, which is typical of parenthood in general."
The background of last year's pictures was gray and Carter wore a turquoise shirt, so she figured that this year it would be similar. The neon green dry-fit shirt was one of his favorites.
"It was the green shirt's turn,'' she said.
Inter-State Studio has since fixed up the photos to show Carter's shirt, Hutsell said.
"If there was there a warning (not to wear a green shirt), I didn't see it,'' she said. "It was totally my fault, and the picture company has been great."
Carter also appears to have started a trend at Seckman Middle School.
"It's like everybody is having so much fun with it,'' Hutsell said. "I see him at the bus stop with his friends, and they're all wearing green shirts."
Follow TODAY.com writer Scott Stump on Twitter.