Kevin Jonas may have started off as boy-band star at a young age, but he gave it up to become a family man. The 29-year-old just welcome his second child, daughter Valentina, with wife Danielle in October and is already father to 2-year-old Alena. And despite having left the music world, the singer still has to handle raising his children in the public eye.
"We have been able to be pretty separated with our family and the fame," he told TODAY. "A lot of people don't post about their kids or do anything. With us, we are so proud and so blessed to have our children and we also know how happy we are that I feel like we would love to share it. We are not trying to exploit anything in any way; honestly, I am just proud of my kids and just happy to have them."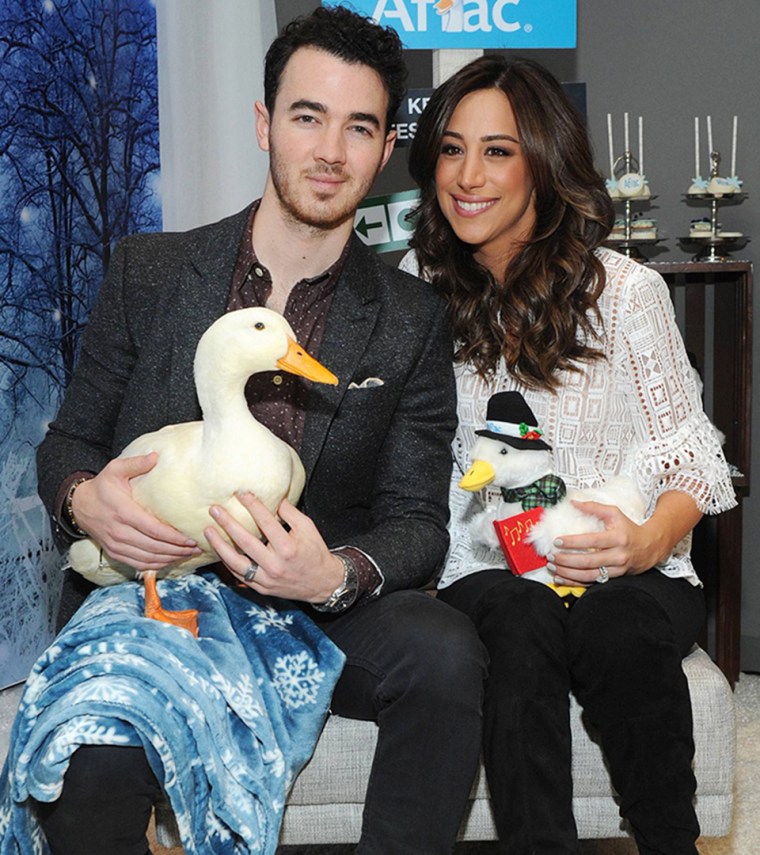 Both Kevin and Danielle frequently post pictures of their daughters on Instagram, with 2.1 and 1.2 million followers respectively. The duo shared the experience of preparing for the delivery of their most recent child, posting pictures from the hospital, and released the first snaps of their newborn shortly after.
"We are being like every regular parent that boasts and brags about their kids, I guess," Danielle told TODAY.
RELATED: Kevin Jonas is selling his New Jersey mansion — see inside
Just like regular parents, the couple struggled a bit with adding another one to their brood. "Having another baby is literally like having five," said Danielle. "One is asking you for one thing and then you're going to the next one and it's just — it is insane but I do — I love it."
"You forget everything that happened with the first one," added Kevin at the NYC launch event for #AflacHolidayHelpers, which provided a combined $50,000 to help families across the country going through challenging times because of unplanned medical events this holiday season.
"Like at first, I was like, 'How do I swaddle a baby again? Can I hold her like this?' It's like your brain is kind of melting. When you're in the hospital, you're like, 'They really shouldn't let us go home yet.'"
But, unlike most families, Kevin and Danielle have to deal with the pressures of fame. "We were at the mall one time and there were some girls that wanted to take pictures with Kevin," recalled Danielle. "And Alena started running and yelling 'Daddy, come here! It used to just be he would take a picture and then we would move on. Now it's like this little girl is watching him."
"I don't really know if she would totally understand that we are famous," added Kevin. "But, she does see myself or my brothers on TV and will be like, 'Uncle Joe is on TV' and will dance to the music if Joe is performing or Nick is performing on some award show."
In fact, Kevin is open about taking a drastically different path from his two brothers, and fans were heartbroken when the band broke up in October 2013.
"I think it's just natural that it happened that way," said Kevin. "It was funny because right before the whole band broke up, like we were seven months' pregnant, so my life was going to transition anyway, whether the band was continuing or not. In a weird way, I am lucky that I had the time to be at home, re-define my life in a way and focus on this, but it would have been interesting one way or another, even if we were on the road as a family."
Meanwhile, Kevin decided to try other career paths, like real estate and app development. "A lot of people think the path to success is a straight line, but it's not," he said. "It has got many turns and curves and you just got to go with the ebbs and flows of it all. I really fell in love with the whole tech space, and building a company with great people is what I love."
Though the father of two may have gotten out of show business, he's not so sure he'll be able to stay out of it too long, as daughter Alena has an affection for attention. "I may be in trouble," said Kevin. "She just hams it up. I am never going to be that parent to push her. I will also explain to her how difficult it can be, but at the same time, if she wants to go into that world, I will absolutely be there to support her just like my parents did."