On her show "Scandal," and in person, Kerry Washington epitomizes confidence and self-assurance. But it's been hard-won.
"For me, loving yourself and accepting yourself is not a destination. A big part of why I am committed to respecting myself is because I know that the idea that I am not lovable or capable is a lie," Washington told TODAY Parents. "It's a lie that I have been told and made to feel at some points in my life. It's my job to keep returning to the truth that I am lovable and capable and deserving."
For Washington, it's particularly important to model positive behavior and self-love to her children. She's married to former football player Nnamdi Asomugha and has a daughter and son, Isabelle, 3, and Caleb, 1.
That applies to the physical as well. She has said that she's been wearing her hair with natural texture because she wants her children to love themselves as they are, and not feel pressured to change anything.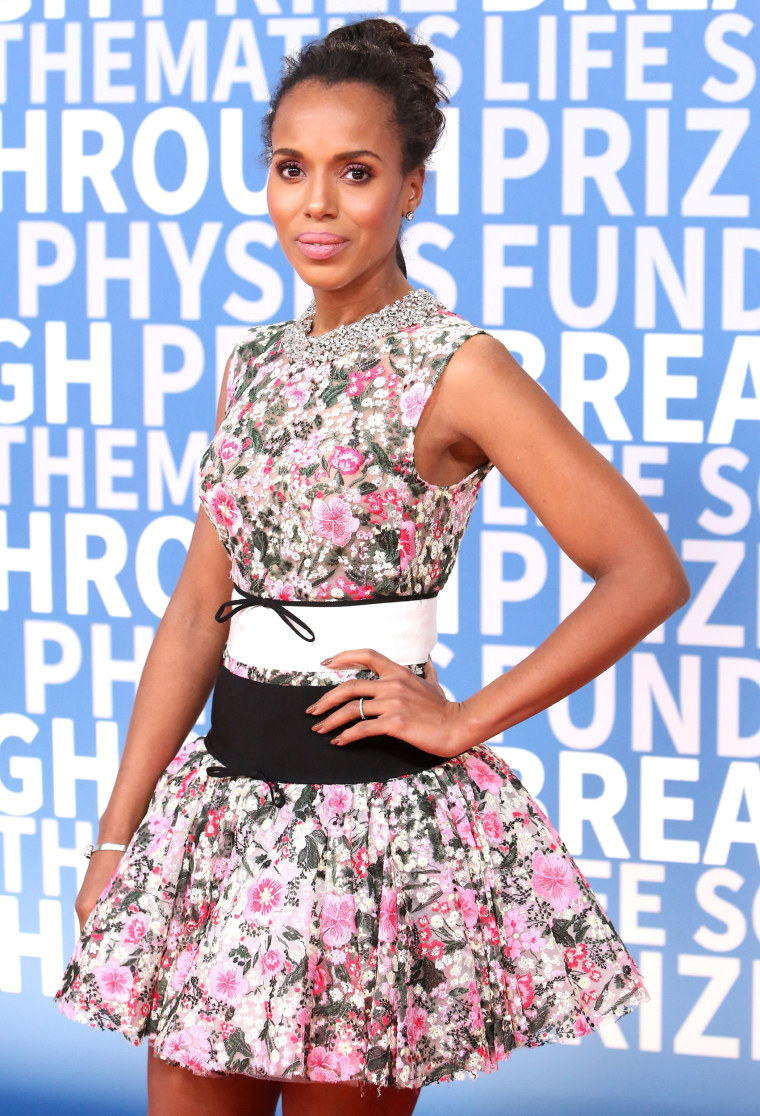 "It's the truth of it. You want to make sure you're modeling self-love and unconditional self-love. I love myself no matter what way I choose to wear my hair that day. I love my hair. Women are so lucky who have textured hair. You can wear it straight or curly," she says.
The George Washington University graduate is especially passionate about issues around equality.
"The most important thing we can do as women to empower our daughters is to do the homework on ourselves. What we do is more important is more than what we say. You can say to a child they have to love themselves. But until you can embody that truth and live it, what you're saying is much less important. For me, it's about living with as much self-love and self-respect as I'm able to," she says.
Teaching her kids to respect themselves is something she takes seriously, and for which she has no pat answers or solutions. "We just have to do the work as moms, as parents. We have to do the work on ourselves. How can I love my partner more and have more respect for my partner? It's being that; it's doing that," she says.
It's why she served as the spokeswoman of the Allstate Foundation Purple Purse program, which teaches women how to become financially independent so they can leave abusive relationships. Now, Serena Williams take over where Washington left off.
"We talk in abstract terms about ending violence against women. This is a practical solution and it's been rewarding for me. Seeing the tactics work in people's lives. Domestic abuse is a problem that exists on many layers. To be able to chip away at the core of the problem, of financial abuse, to be that concrete solution at work, is very rewarding," says Washington.
Washington has zero time for mommy-shaming of any sort. All it does is foster insecurity that filters down to children.
"It's so important that we give our mothers the support they need in this world. When we don't, the legacy of not enoughness gets carried on to the next generation," she says.
In that same vein, she's deeply thoughtful about what seems to be a sea change in Hollywood and beyond, as more and more men topple from positions of power after allegations of sexual misconduct.
"We need to treat women with true equity. It will make the world right. Women's equality won't make the world more difficult. It's just the way it's supposed to be," she says.
With her ABC show "Scandal" wrapping up its final season, Washington — who broke barriers as Olivia Pope, one of the first African-American leads on a primetime network drama — is ready for the next phase of her career. She has a production company and hopes to direct more.
"I'm a wife and a mother. I don't think anything is the same as it was seven years ago. I am creatively ambitious. I have the same desire to nurture the relationships that are most important to me. And do work that has integrity," she says.