Kelly Clarkson was the guest that just kept giving!
She first stopped by our plaza Friday to deliver a soulful performance for the Citi Concert Series, then she sat down for a chat about motherhood and more on Facebook Live, and before she left, she even co-hosted the final hour of the show.
And she brought in some special — and adorable — help for that final task.
Clarkson's 3-year-old daughter, River Rose, and her 1-year-old son, Remington (Remy), staged a mini takeover of Studio 1A that left us saying "aw!" and one of the tiny tots saying "arg!"
"I heard there was going to be a tiger (on the show)," the 35-year-old hit maker told anchor Hoda Kotb. "My daughter is in love with tigers."
Sure enough, River Rose said, "I want a tiger," and when Hoda asked her what sound a tiger made, she shot back, "Arg!"
Cute and smart — she's the whole package. And so is her little brother, Remy, who preferred to keep quiet to during the visit. He also left the set a little early.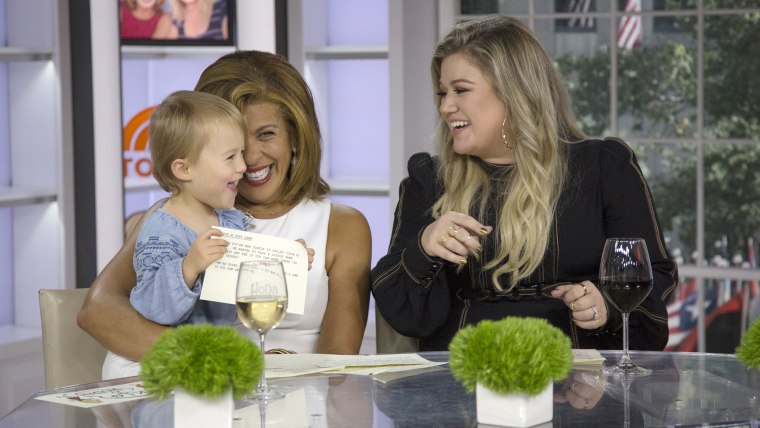 "He's done!" mom said.
But make no mistake. These two don't just look sweet. They are sweet, as Clarkson proved with an anecdote about her little girl.
"I came home from work and I ripped all of this (makeup) off ... and I got in bed and was snuggling with her," she recalled. "We were reading and doing our thing and all the sudden she cups my face and says, 'You're so beautiful, Mommy.' I was like, 'You stop it right now! Do you want a pony?'"