Nutella has a fan in Kelly Clarkson's 2-year-old daughter, River Rose.
The tot recently got her first taste of the popular chocolate-hazelnut spread, and Clarkson was there to document the adorable moment for Instagram.
In the video, which was posted on Saturday, Clarkson gives her daughter a piece of toast slathered with Nutella. Little River Rose, who turns 3 in June, gives the snack two enthusiastic (and messy!) thumbs-up, while doing a happy dance.
"River's first Nutella experience," Clarkson captioned the cute video, which has already been viewed more than two million times. "It should have been via crepe but toast was easier."
Fans could definitely relate to little River Rose's reaction to Nutella.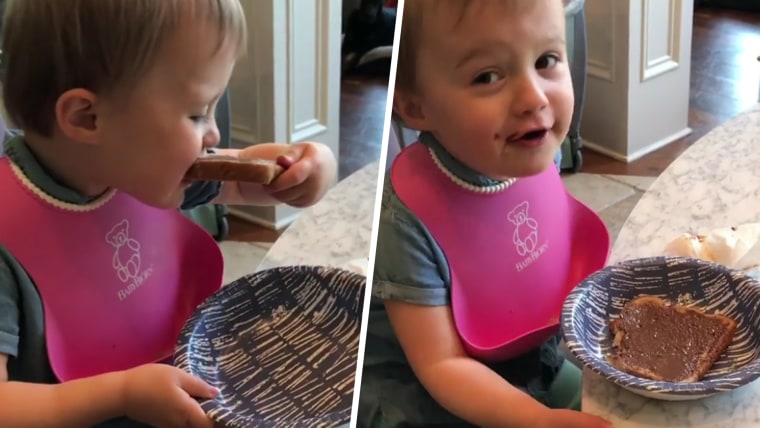 "Funny … I make that same face when I dive into Nutella," one person wrote in the comment section of the video.
"I shake my butt too when I eat something delicious!" another fan wrote.
RELATED: Kelly Clarkson talks motherhood on TODAY: 'I cry at everything'
Clarkson is known for giving her 2.2 million Instagram followers glimpses into River Rose's life. The "Piece by Piece" singer often posts cute moments featuring her daughter, as well as her son Remington Alexander, who turns 1 on April 12.
Clarkson's two stepchildren — 14-year-old Savannah and 10-year-old Seth — have also made appearances on the singer's Instagram, as has her husband, Brandon Blackstock.
Although it's obvious Clarkson relishes in her role as a mother, she has stated that four kids are enough for her and her husband.
"We are not having any more kids," she told Entertainment Tonight last October. "I mean, there's no time for more kids, yeah. Just like fitting everything in is hard enough, and I hate pregnancy. Like, with a capital H."