Genevieve Upton Verlander may be brand new to the world, but she's ready for her closeup.
The baby girl was born to model Kate Upton and Houston Astros pitcher Justin Verlander on November 7, and the couple shared the sweetest photos on Instagram to announce the birth.
"Welcome to the world Genevieve Upton Verlander. You stole my heart the first second I met you!!!" Verlander, 35, captioned a black-and-white photo of the baby's tiny hand wrapped in her theirs.
Upton, 26, posted a similarly artistic photo of Genevieve all cuddled up and looking as photogenic as we'd expect.
Married last November, just days after Verlander's team won the World Series, the couple announced in July that they were expecting.
Upton shared the news on Instagram with a photo of her posing with a small baby bump against the backdrop of sunny Miami with the hashtag #PregnantinMiami.
Verlander reposted the picture with the caption, "You're going to be the most amazing Mom!! I can't wait to start this new journey with you!" He added, "You're the most thoughtful, loving, caring, and strong woman I've ever met! I'm so proud that our little one is going to be raised in this world by a woman like you! I love you so much."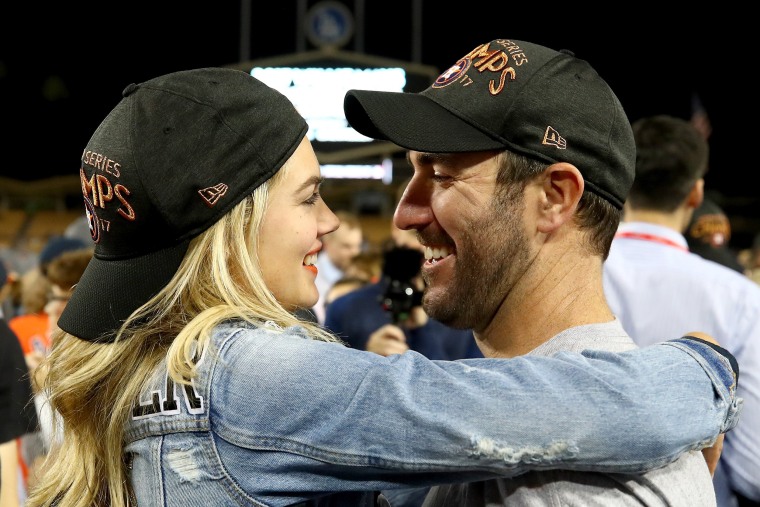 He recently revealed to Bleacher Report that Upton helped him through a low point in his life while the two were dating in 2014.
"I don't like to talk to people about being hurt," said Verlander. "As athletes, you're not supposed to. ... But she was someone I could talk to. I mean, basically a therapist. Somebody I could trust with ... worries about my career."
He added, "She was what I needed."
It's clear this couple will continue to support each other through both the struggles and the amazing times (like this one).
Congrats and well wishes to the new family of three!