Kate Hudson is eager to get back to her "fighting weight"!
The "Almost Famous" actress, 39, took to Instagram on Thursday to share a photo of herself wearing leggings and a sports bra, less than two months after welcoming daughter Rani Rose with boyfriend Danny Fujikawa.
In her upbeat caption, the busy mom of three revealed her plans to drop 25 pounds by the time she starts shooting a new movie next spring.
"So ... here we go!" Hudson wrote. "The routine with our baby is getting more familiar and I'm ready to start taking a little time in the day focusing on myself. For me that means my health. Why? Because I wanna be around a long time for these three kiddos of mine."
Balancing parenting and personal goals is "the most challenging thing in the world" for all moms, continued Hudson, who also has two sons, Bingham Hawn, 7, and Ryder Russell, 14.
"Let's be honest," she wrote, "kids take the number one position and it's haaaaard to make the time for yourself."
But Hudson's "mission," she explained, wasn't only about shedding pounds. She also hoped to recapture her "strong body/mind." In other words, to feel more mentally fit, too.
To do that, the Oscar-nominated actress planned on a regimen of healthful eating, exercise and meditation.
"I'd like to try new workouts and eat as healthy as I can. I wanna do all this and keep up milk production, raise my kids, work everyday, make time for my man, have girlfriend time and stay sane!" she wrote.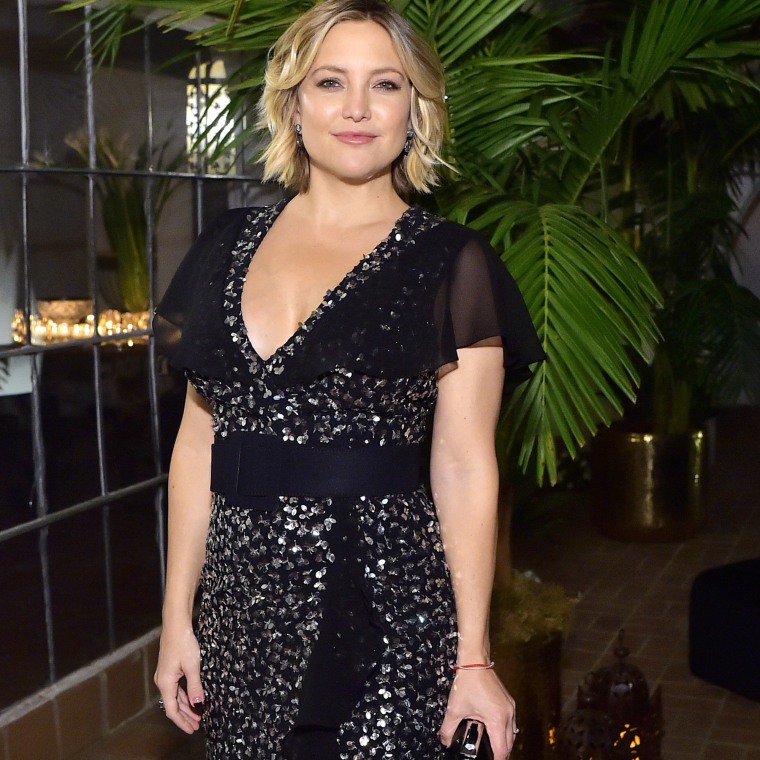 "I know that this sounds more like a new year resolution," added the star, "but after Thanksgiving and everyone thanking their health, I feel motivated to keep that up."
Hudson's famous friends cheered on her inspirational post.
"Thank you, angel," wrote comedian Amy Schumer, who's pregnant with her first child.
"This is awesome, Kate. I love it," added funny lady Chelsea Handler.
Supermodel Cindy Crawford, who has two kids of her own, thanked Hudson for her "candor" before sharing a few words of wisdom.
"Remember — it took 9 months to put the weight on so give your body time to get back to your 'fighting' weight," Crawford commented, before adding, "You look beautiful at every weight!"