For Kate Gosselin and her children alike, summer has just sped by.
And that means it's time for back-to-school photos! The "Kate Plus 8" star, 43, posted a photo on Thursday of most of her brood smiling and attired for their first day in 8th and 12th grade:
"Feels like school never ended!" wrote Gosselin, then signed off with a "#ProudMom" hashtag.
And if you click on the photo, you'll see a special note Gosselin wrote to her two eldest: "I'm so P.R.O.U.D of you!"
We can understand how summer can go by quickly, particularly when you have access to a pool:
Gosselin and her ex-husband Jon, 41, have a set of twins (Mady and Cara, 17) and a set of sextuplets (Aaden, Alexis, Leah, Joel, Collin and Hannah, 14). The family became a household name with the TLC reality show "Jon & Kate Plus 8" in 2007; when the Gosselins split in 2009, the show's title changed.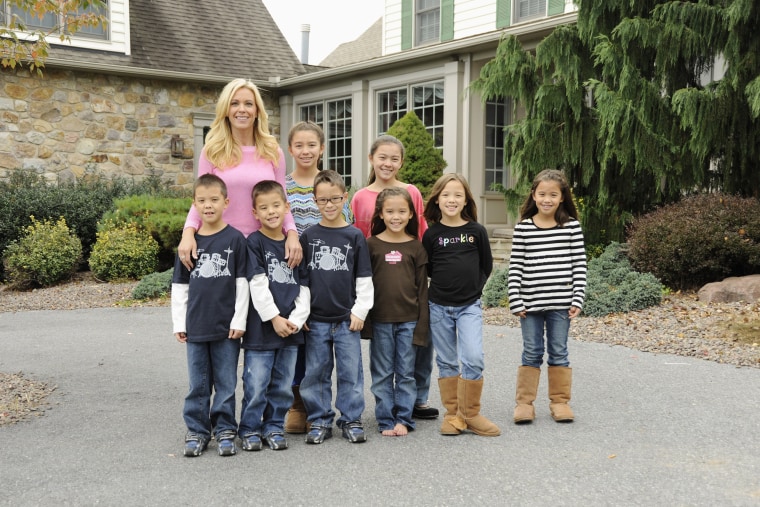 The whole family is not in this particular school photo: Collin, who is living away from home in a program, and Hannah, who is reportedly living with her father permanently, are not pictured.
Still, we do get to see both Collin and Hannah looking happy with their dad in Jon's pictures:
Meanwhile, Gosselin herself is preparing for a new adventure. A new TLC series, "Kate Plus Date," will show her trying to find love sometime this fall.
"It was very apparent, now that (the kids) are older and talking about dating and how they're all gonna get married someday … it became apparent: they want someone for me," Gosselin told People magazine in April. "They want me to have somebody in my life."
Or at least someone new, since she clearly has a lot of very important somebodies already in her life!
Follow Randee Dawn on Twitter.