When it comes to epic meltdowns, toddlers have an uncanny ability to throw a tantrum at the most inconvenient moment.
Just ask Canadian Prime Minister Justin Trudeau, who visited India in February with his wife, Sophie, and his kids, Xavier, 10, Ella-Grace, 9, and Hadrien, then 3.
The week-long trip — Trudeau's first official trip to India — has made the youngest Trudeau a bit of a sensation thanks to the then 3-year-old's toddler antics.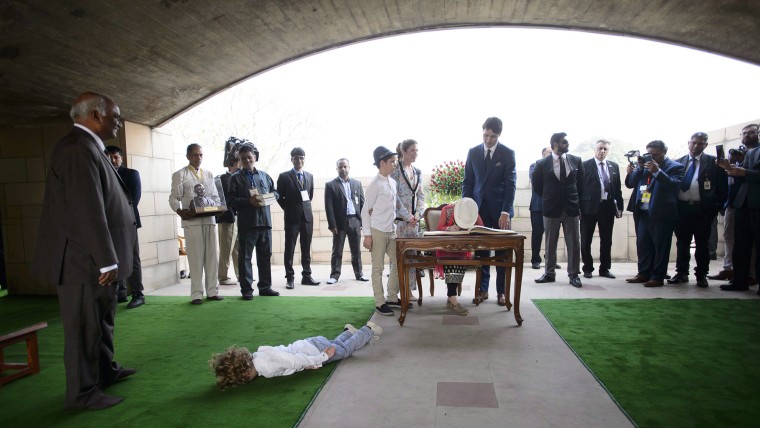 Hadrien, who turned 4 a few days after the trip, was photographed making funny faces, looking bored, and face-planting on the ground while the family signed a guest book at a memorial dedicated to Mahatma Ghandi.
Tweets about Hadrien have been circulating since the trip, and fans of all ages relate to the toddler's antics.
"Why is Hadrien Trudeau the realest representation of millennial life?" asked one Twitter user.
But young Hadrien had some fun on the trip, too. Cosmopolitan India tweeted an adorable photo of the child dancing while dressed in traditional Indian attire.
For more funny parenting stories, follow TODAY Parents on Facebook
Hadrien's change of attitude shows toddlers — even toddlers of world leaders — can switch from a crying meltdown to a sweet smile in the blink of an eye.