Many first-time parents can likely agree: Being a mom or dad isn't the most glamorous job. You're exhausted and there's spit-up in your hair and you're just trying to get through the day — just to wake up and do it all over again.
Of course, don't think for a second that this excludes celebrities. Just ask Nanny Connie.
Watch the TODAY Parents Facebook Live with Nanny Connie here
Connie Simpson has spent the last 30 years caring for the children of many famous people. She's worked with the likes of Justin Timberlake and Jessica Biel, John Krasinski and Emily Blunt, George and Amal Clooney, Matt Damon, Jessica Alba, Brooke Shields and more.
With the release of a new book, "The Nanny Connie Way: Secrets to Mastering the First Four Months of Parenthood," the nanny-to-the-stars sat down with TODAY Parents to offer up tips for both first-time and experienced parents — and of course dish a bit about what it's like working with the families of Hollywood's finest.
Never miss a parenting story with the TODAY Parenting newsletter! Sign up here.
As Simpson said, celebrity parents are just like us. Yes, really.
"Parenting is for everyone," Simpson told TODAY Parents. "We shouldn't look at them through this little microscope, nit-picking everything that they do in life. They're just like us — they've got spit-up on their clothes. They have sleepless nights. They have kids who say 'no' back to them. And they need to be able to have that room to grow, and know that they're OK as parents."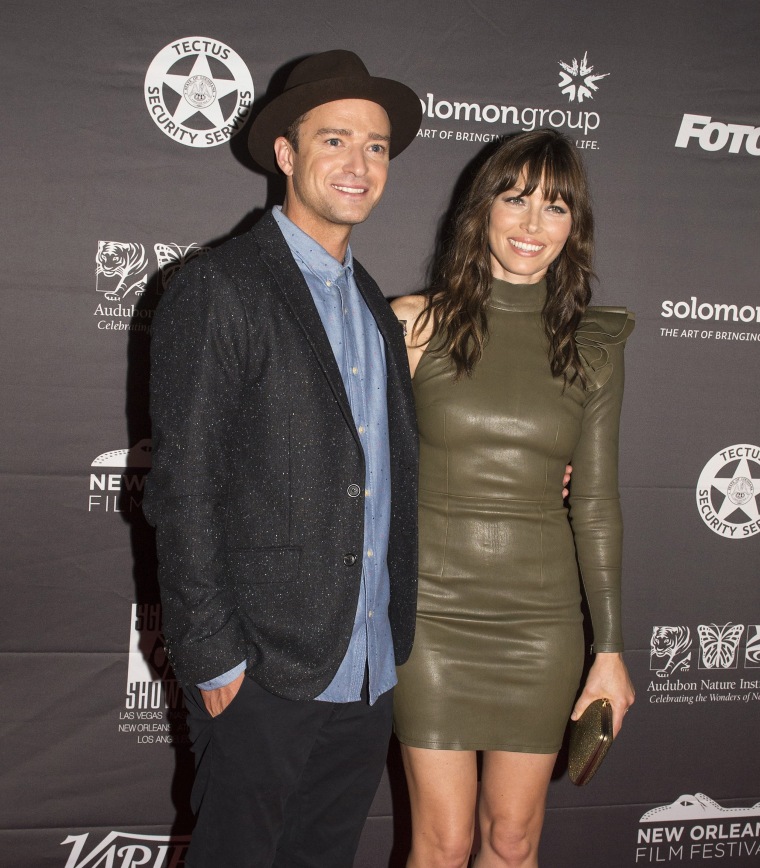 Take Timberlake and Biel, for example. Simpson recalled witnessing Timberlake's own parenting realization right at the beginning. He had stressed to Simpson how important sleep was to him.
"It was the whole spiel — up the stairs, across the hallway and down the little corridor that he needed to have sleep," Simpson said. "When we finally got to the room, I said, 'OK, now you need to get your sleep. Where's your room? So I'm going to go in this direction with the baby and you'll stay in your room.' But I knew that two months or a month later, he was going to be incorporated into this whole process. And once he was, he was like, 'Fine, I get it! A parent is a parent!'"
Simpson acknowledged that bringing your child home from the hospital really is a tough transition. She calls it the "fourth trimester" — "everybody coming home and figuring out where their place is."
But because not everyone has a nanny to help them along the way — which is most of us! — Simpson offered some of her tips she has acquired over the years. One of her best ones? If moms are having trouble producing milk when breastfeeding, just have a beer.
"All my mothers love to have a bit of alcohol, so dark beer was it," she said. "Yeast was the component that helped the milk to produce more — dark beer had it even more so."
A fan of this trick? Brooke Shields.
"Brooke Shields and I really kind of had it going on because we turned her whole bathroom into a little oasis," Simpson said. "We had beer and snacks, and we would laugh and talk, and she would make more milk than anything."
But if there's one takeaway here, Simpson just wants parents to beware of striving for perfection. New mothers are "overloading their sensory circuit board," Simpson said. In other words: Calm the heck down when it comes to parenting pamphlets, internet advice and help books.
"Even with me ... It's not tailor-made," she said. "Nobody can make one book tailor made for you. (Take it) one day at a time. ... Don't over-exhaust yourself with all the other stuff. There's a lot of noise out there. I'm all about slowing it down. ... Your kid is the book."