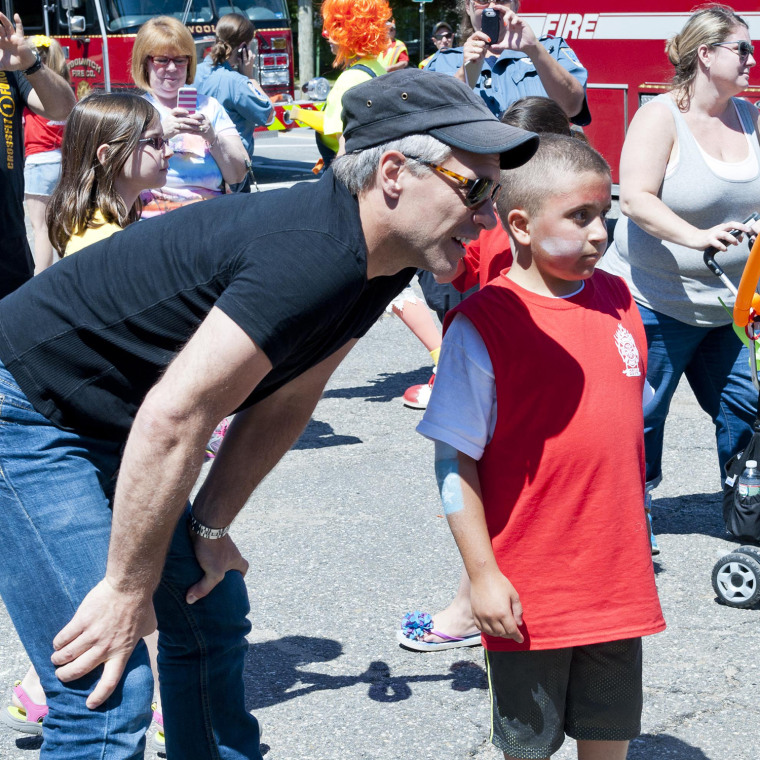 One New Jersey boy got a customer to remember at his lemonade stand last Saturday.

Ten-year-old Mario Carpino, who was diagnosed with inoperable brain tumors at age 4, organizes an annual lemonade stand fundraiser in his hometown of Swedesboro, N.J. to raise money for childhood cancer. Last Saturday, while running his fourth lemonade stand, a very special customer showed up: Jon Bon Jovi.
"Every time I talk about it my heart starts racing," Mario's mom Anna Carpino told TODAY.com. "I haven't stopped crying since Saturday."
The surprise appearance was a wish two years in the making for Mario, ever since he saw Bon Jovi perform on TV and asked his mom if the rocker could come by his lemonade stand.
"I said that was impossible because he's a superstar," Carpino said. "Mario said that he was a superstar, too."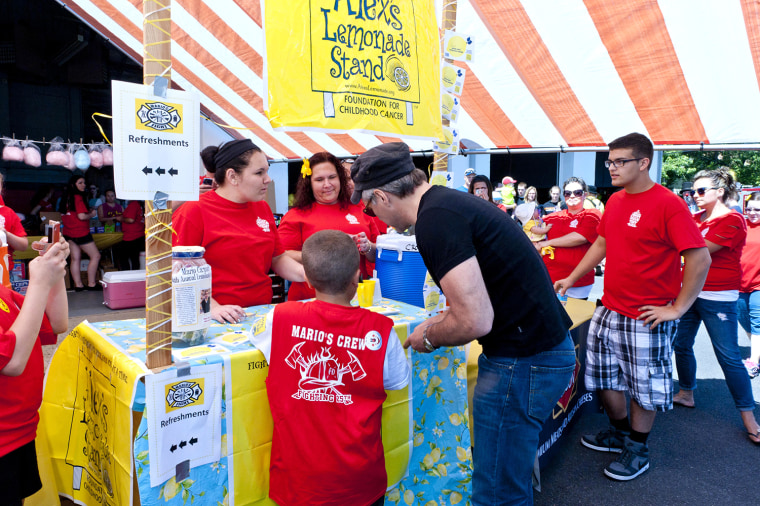 Carpino decided to create a Facebook page advocating for a visit from the rocker, but didn't think he would ever know about it, nevertheless show up.
"Little did I know," she said.
Last Saturday, two years after creating the Facebook page, Anna, Mario and her family were running the annual lemonade stand when one of the firefighters told her that a special guest had shown up to see her.
When Bon Jovi walked up, Carpino thought it was an impersonator.
"He said, 'I'm Jon Bon Jovi,' and I said, 'No, you're not,'" Carpino said. "I thought it was an impersonator, but his PR person said it's really him. I lost it. I was shaking and crying hysterically."
When Mario came in the room, he immediately jumped in Bon Jovi's harms, hugging and kissing him. He would occasionally break his hug to look and confirm that he was actually hugging the real Bon Jovi.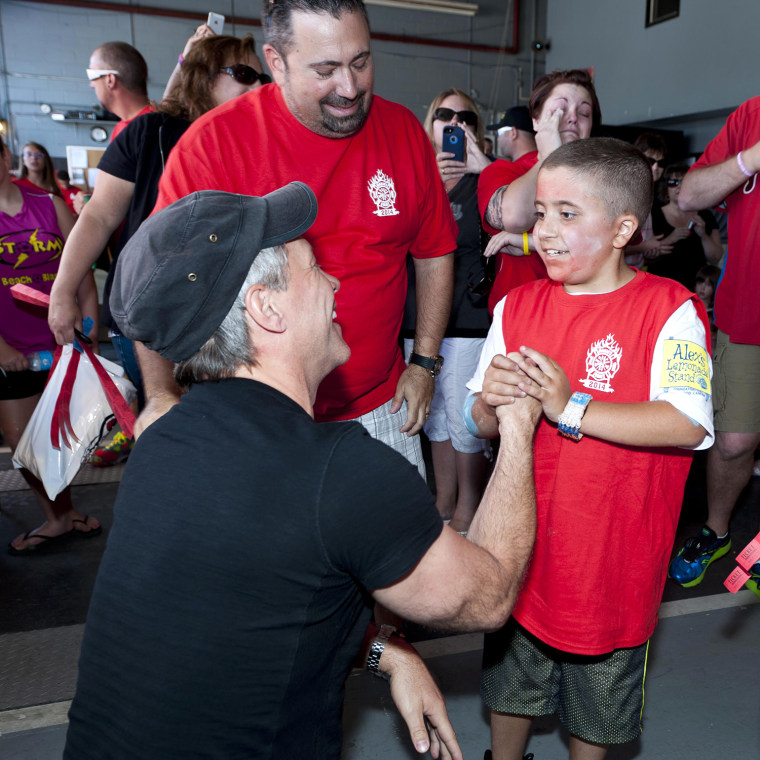 The pair spent an hour together, getting airbrushed tattoos, taking pictures in a photo booth and playing games. Bon Jovi shared that his son had told him about Mario's Facebook page and that the visit had been on his calendar for two months.
At one point during the visit, Bon Jovi gave Mario a very special gift.
"He said to Mario, 'This is the cheapest hat, but it's my favorite hat. It's been all over the world with me and I want you to have it,'" Carpino said.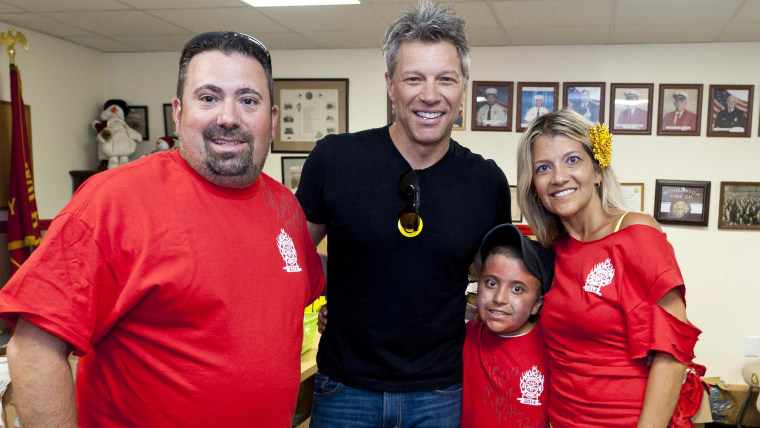 Mario holds the fundraiser in partnership with Alex's Lemonade Stand Foundation, a non-profit organization founded by Alexandra Scott, who started running lemonade stands to raise money for childhood cancer in 2000. She passed away from cancer in 2004, but Mario wanted to help carry on her mission.
"He said he wanted to continue Alex's legacy since she was back in heaven," Carpino said.  
He now runs the lemonade stand every spring at his local firehouse, the Woolwich Fire Company, where he is an honorary firefighter. He has raised more than $200,000 in the last four years.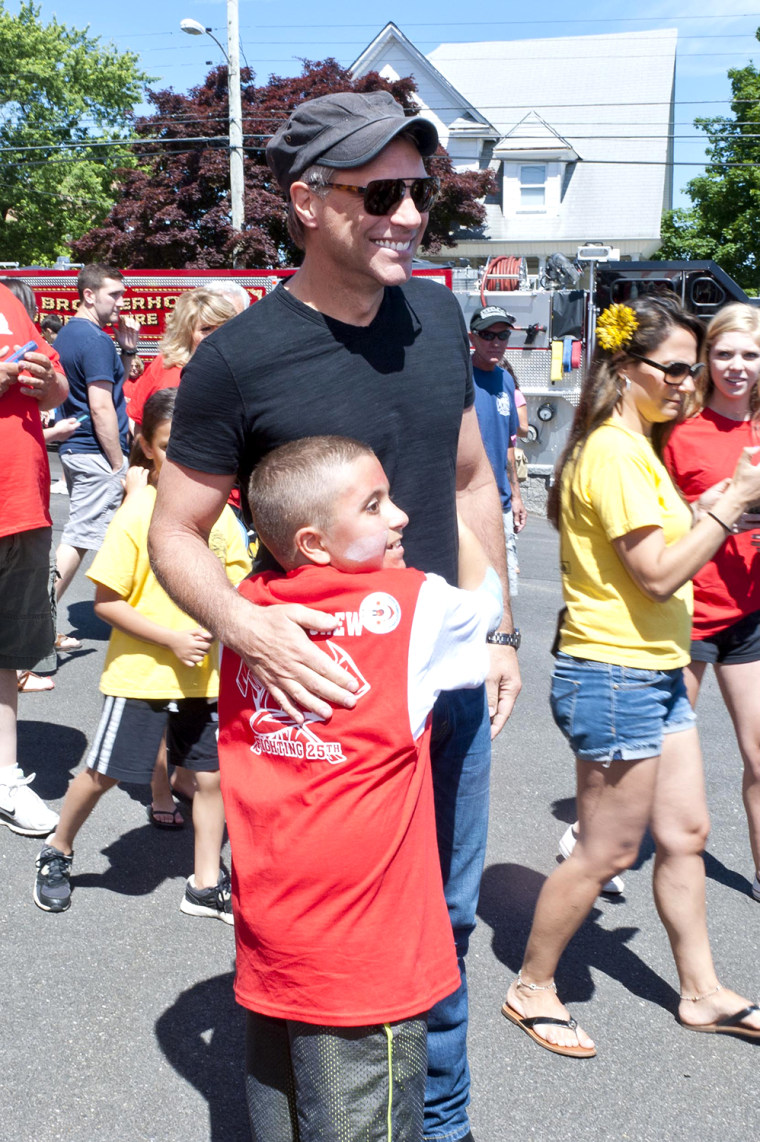 Mario, who is now aiming to get Toby Keith and Luke Bryan at the lemonade stand next year, woke up the next morning and asked his mom if Bon Jovi would remember him.

"I told him that I think he will," Carpino said. "He's his buddy now."