John Krasinski plays an expectant father in "The Hollars," and the actor says becoming a dad of two profoundly deepened his connection to the heartfelt family film.
"I actually got offered the script six or seven years ago as an actor, and I would say that my understanding of the script ... to say that it changed completely would be the greatest understatement of the century," Krasinski, who also directed the movie (released on DVD and Blu-Ray this week), told TODAY.
"I'd had my first daughter, and when we went to go shoot, I think she was 4 and a half or 5 months old, and I went into the movie in a completely different way," he continued. "I think having kids totally changes your perception of family and where you're from."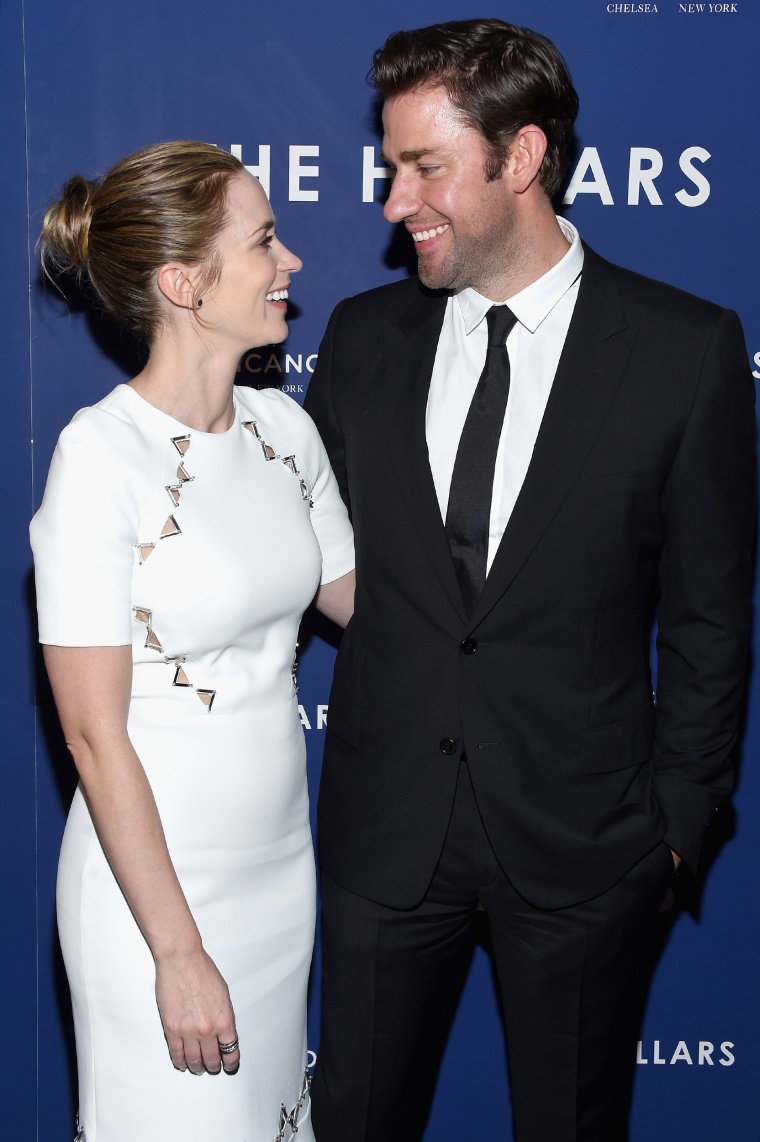 In fact, fatherhood changed how the 37-year-old actor viewed his own parents.
"I think you realize first and foremost how it's really hard to be a great parent and you're just trying," he said. "There's no perfection. There's no school. There's no defined way to go about it; you're just learning. And I think that there's such a long period of time when you're a kid that you see your parents as superheroes; they can do no wrong. But you realize they figured everything out by trial and error too, and there's something very humbling about that. I really connected to my parents even more, thinking of them as young parents, as I am now. I think you look back and realize what an incredible job they did and how dedicated they've been to you."
RELATED: John Krasinski: Being known as 'Office' character is 'the biggest honor for me'
Krasinski said his life has changed "in every way, completely and totally" since welcoming daughters Hazel, 2, and Violet, 6 months, with wife Emily Blunt.
"I think the biggest question I have is, what did I do with my life before this?" he said. "What did I do with all the time that I had on my hands? I think it's certainly a full-on job, and something that I enjoy so much, but I really do look back and think, was I just the dude who ate potato chips and movies all day?"
However, Krasinski wishes people were more candid about the hard parts of parenting.
"I'm a big fan of being open about the truth and how you really feel, and not putting on a pretty face for everybody," he said. "No one really tells you that it's hard and there are sleepless nights. Kids get sick, kids fall down and get hurt, and all these things are really intense and really emotionally difficult and you hurt for them more than you hurt for yourself. And one of the best things I ever heard from one of my friends who just had a kid was, 'It's so amazing, it's the best thing that could happen' and I said 'That's so great.' And he said 'And it's really, really hard,' and I said 'Thank you so much for being honest.' I think there's a sense of relief hearing that it's hard for other people, because you're all in this fight together."
And of course, his "Hollars" character's anxiety with regard to impending fatherhood is relatable for plenty of expectant parents — as Krasinski points out, there's "no manual."
"When I became a dad, I think that I was unprepared for all of it," he said. "I think the great misconception is that you think you're prepared. You can read all the books you want, and I certainly thought I was prepared because I had such amazing parents growing up. I just figured, I'll just do exactly what they did. And then you realize that moment to moment, you don't know what they did because there is no manual; there's no exact way to go about things."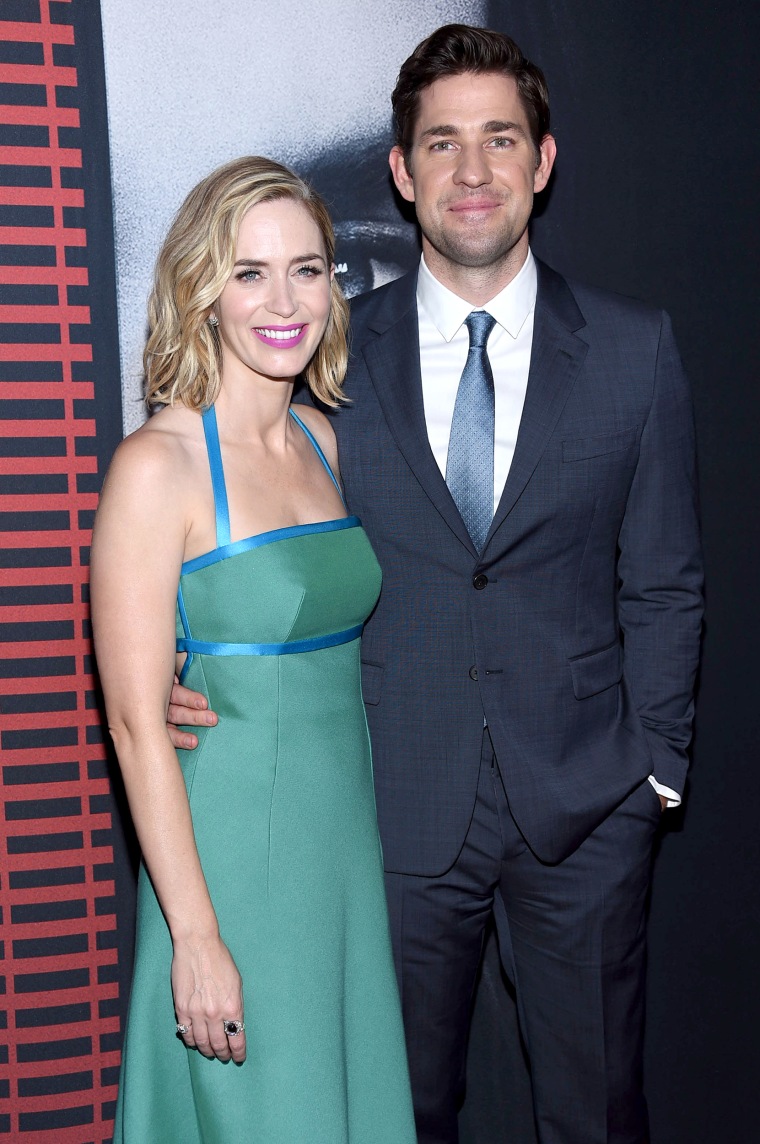 But, he added, strength comes from figuring it out.
"I find myself feeling more and more confident as days go on and you actually start, you just start feeling really proud of yourself in a way that you haven't before, because you're actually being responsible for someone and getting through the day and you definitely feel like a more fully formed person — at least I did."
One aspect of fatherhood that didn't stress out Krasinski was choosing names for his two daughters.
"I didn't consider any crazy baby names," he said. "We were pretty set on the two names we chose. We're big fans of old lady names, so when we looked up both, I think the last time their names were popular was 1890. That was perfect for us; that's what we were going for."
Krasinski called Blunt "the best mom in the world," adding, "I wake up every morning with a smile on my face, waiting for the next amazing moment that she'll have with the kids."
So, what's the key to their happy marriage?
"For us, it's been support," he said. "We support each other in every single thing, we believe in each other in every single thing, so I think there's no one I trust more than her, and I think it's vice versa for her. It's really just respect and trust in that person."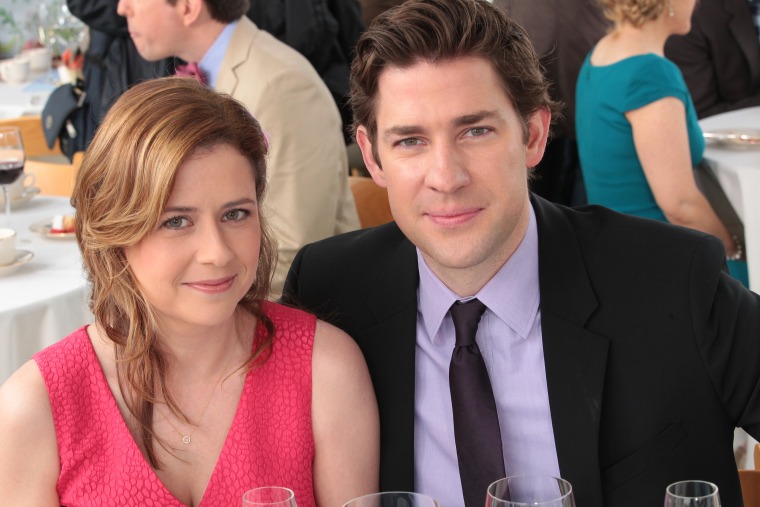 Speaking of model relationships, what would Krasinski's "Office" character Jim and wife Pam be doing now?
"Boy, I have no idea," Krasinski said. "I'm looking forward to seeing it as much as anybody. Someone was asking if we'd do a Christmas special or movie or something and I said yes, I would love to do that just to see where they are. So hopefully someone comes up with a really good story and we all get to get the band back together."