Christmas is always big deal in the home of former "Fixer Upper" stars Chip and Joanna Gaines, and this year is no different. In fact, the home-improvement gurus have even more to celebrate than ever before, thanks to the recent arrival of baby No. 5.
So how will they mark their first yuletide with 4-month-old son Crew by their side? The same way they marked the last.
As Joanna revealed in an essay for the new issue of The Magnolia Journal, while their home and their hearts are fuller than ever, tradition trumps all when it comes to crafting the perfect Christmas in their home.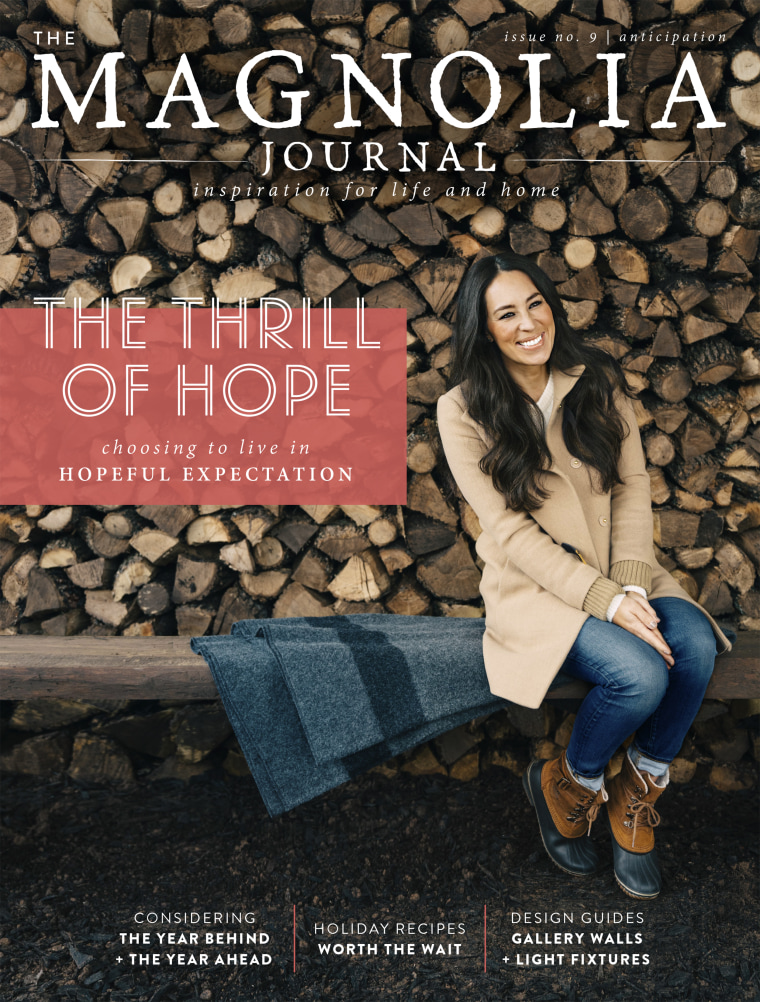 "Let it be said of the Gaines family that we are faithful first customers at our local Christmas tree farm," she wrote. "While others have yet to clear away their pumpkins, our household has entered a full-blown holiday mindset."
That includes bringing the tree home, digging out boxes of long-loved ornaments and unpacking old memories of Christmases past.
"But I start anticipating this day long before November even thinks about arriving," Joanna continued. "This ritual, like so many others, has come to define the holiday for our family. I can picture favorite traditions in my mind almost as clearly as watching scenes play out in a movie. Except these are so vivid, I know the smell and the taste and the sound. It could be the memory of evenings spent making candy with my girls and remembering how our hands carry the scent of peppermint and cinnamon for days after. Or I see Chip and me fireside with all the kids snuggled in around us, gazing at the lights till our eyes are too heavy to keep open."
It's those little things that make her crave more of the same as the holiday season rolls around again.
"I replay these moments in my mind not because I long for peppermint bark or cold weather (though I really do love both), but because these moments somehow define who we are as a family," she added. "Even in their simplicity, there is something profound about how much they impact me long after the actual moment has passed. I'm nostalgic for our traditions because they're ours. It doesn't matter if a million other people do the exact same things. These memories somehow make them ours alone."
So while the rest of the year is filled with of creative new recipes and the sort of transformative decor that Joanna is known to love, that's just not what Christmas in about at the Gaines residence.
"The way my family anticipates Christmas feels different from the way we look forward to almost anything else," Joanna explained. "For other things, we're excited about learning, seeing or exploring something new and exciting. We anticipate what we have yet to know. But Christmas is different. We look forward to it all year. We count down the days, just to experience it nearly exactly as we always have. It is so comfortably familiar and perfectly nostalgic that, frankly, we have no desire to improve upon it at all."
So the only big change in store for the family on Crew's first Christmas is Crew himself.
"This is our first Christmas with baby Crew, and we get to experience our family traditions through his delighted smiles, with his bright eyes serving as sort of a mirror," she wrote. "I hope he'll see that we're not looking for new and improved. But rather that we're taking the best parts of every Christmas past and unpacking them for Christmas present."