Another child was not a part of the plans for Chip and Joanna Gaines!
Joanna revealed that she and her husband didn't have plans to expand their family when she learned she was pregnant with their fifth child — but they wouldn't have it any other way.
"I had been feeling a little emotional and crazy and thought, 'Wow, this isn't me,'" she said in the latest issue of People magazine. "Then all of a sudden I realized, 'Hey, I remember this.'"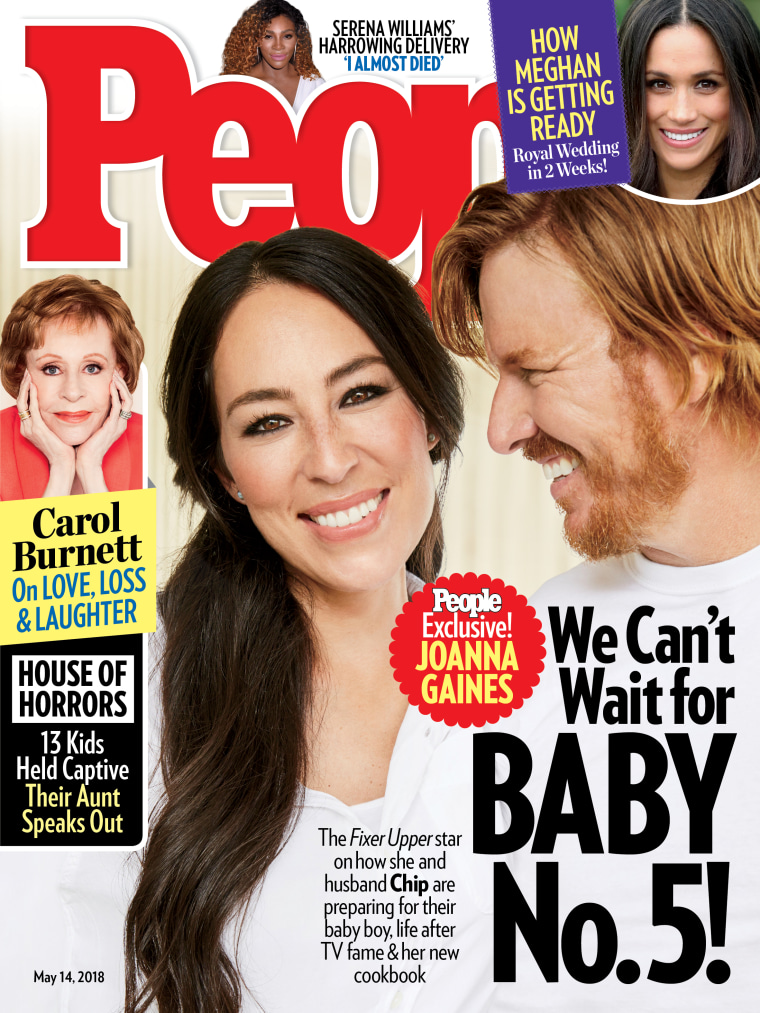 The "Fixer Upper" star said she was stunned to learn she was expecting.
"When I saw the results of the test, my jaw dropped," she said. "Chip was in the driveway about to leave when I called him back and said, 'We're pregnant!' He was so excited. We're both just so excited."
But the discovery couldn't have happened at a better time for the couple, since they had just announced they planned to end their wildly popular HGTV program to focus on their family and business.
The couple recently opened a new restaurant and Joanna recently published a new cookbook, "The Magnolia Table: A Collection of Recipes for Gathering."
With a lot on their plate, Joanna said she and Chip decided to retire their show because they needed a break. Still, neither of them incorporated adding a fifth child to their busy agenda.
"It was a total surprise. But when we found out, it solidified that it was the right decision to leave when we did," she said.
Joanna, who just turned 40, also expressed an openness to the idea of having more children in the future.
"I joke with my friends that I'm going to be that 45-year-old who's pregnant," she said. "Chip is such a kid at heart and we both love a big family. I'm open to whatever. I'm just having fun with it."
She said it helps that motherhood feels different this time around, since it's been more than eight years since she last gave birth.
"I had four kids aged 4 and under," she said. "There were so many diapers, and it was chaos. Those years just flew because there was so much happening in the moment. I feel like I can really take this one in and relish these moments."
The couple recently revealed to TODAY that the family has been sparring over what to name the child, a boy who will break a tie in the family.
"We've got two boys and two girls," Chip told TODAY in April. "This is really upsetting the balance of power. The boys might be able to outvote from here 'till kingdom come."
The couple, whose children range in age from 8 to 13, have two boys with names that begin with D — Drake and Duke. Their two daughters are named Ella and Emmie.
Chip is rooting for another D name but Joanna said she's going for something different. All of the children, however, are excited about meeting their new sibling.
"Every single time they see my belly they have to rub it," she told People. "I think it's sweet because they're older now, and I can see them wanting to be a part of this. We're all rallying around this baby, which I feel is a sweet gift to our family."