Jimmy Kimmel's 3-year-old daughter, Jane, just received an early Christmas present from family friend Carson Daly — and she loves it!
Dad, on the other hand, is a little less enthused about the kind gesture.
In fact, Kimmel is already plotting a gesture of his own to get back at the TODAY anchor for the some-assembly-required (and then some more) gift.
On Wednesday, the father of four shared a photo of himself situated inside a kid-sized food truck as he attempted to hang an awning with the help of several sheets of instructions.
"Thank you for this terrible gift," he wrote to Carson — and to wife Siri Daly, who was in on it, too. "It only took four hours to assemble but Jane loves it."
He then added a somewhat-menacing message: "I will get you for this."
But according to Carson, there's no need for that. This sweet present was meant to be payback.
"He got my son, Jackson, a big giant Nerf blaster a couple of years ago, which was big and awesome, but he also got with it 1.2 million extra Nerf darts," Carson revealed Thursday morning on TODAY. "They're all over my house — still. So there you go, buddy!"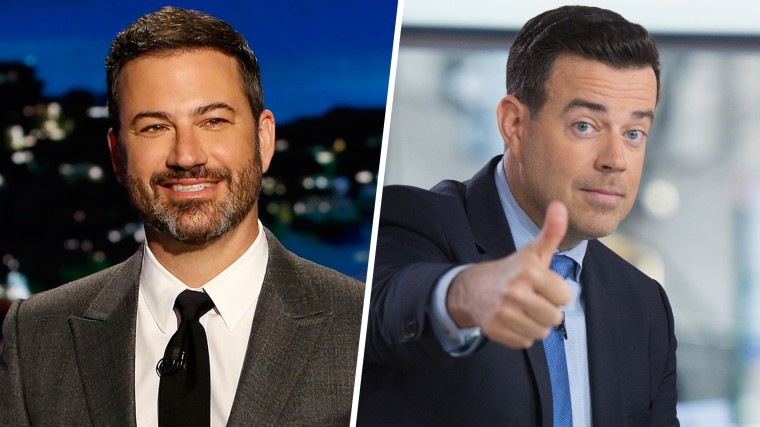 The gifts and the good-natured threats are nothing new for these two. They go way back.
The "Jimmy Kimmel Live!" host was once a radio host at KROQ-FM in Los Angeles, and in the early '90s, a teenage Carson Daly served as his intern.
The rest is toy-filled history.
Oh, and if you want to share Kimmel's frustration and put together a complicated food truck for your own kid, you can find it right here.
TODAY has affiliate relationships, so we may get a small share of the revenue from your purchases. Items are sold by the retailer, not by TODAY. All prices are subject to change and items could sell out based on the merchant's inventory.