Just a day after Jimmy Kimmel revealed his newborn son, Billy, had undergone open-heart surgery, the late-night host is thanking fans for the support they've shown his family.
The "Jimmy Kimmel Live" host took to Twitter to share a sweet photo of his 2-year-old daughter, Jane, checking on her little brother with a toy stethoscope as both kids rest on mom Molly McNearney's lap.
"Sincere thanks for the outpouring of love & support — Dr. Jane is keeping a close ear on Billy, who is very well - XO," wrote Kimmel.
Kimmel's son was born just 12 days ago but has already begun the first of several open-heart surgeries due to a heart defect.
In an emotional monologue Monday night, the late-night host opened up about the family's ordeal — first assuring fans that Billy is now thriving.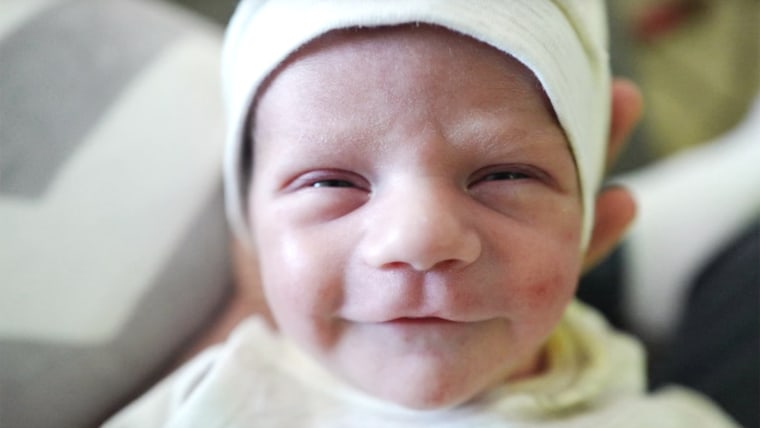 RELATED: In emotional monologue, Jimmy Kimmel reveals his newborn son had open-heart surgery
"My wife was in bed relaxing when a very attentive nurse at Cedars-Sinai ... was checking him out and heard a murmur in his heart, which is common with newborn babies," Kimmel explained. "But she also noticed he was a bit purple, which is not common."
The couple quickly learned Billy would need multiple surgeries to repair "a hole in the wall of the left and right side of his heart" that prevented him from getting enough oxygen to his blood.
The first surgery happened when Billy was just 3 days old, the 49-year-old father of four revealed, and the rest will be scheduled when he's older.
During Kimmel's monologue, he also made an emotional plea to lawmakers debating the topic of health insurance right now in Washington.
"If your baby is going to die — and it doesn't have to — it shouldn't matter how much money you make," the host said, his voice breaking.
Kimmel's message resonated with former president Barack Obama, who tweeted a thank-you to the host for mentioning the need for affordable healthcare in the U.S.