Molly McNearney is proud of her husband, Jimmy Kimmel, for having the courage to share their son's health issues with the world.
McNearney, 39, a producer and co-head writer on "Jimmy Kimmel Live!," recently opened up to The Hollywood Reporter about the groundbreaking night in May when Kimmel, 50, talked candidly on-air about their newborn son Billy's congenital heart defect and the open-heart surgery he'd undergone.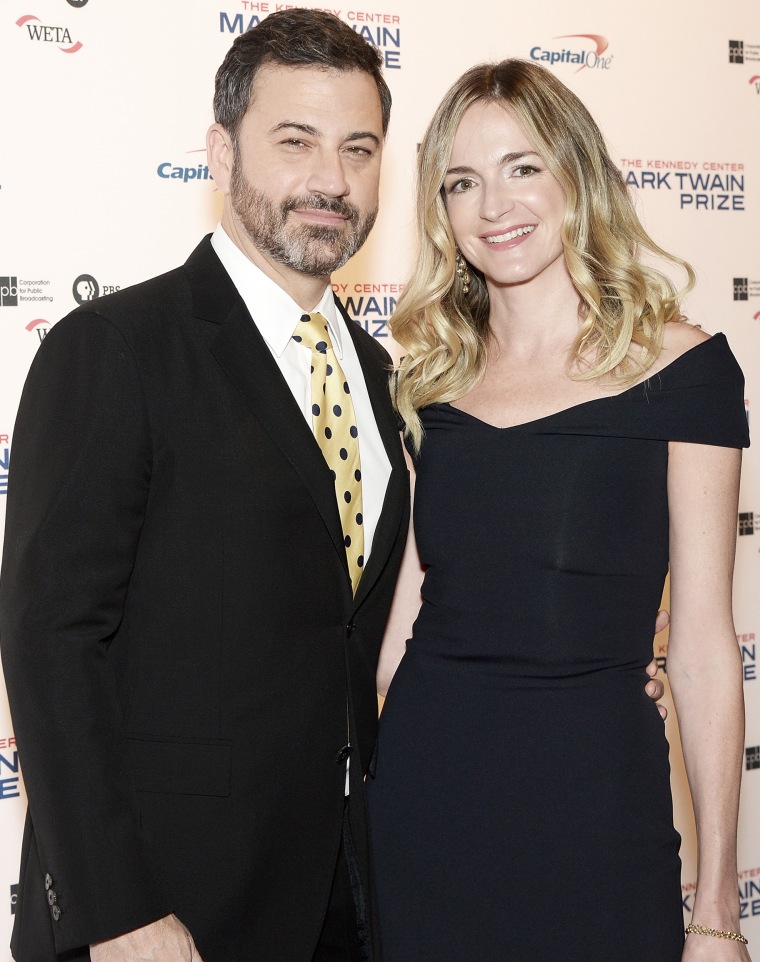 "So, there I am, in my living room breastfeeding Billy with my mom beside me, and we're watching," said McNearney, who was still home on maternity leave. "I sobbed through the entire thing. I couldn't believe the strength that it took to tell that story a week after it happened."
That night Kimmel asked his wife to watch the show.
But, says McNearney, she had no idea how intensely personal his opening would be — or how he'd turn this monologue — and many afterward — into a rallying cry for congress to protect the Affordable Care Act for those less fortunate.
"He didn't have to do that," she said. "Our family has excellent health care; he had nothing to gain from that. He did it for the other people whom we met in that hospital."
Added a proud McNearney, "He came home that night, and I just hugged him and I wouldn't let go."
Kimmel's words — and tears — she said, came from his heart: "He had 14 writers sitting in a room ready to write, and he said, 'I got this,' and went into his own office and closed the door. That was all him, all his heart."
Fans have been overwhelmingly positive about Kimmel's candor, she said, with many still inquiring about little Billy, who just this week successfully underwent his second of several planned follow-up surgeries.
"Jimmy and I can't go anywhere without someone coming up and thanking him for that monologue," said McNearney, who's also shares a daughter, Jane, 3, with the host. (Kimmel also has two grown children from his first marriage.)
Of course, some have accused the couple of "politicizing" their son's heart problem, which McNearney says is nonsense.
"We took a personal experience and we shared it with the world," she said, "and then it just so happened that this was going on while people were trying to take health care away from children like ours."