Jimmy Kimmel on Monday confirmed that he's hosting the 2017 Oscars ceremony in February. As it turns out, it wasn't even the most exciting news he had to share.
He announced on "Jimmy Kimmel Live!" later in the day that his wife, Molly McNearney, is pregnant with their second child together. Now that's something to celebrate!
Kimmel was cracking jokes about his role as Oscars host when he casually dropped this little nugget of information: "My wife is hosting a baby inside her body."
The late-night host suggested that they're keeping the gender of the child a surprise for now.
RELATED: Jimmy Kimmel will host the 2017 Oscars
"We went and got the ultrasound — which is weird because you're spying on the baby, the baby doesn't know, already you're spying on the baby — but we asked the technician not to tell us whether we're having a boy or a girl. Our plan is to let the child decide for itself," he joked.
One thing is clear: Kimmel will need some time to decide on a good baby name.
"I have been trying to think of names that would work for either a boy or a girl. So far, I've come up with two: No. 1, 'Dyson,' after the vacuum, or 'Jelatin' with a 'J,'" he told his audience. "No? That's exactly what my wife said."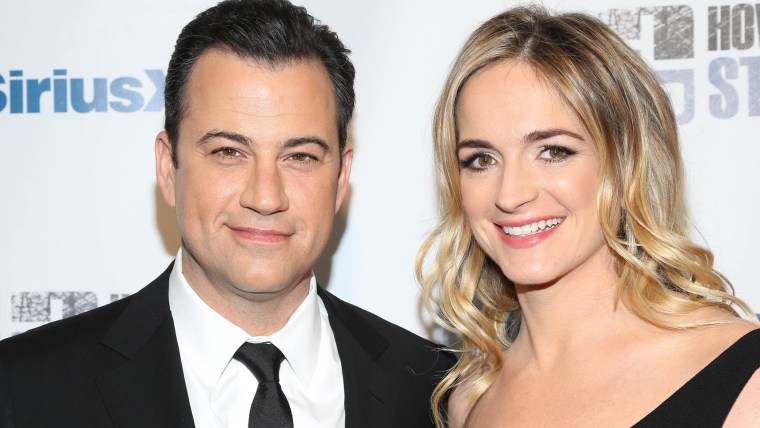 Kimmel ended his announcement with a dose of self-deprecating humor: "Congratulations to me. I'm hosting the Oscars and I had sex. Two things as a teenage boy I never thought would be possible."
Kimmel and McNearney, a co-head writer on his show, currently have a 2-year-old daughter, Jane. The comedian also has two adult children from a previous marriage.
RELATED: Kids tell Jimmy Kimmel how they feel about President-elect Trump
Congrats to Kimmel on the baby news! We can't help but wonder: Will the baby become a victim of Kimmel's "I ate your Halloween candy" prank one day?
Follow Shane Lou on Twitter.