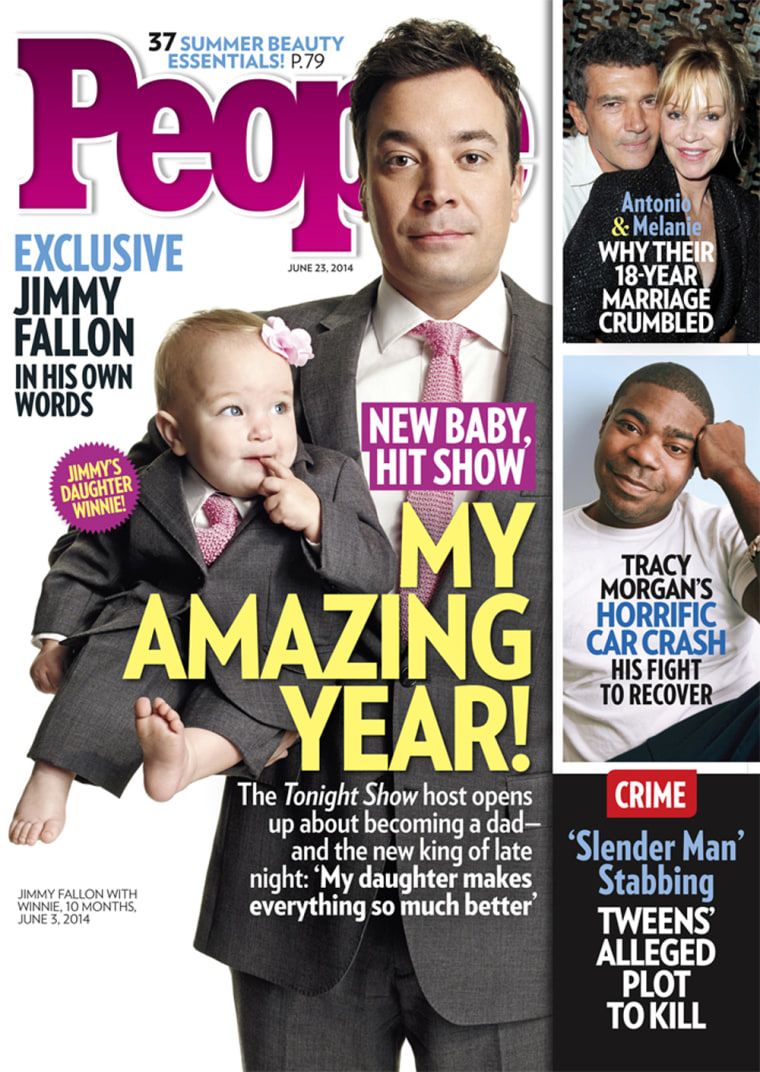 Jimmy Fallon is a lucky man, and he knows it. Not only did he take over as host of "The Tonight Show" in February, he and his wife, Nancy Juvonen, are now parents to 11-month-old Winnie Rose after a five-year struggle with infertility.
"This has been the craziest year of my life," he told People magazine, which hits newsstands on Friday. "Being a father is the most exciting, amazing thing that has ever happened to me. And everything's going well on the show. My life has never been this cool."
"Everything is so good right now that I feel beyond lucky," he added. 
Sign up for top Entertainment news direct to your inbox
Fallon spoke frankly about becoming a father for the first time. The couple had had several brushes with pregnancy before Winnie was conceived by surrogate, and the late-night host said they had to get used to tempering their excitement in case things didn't work out. But seeing Winnie on the ultrasound changed everything. 
"We thought, 'Oh, my God, this is real,'" he told People. "That's it. It's a human being. She was sticking her tongue out. She was already making everybody laugh."
The comedian said he's gone through several stages of over-protectiveness with Winnie, admitting he used to sleep in her room to make sure she was breathing, though now he's graduated to listening in on a monitor. What's surprised him is "how durable babies are," he confessed. "You hold them like they're Fabergé eggs and then — wonk! — she hits her head on the table and you think, 'Oh my gosh, did I give her a dent on her head that's going to be there forever?' But babies aren't that precious. Everyone turns out just fine."
WATCH: Fallon reveals 'awful' fertility struggle to TODAY's Savannah Guthrie
In that spirit, he and Juvonen are not keeping Winnie in some kind of protective bubble. The tot will be going on the road with the show when "Tonight" heads to the Universal Orlando Resort next week, and he'll have her with him for Father's Day. But for Fallon, every day with his little girl is a special day. (Her first word was "Dada"!)
"I didn't think it was going to be this fun," he admitted to People about being a dad. "Everything just gets heightened when you have a baby. There's no need to stress, because it's all great. The volume gets turned up on life. I never knew I could be this happy, and that's the truth."
"The Tonight Show Starring Jimmy Fallon" airs weeknights on NBC at 11:35.
Follow Randee Dawn on Google+.