The wait is over! Jill Duggar Dillard and husband Derick Dillard welcomed their baby boy into the world on April 6.
Israel David arrived at 11:49 p.m. Monday night, weighing in at 9 lbs., 10 oz.
"We are so thankful for a healthy Mom and baby!" the couple announced on the official Duggar Family Facebook page. "Love this sweet baby Israel! We are happy grandparents and we promise more pictures soon!"
"Congrats to my sister @jillmdillard and brother-in-law, @derickdillard, on the birth of their beautiful baby boy, Israel David Dillard!" Jill's sister Jessa posted on Instagram on Tuesday, along with a sweet photo of the new family.
The "19 Kids and Counting" star kept the public updated throughout her pregnancy with sweet baby bump photos and blog posts. And while her official due date was March 24, Jill anticipated that her "second" due date was April 5 — because first-time moms often go late.
This past weekend, Jill posted a cute photo as she and Derick played the waiting game.
"Out to lunch...maybe this spicy Mexican food will make the baby come! Only Braxton Hicks contractions with this weather so far. We shall see what the weekend brings! #nobabyyet #lunchwithmyhubby"
In March, Jill and Derick celebrated the one-year anniversary of their engagement.
Derick wrote on Instagram, "I wonder if #babydilly will decide to come on the one year anniversary of my engagement to @jillmdillard this weekend."
Jill and Derick were first introduced to each other by Jill's father, Jim Bob. The patriarch of the Duggar family told TODAY in 2014 that he met Derick while doing humanitarian work in Nepal. "I thought he and Jill had a lot in common and would hit it off," he said. "Needless to say, they haven't stopped talking since. They're a match made in heaven and Michelle and I couldn't be more thrilled."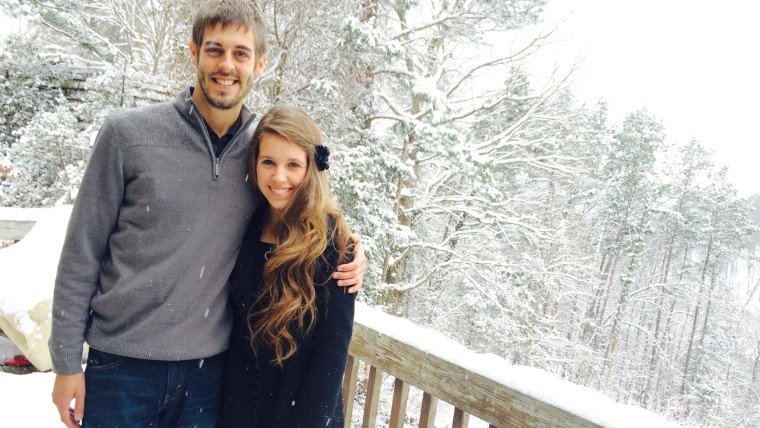 The couple tied the knot on June 21. Two months later, they announced their pregnancy.
TODAY.com learned 8 new things about the couple's baby-to-be when they stopped by for a visit. For instance, they are planning to follow in the Duggar footsteps and have another big family.
Well, they're certainly off to a good start — congratulations!