Jill Dillard, who grew up in the spotlight as one of 19 Duggar children featured on the TLC reality series "19 Kids & Counting," stopped by TODAY.com this week with her husband, Derick Dillard. The couple married this summer and are expecting their first child, a boy, in March.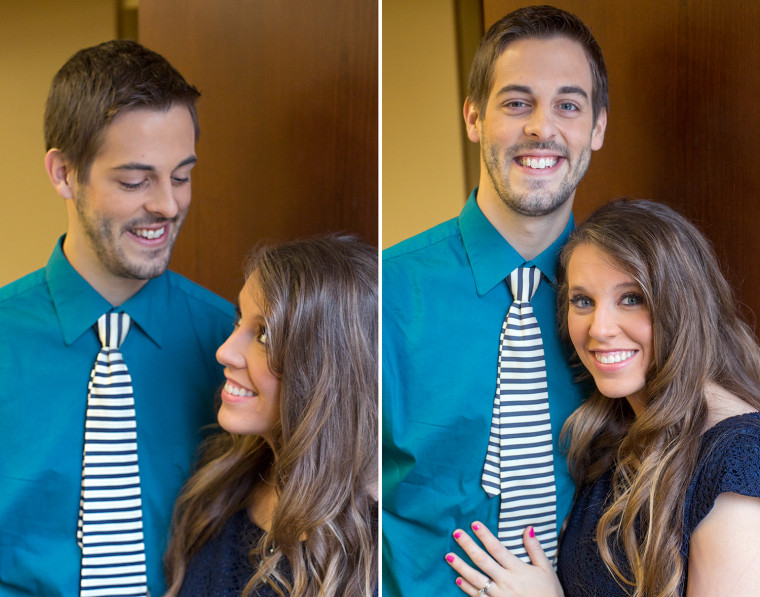 It will probably be the first child of many for the couple, who like Jill's parents eschew family planning and say they will leave the number of children they have "up to God." But they plan to break with family tradition in one big way — read on for more.

1. A, B, C... no. One of the Duggars' many claims to fame is that all their children's names begin with the letter "J." Oldest son Josh and his wife, Anna, have followed suit by giving their children "M" names: Mackynzie, Michael and Marcus.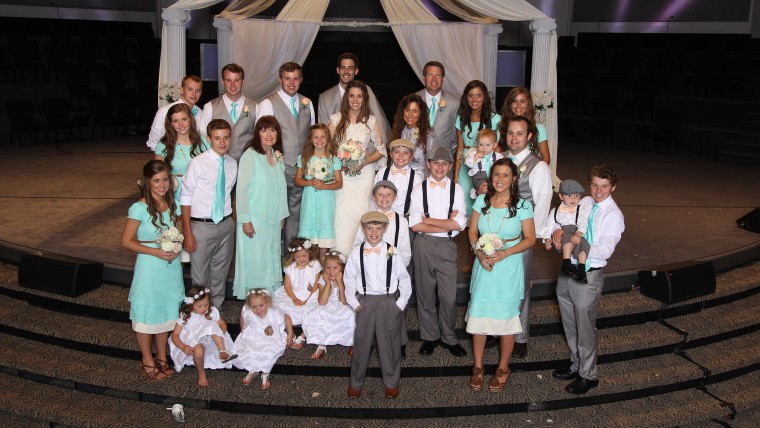 Jill and Derick will go their own way on the naming front. 

"We are not going to do the letter theme," Jill told TODAY.com. "We may pick another theme... We're talking about family names and Bible names."

"We both have an Elmer in our family," Derick suggested.
"We're teasing," Jill quickly added.
2. They plan to follow in the Duggar family footsteps... lots and lots of footsteps. Expect another big family.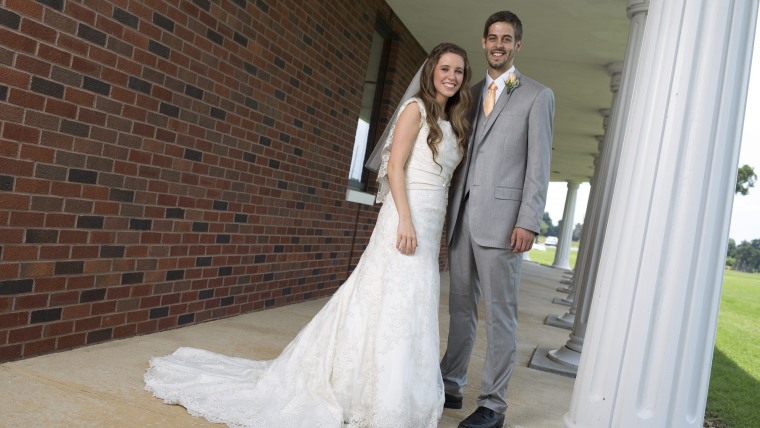 "We're leaving that open, definitely — as many as God will give us. We're open to adoption as well," Jill said, when asked how many children they want, noting that Derrick's mother was adopted as an infant.
3. When in doubt, listen to your mama. When you're expecting your first child, isn't it nice to know someone who has been there, done that, and can tell you everything the books don't? Luckily, Jill's mother Michelle has done this a few times. 
"I'll call her and ask, 'Was this normal for you?'" Jill says.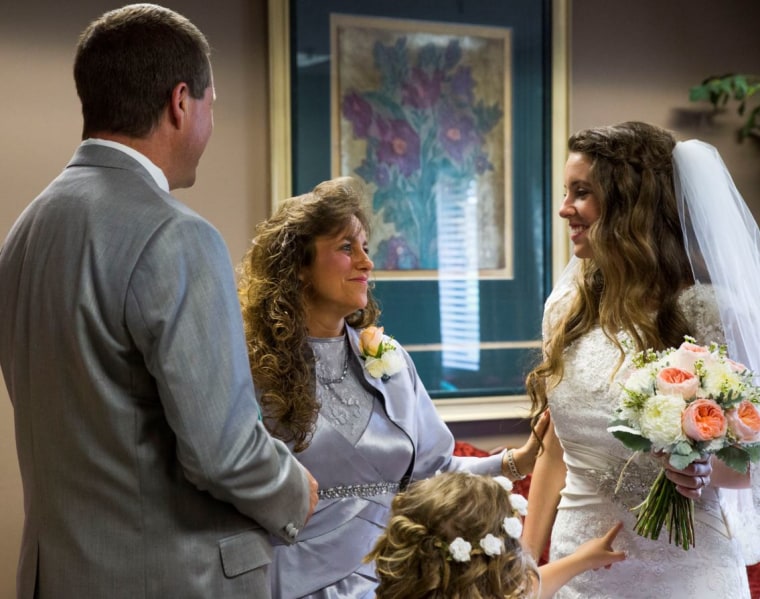 Among Mama Duggar's words of wisdom: Use Sea Bands for nausea, eat protein every two hours, and try nuts for protein when you can't stomach the thought of meat.
4. Dad Derick is hands on. The couple is taking Bradley birth classes — a popular husband-coached childbirth method.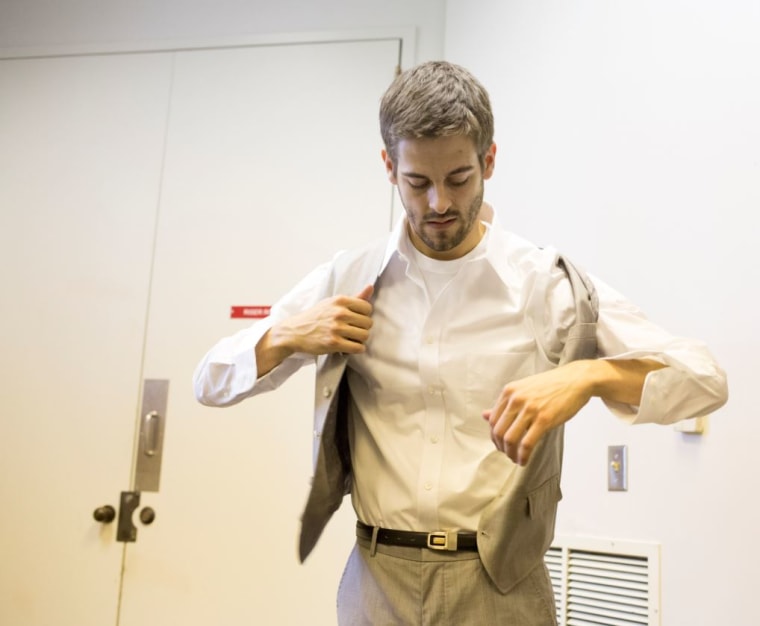 "As a husband you don't want to feel helpless. It really gives you that avenue to help, what can I do not just for the labor but throughout pregnancy," Derrick said of the classes. "I'm just trying to be as supportive as I can." 

5. The family that prays together, stays together. They've been picking out Bible verses to inspire them and writing them on notecards to keep around during pregnancy and labor. 
Their favorite? Psalm 22:30-31, "A seed shall serve Him; it shall be accounted to the Lord for a generation. They shall come and shall declare His righteousness unto a people that shall be born, that He hath done this."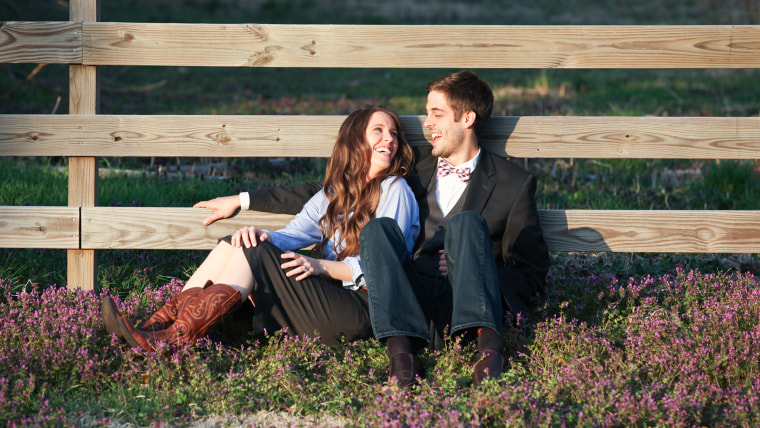 "I love that verse as far as praying over our son," Derick says. Jill noted that they've been praying over the baby since the moment they found out she was pregnant.
"It's humbling, being responsible for another person," Derick adds.
6. But they don't always eat together. Jill suffered from morning sickness in the first trimester, and couldn't deal with smells from most hot food. Derick supplied her with frozen fudge pops. And he learned that food aversions can change from moment to moment, thanks to what they now call the "Asian Noodle" incident.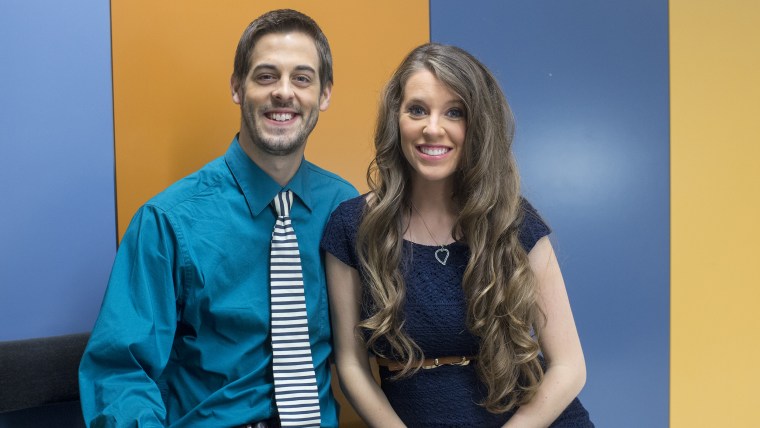 Jill made noodles for dinner, ate some, and then Derick came home a little later and started to dig in. Suddenly she couldn't stand the smell, or even the thought of noodles.
"She's like, 'I'm sorry, you can't eat that,'" Derick said. "It's a moment-by-moment basis."
"I will not have those for the rest of my pregnancy," Jill said. "I did not even wash the pot out. He had to wash the pot."
Derick adds, "Then a week later, I was saying, 'OK don't make Asian noodles again' and she's like, 'Don't say it!'"
7. They are super cute together. Derick, 25, and Jill, 23, are still very much newlyweds: holding hands, sitting close together, finishing each others' sentences. When Jill was struggling with pregnancy nausea, Derick carried a bag of assorted snacks everywhere they went together, just so he could be prepared if a craving struck.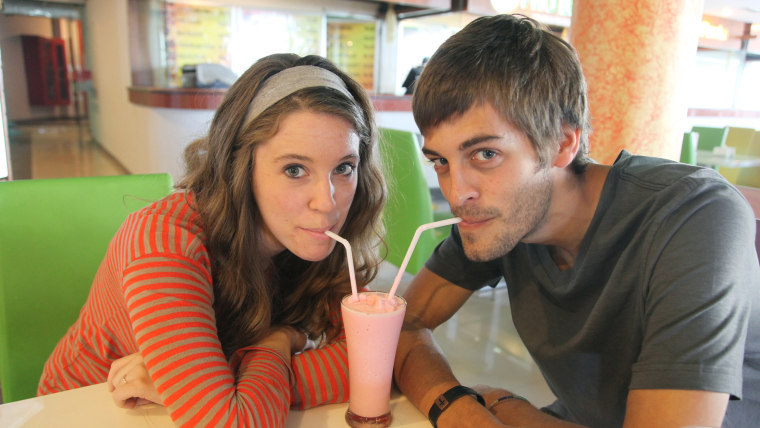 "I really do hope that our son will be like his father and just a man of character," Jill said. "Derick is like a gentle giant. He's strong in character but gentle and sensitive to the feelings of others."
Asked what qualities he hopes their baby learns from his mother, Derick replied, "How sweet and compassionate and tender-hearted she is, I love that about her. Really being a people person -- her love of the Lord and because of that, her love for people."
8. Most important lesson of pregnancy so far? Give yourself a break. Jill said she started feeling down on herself because she couldn't do much while struggling with nausea.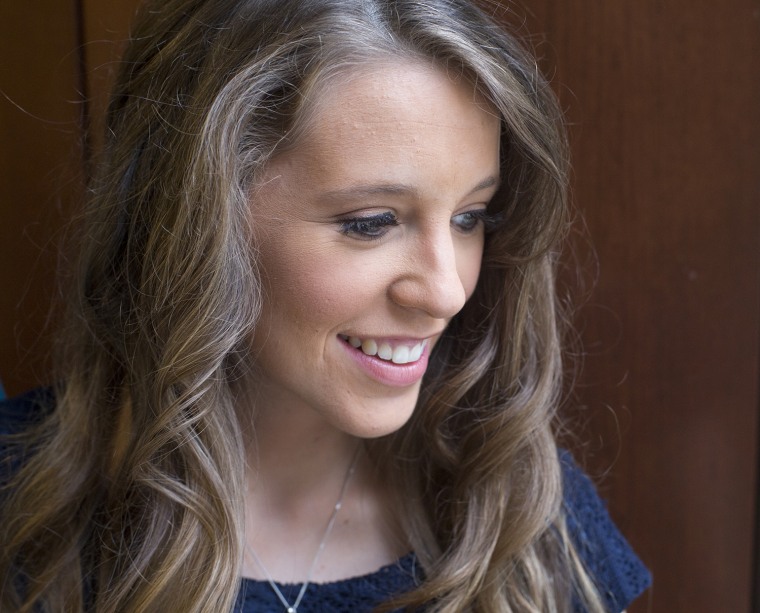 "I called him crying, (saying) 'I feel lazy!' Both my mom and Derick said this is the most important thing you can do right now — you're growing a baby. It's not going to last forever," Jill said. "I've been able to pass that on to some of my friends who are pregnant: don't feel bad that you're taking a nap, don't feel like you're lazy, because you're doing the most important thing you can right now, and that's to be healthy for your baby."
Amen to that!
19 Kids & Counting: Jill's Wedding airs Tuesday, October 28 at 8/7 Central on TLC.