Jessie James Decker is eagerly anticipating the birth of her third child — and so are her adorable daughter and son.
"They're so excited," the 29-year-old country singer and star of E!'s "Eric & Jessie: Game On," told TODAY of 3-year-old Vivianne and 2-year-old Eric Jr. (aka "Bubby"), her children with NFL star Eric Decker. "They've been wanting a sibling forever. Well, Vivianne has. Vivianne was a little disappointed at first because she wanted a baby sister, but she got over that within 10 minutes and now she's so excited and kisses my belly every day."
Never miss a parenting story with the TODAY Parenting newsletter! Sign up here.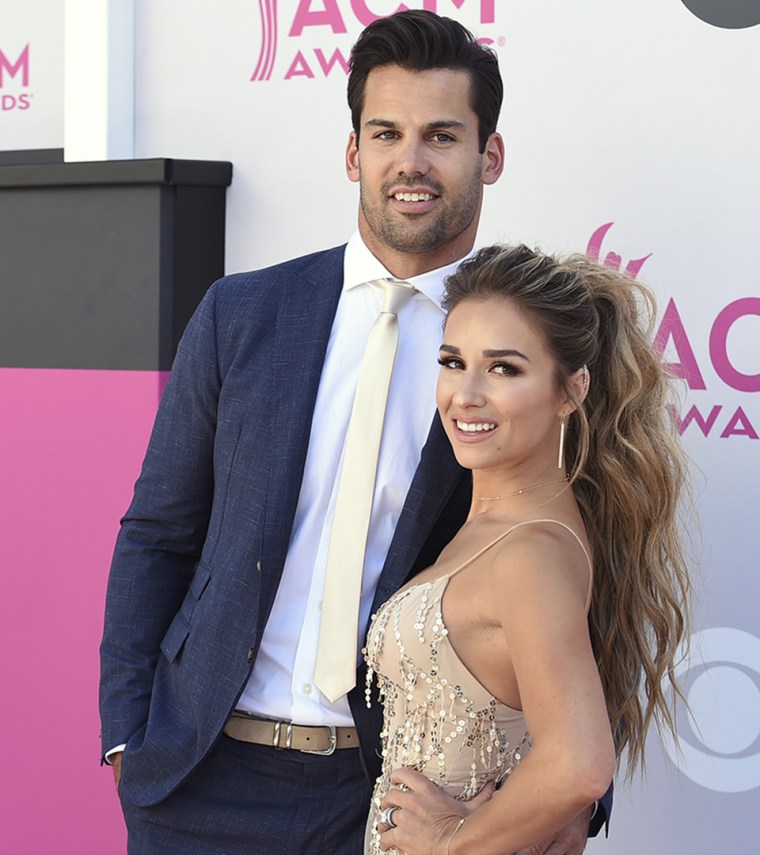 After welcoming Bubby in 2015, Decker shared an honest photo of her post-baby body to encourage other moms not to be too hard on themselves — and she maintains that positive outlook.
"I don't think I've ever felt pressure to look a certain way," she said. "I always just go by what makes me feel good. And so as soon as I have my kids, I really just focus on breastfeeding and spending time with them and not thinking about getting my body back. It's impossible — all my time is spent taking care of an infant. I don't know how women do that — more power to them, but I would rather spend all that time taking care of them. Once I'm done breastfeeding, that's when I get that ammunition to be like 'OK, let's get healthy again. Let's start working out and tone up this booty again.' And it makes you feel good, but for the most part, I don't worry about it."
Decker isn't shy about sharing sweet family moments with her 2.7 million Instagram followers. And while internet trolls can be quick to criticize celebrity moms on the social-media platform, Decker says she's actually gained a few valuable tips from commenters.
"There've been things that fans have pointed out on Instagram that, for the most part, I was actually grateful for," she said. "Someone suggested cutting up grapes and not giving to them whole, because it's such a choking hazard. It seems so obvious. It's just something I didn't think of and I now cut the grapes up thanks to them. And then someone pointed out that I was wearing a front carrier incorrectly, and I didn't realize that I was."
Decker, who's due in March, says this pregnancy has been easier than her first, but not quite as smooth as her second.
"Vivianne was the most difficult pregnancy of all time," she said. "She tried to kill me. Bubby was fairly easy. This one's kind of in the middle. With Bubby, I had morning sickness for a week and then was done. With this one, I had it for eight weeks and then I threw up this morning."
While nausea is her least favorite part of being pregnant, she's also cherishing this time.
"I love being pregnant because there's just something special about being a woman and being able to grow a baby in your body," she said. "There's just nothing like it. I love knowing that there's somebody in me that I'm nurturing and taking care of; it's such a special bond."
Decker has a busy schedule with her music career, reality show and her own fashion line, Kittenish. She does experience mom guilt — and that's OK.
"I think everyone puts pressure on themselves in one way or another," she said. "I always feel guilty when I leave to go work. I don't leave that often and if I do, I'm not gone more than 48 hours and my mom watches them, so the kids don't even think they're being babysat. But it's pressure and it's guilt and we all have it. But I always say, if you feel guilty and get that anxiety, that means you're a good mom. Cause if you didn't, that means you didn't care. So think if you feel that guilt, pat yourself on the back. You're a good mom because you obviously care enough to be worried about it."