Justin Timberlake is just about perfect, as far as wife Jessica Biel is concerned.
But the actress says she'd be perfectly happy if their son didn't follow in his father's footsteps — at least not professionally.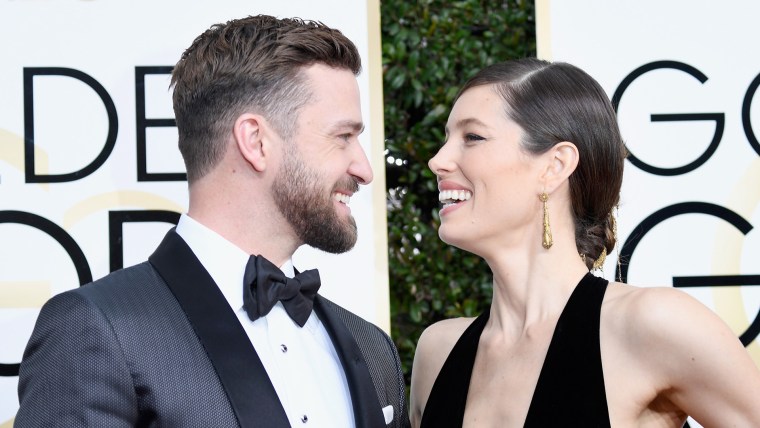 "I would like our baby to inherit Justin's charm and his sense of humor," she told Australia's News.com.au. "There are many qualities I'd love him to get from Justin. But there's one thing I don't want for him. I really don't want him to be a musician."
While Biel added that she said that "sort of as a joke," she then got serious about the subject.
"The music business is really tough," the 35-year-old explained. "I watch what Justin goes through and he is at the top of his game. He has access to work with any producer, and he can actually get songs on the radio. And this is from someone who makes great music; he tours and makes it look very easy, but he's been working for years and years and years to get to where he is."
RELATED: Justin Timberlake talks fatherhood on TODAY: 'It changes everything'
And when she looks at 2-year-old Silas, she imagines what it would be like for him to face that tough industry.
"I already have this image of him as a struggling musician and that's like, 'Oh my God!' As a mom, you think 30 years into the future and you're like, 'How do I fix this for him?'"
The best pre-problem fix she can come up with is a very different career path.
"I just want him to be like an engineer or a doctor, something like that," she added.
RELATED: Jessica Biel says son Silas is 'a ham — just like his dad' Justin Timberlake
Ultimately, she knows she'll have to leave it all up to Silas, who's already exhibiting some very dad-like behavior.
During a visit to TODAY last year, Biel told us, "He is a ham, just like his dad — serious ham!"
As for Timberlake, he's not so sure what he thinks about the idea of his son getting into the music biz.
"I haven't been able to answer that question in my mind," he recently told The Hollywood Reporter. "If he wanted it bad enough, I suppose I could teach him a lot about what not to do."