Jennifer Lopez is opening up about her past struggles in finding a lasting relationship, but as she tells NBC's Maria Shriver, her children provide her with an understanding of what true love really means.
Shriver's two-part interview with the singer/actress airs Monday and Tuesday on TODAY, ahead of the release of Lopez's new book, "True Love." In this Web extra, Lopez discusses how her 6-year-old twins, Max and Emme, impact her life and what she hopes they eventually bring to relationships in their own lives. 
On 'unconditional love'"When I had my children and I felt that type of love, which I know you understand and every mom out there understands, it made me understand that there was a purity to love. That there is an unconditional love. That there is a certain way you feel about someone, where you don't want to hurt them. Where you wanna protect them, you know, and it made me go, wait a minute, that's not the love I've been experiencing."
On what she wants her children to learn about her
"It's funny, they asked me about like, what happened with me and their dad. They're 6 now. I tell them certain things, and then I say, 'When you're older I'll explain it to you.' But what I would hope they get from the book is that they save me. Their love and loving them and them coming into my life really made me reevaluate what I was doing with my life, and the relationships and the choices I was making in relationships sometimes, that only had to do with me, not the other person."
Read more: Jennifer Lopez let down by 'true love,' deals with whether she is worthy
On what her kids should take away from their mom's experiences with love
"I want both of them to be independent, good on their own first. Like, whole people, what they have to contribute, what they have to offer, just as if they had nothing, just as the person that they are."

"Max is gonna need to be raised by a single mom, and I have to teach him how to be a man ... and how to treat women. I wanna be like, looking at him, going, 'Look how good my son treats women.' And look at my daughter. You know, she stands up for herself when she needs to and she doesn't give away her power. I can just let them know what I've learned and help them to be whole on their own. I think is really a key and to always love themselves."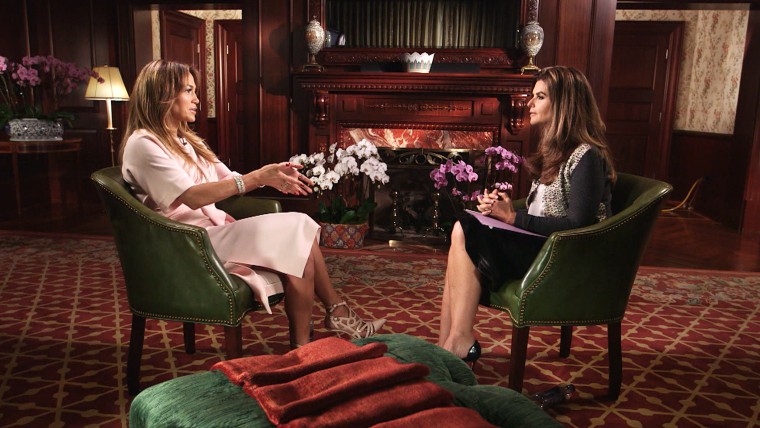 On what she would say to 15-year-old girl 'looking for that guy'
"You should be looking for someone who respects you, who treats you right, who talks to you the way you wanna be talked to. That's what I would tell a 15-year-old. Is he respectful? Does he do what you ask him to do? You can recognize those things right away, and if we start accepting them at that age, chances are it will continue. If you let some guy talk to you in the wrong way or push you around or do something that doesn't feel good to you."
On whether she accepted the wrong things along the way
"My pattern started a bit later in life, where I was in the midst of this business and becoming famous, and you know, you get separated from your family and all the things that you know, and you start grabbing for anything that feels comfortable or safe. What I realized was missing was something in myself. It's like ... getting comfortable on your own, being on your own and feeling like, I got this, and not needing somebody to fill that hole for you."