/ Source: TODAY Contributor
It makes sense that moms relate so well to actress Jennifer Garner. After all, most of us at least glimpsed her when she appeared on "Felicity" or had a full-on girl crush on her strong, smart Sydney Bristow in "Alias." When she went on to lead the "Thriller" dance for "13 Going on 30," she won our hearts forever.
Offscreen, Garner is now a 44-year old mom of three kids — Violet, 10, Seraphina Rose, 7, and Samuel, 4 — and she truly is one of us. She picks her children up from school, she struggles with the being a working mom and still wanting to tuck her children into bed, and she is not afraid to rock sweatpants and a messy ponytail.
Time and again, Garner proves that as a mother, she is all of us: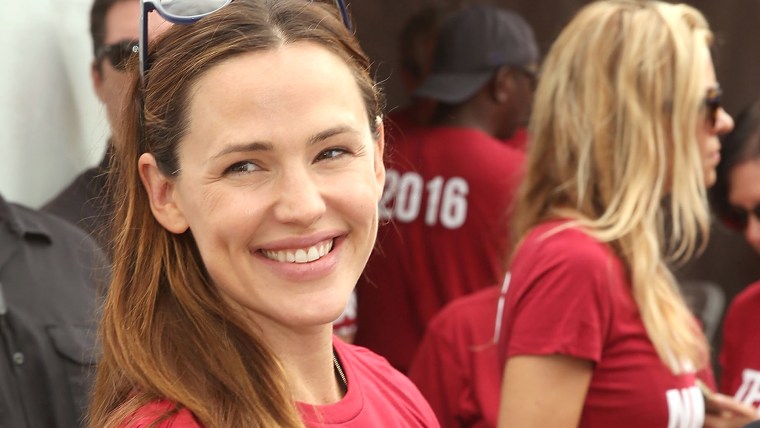 1. She understands that motherhood is both profound and... complicated.
"I'm really glad that I'm playing moms, because there's no more rich time in women's lives than when you have your babies, and when you're trying to figure out how to parent them and balance everything." — TODAY.
2. She knows about those calls from school.
"We all got lice." (mic drop) — The Tonight Show with Jimmy Fallon
3. She actually gained pregnancy weight.
"I wish I was one of those cute pregnant girls who wear skinny jeans throughout their pregnancies. But I just gain weight." — InStyle
Never miss a celebrity parenting story with TODAY's newsletters! Sign up here
4. She doesn't have a flat stomach or washboard abs after three kids: Deal with it.
"I am not pregnant, but I've had three kids, and there is a 'bump.' From now on, ladies, I will have a 'bump,' and it will be my 'baby bump,' and let's just all settle in and get used to it. It's not going anywhere." — On the Ellen DeGeneres show.
5. She's not a perfect role model all the time, but she tries.
"I try to be the best version of myself and to have faith that they're watching me as carefully when I do something right as they do when I roll through a stop sign." — TODAY Parents
6. Things don't always go as she plans — and she rolls with it.
"Every day is a fresh start. You always can say, 'Today we're going to try this!' And if it goes horribly, you can say, 'Today we're throwing that out, and we're trying this!' That's part of what I like about being a mom in general." — People
7. She understands the push and pull of being a working mom.
"There's an internal battle. I need to work, I need to work, I need to work, and I need to be home with my kids, and the kids win. It's about getting the kids up and fed, getting one to school, getting the other down for a nap, going to the grocery store, picking one up from school, getting the other one down for another nap, cooking dinner... I live my life at these two extremes. I'm either a full-time stay-at-home mom or a full-time actress." — Us Magazine
8. She takes the high road while navigating her separation from Ben Affleck, putting her kids first.
"We will make it work." — TODAY.
When she's not attending awards shows or walking red carpets, Jennifer Garner seems just like another mom you might see at back-to-school-night or at Starbucks after drop-off. And that's exactly why we love her.