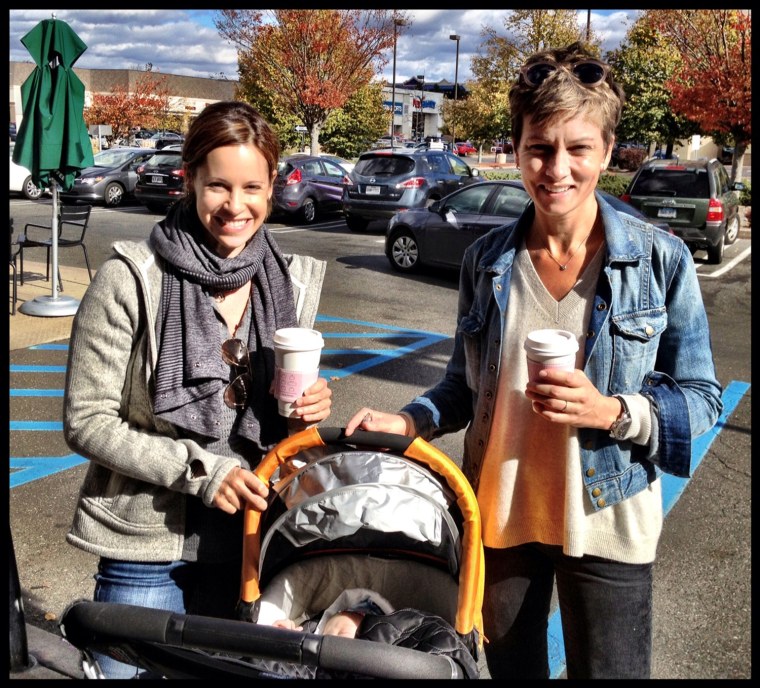 TODAY anchor (and TODAY Moms blogger) Jenna Wolfe's daughter Harper was born in August. Now, two months into her three-month maternity leave, the first time mom takes a few minutes between feedings to catch us up on life with baby.

So where were we? Oh yeah, it was late August and my parents were dropping us off at the hospital. It was just Steph, me and an overnight bag. Steph appropriately brought two outfits and a toothbrush. I packed considerably more — as if somehow I was going to be staying for a month. (Did I really need a crockpot???)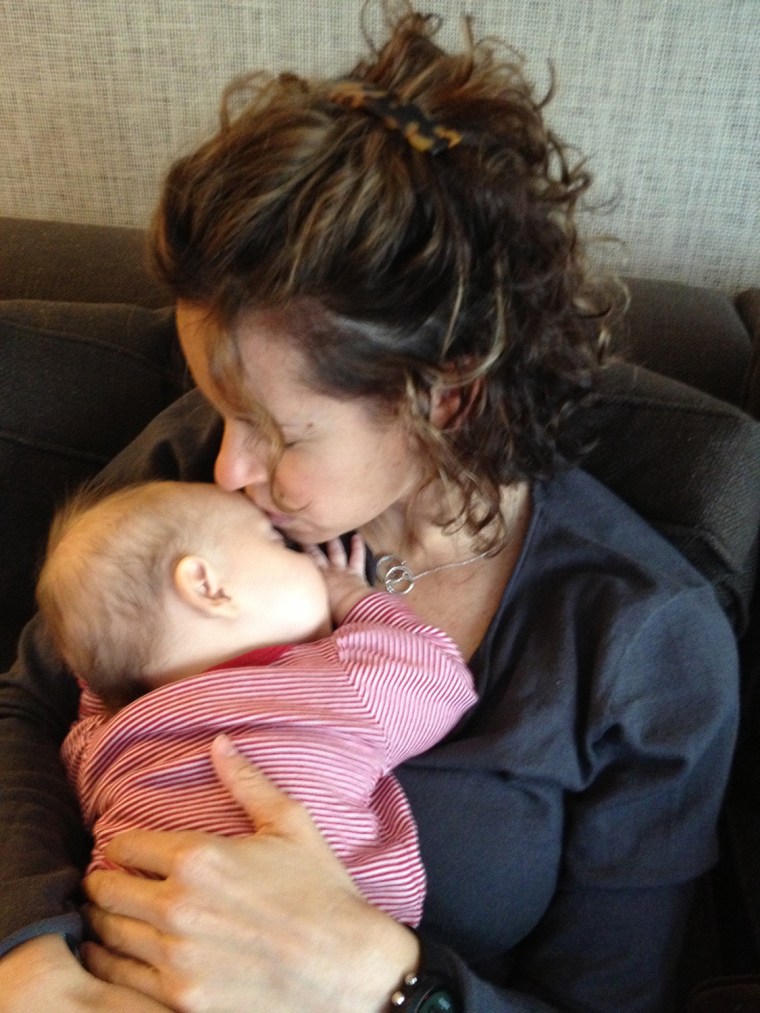 I remember getting into the elevator, hitting 12 and watching the numbers tick up until the doors opened. Steph and I looked at each other, took a deep breath and walked onto the labor and delivery floor. A thousand questions flooded us: Were we ready to raise a child? How would we know what to do? And when? Did we have the right diapers at home? Enough wipes? What about colleges??? (I tend to get ahead of myself)

Twenty-four hours later, Harper Estelle was born. It's funny to think about, but we arrived at the hospital as a party of two and were leaving as a party of three. Unbelievably beautiful math.

Read more posts from TODAY anchor (and TODAY Moms blogger) Jenna Wolfe
That first night alone with Harper was straight out of a sitcom. The first diaper change...fumbling to get the sticky tabs to hold the diaper in place (we lost the first three...slid right off when we picked her up). 
There was the first attempt at breastfeeding, trying to get her to latch on (son of a BEACH HOUSE that hurt!!!!). I remember her first outfit change, trying to pull the onezie up over her waist like a pair of pants because we were afraid she'd cry if we tried to pull it over her head. 
But all the firsts lead to seconds and then thirds and the next thing you know, you've become a parent. And you start doing weird parent things like taping your calendar to your fridge to remember everyone's appointments. You start worrying about her education (I wanted to register her for preschool shortly after birth, but Steph threatened to leave me if i didn't take a deep breath and put the applications away for a while). You schedule your day around feedings and naps. And you start making scrapbooks with lists of her mini accomplishments: first smile, longest tummy-time, best impression of DeNiro... (I didn't say it was a long list.)
So what have I been doing these last eight weeks, besides learning how to raise a child, losing sleep and getting back in shape? 
I broadened my social horizons a little, befriending mommies from my Mommy and Me class. I found the experience a lot like dating. Pick out a mommy. Approach. Put a piece of gum in your mouth. Settle the nerves. And then..."Um... maybe we could grab a bite to eat sometime?" I lucked out with my new friend Alisa. She has a little girl Aerin. Harper has had multiple play dates with Aerin (and by dates I mean we lean them both up against each other and take pictures and call it a friendship). Halloween had them both on display. Harper was a mermaid. Aerin was as a bear. More leaning. More pictures. BFF's. 

Of all the places we've been, all the 'life' we've seen, all the adventures we've amassed, Steph and I agree that Harper Estelle is, by far, the best thing we've ever done. 
Sometimes on Saturday morning, we'll grab her out of her crib, plop her down on our bed, and just watch her wake up and take in a new day. Call me crazy, but I swear I see so much of Steph in her sweet little demeanor (and so much of me in her crazy energy) 
Getting to know your new baby is the most perfect love story. It will undoubtedly have its ups and downs, and as I start blogging more frequently, I'll dive deeper into the funnies of parenthood, but for now, I'll just say thanks for all your sweet messages. I promise you Harper (@harperestelle) reads them all.