Jenna Bush Hager says that when she made a big mistake as a teenager, her father never let her take all the blame.
On TODAY with Hoda & Jenna Tuesday, she spoke about the time she had to tell her dad, George W. Bush, who happened to be president of the United States at the time, that she'd gotten caught drinking while underage.
Back in 2001, Jenna was cited for both possession of alcohol and using a fake ID to purchase alcohol within a five-week period while she was a University of Texas student.
"(My sister) Barbara and I ... were like 19 and a half, maybe 20, close enough but not allowed (to drink)," she told Hoda while they discussed the paperback release of Jenna's "Everything Beautiful in Its Time: Seasons of Love and Loss."
Calling the attempt to drink while being such a public figure and underage "so stupid," Jenna added, "The fact that we thought we could do that just speaks to how (our parents) were like, 'Oh, you can be normal, it's OK.'"
The call to her father, where she confessed to getting the underage drinking ticket, was a lesson in both humility and how to react to children's transgressions as a parent.
"When I called my dad to say, 'I'm really sorry' ... he said, 'No, I'm sorry.' We did embarrass (our parents), but they never would say that," Jenna said. "He said, 'I'm sorry, I told you (that) you can be normal, and you can't. You can't order margaritas.'"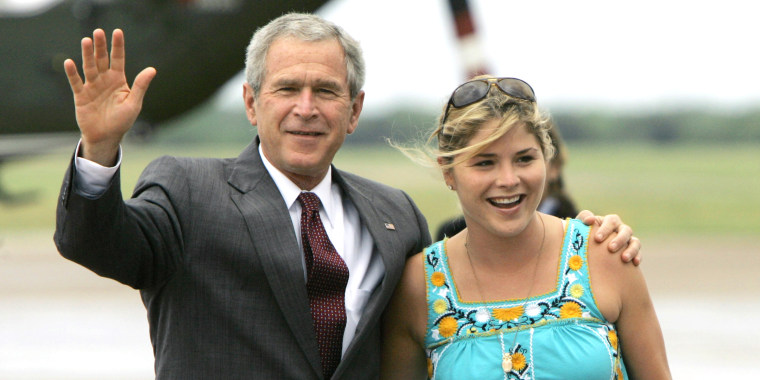 She added that her father did not call her out for bringing shame to the family. "We embarrassed them, although they never said it, on the world stage."
Jenna has discussed this before on the show; back in 2020 Hoda joked that she probably reported it on the air during her earlier days with NBC News.
But as Jenna noted then, "I think it's the best gift we can give our children, is the chance to fail," she said then. "While we were growing up, I for one had parents that let us fail, let us fall and publicly. And I always say to them now, 'How brave of you,' because it didn't reflect great on them, either."
Jenna has also previously opened up on TODAY about a talk she had with her father about alcohol when she was in her early 20s. The elder Bush wrote in his 2010 book "Decision Points" about how he gave up drinking after first lady Laura Bush pushed him to decide whether he wanted to choose alcohol or fatherhood.
"He said, 'I just want you to know that there was a point in my life where I thought like, "This is interrupting what's beautiful,"'" Jenna said. "He just knew that it was interrupting his dreams and interrupting his parenting. I always appreciated it, and I still do."
Hoda agreed that allowing children some space to make their own mistakes can play an important role in parenting.
"I think that's why sometimes having your kids in sports, if they like sports, is such a good thing because it reminds you no matter how hard you try, no matter how much you practice, no matter how much you want to win, sometimes you just don't, and that's life,'' Hoda said.
Jenna, who is now a mother of three children herself, hopes to give her kids the same space she had.
"My parents just ignored us and let us go at it,'' Jenna said. "And then you learn conflict resolution on your own. You learn when the limit is. You learn how to apologize. I just am trying to take a step back."