This holiday season, TODAY's Jenna Bush Hager is remembering her Ganny.
In a special essay written for the December issue of Southern Living magazine, Jenna, 36, shares her favorite Christmas memories of her late grandmother, former first lady Barbara Bush, who passed away last April at age 92.
In her poignant tribute, Jenna revealed that her grandmother hand-stitched beautiful homemade Christmas stockings for her daughters, Mila, 5, and Poppy, 3.
"When I imagine my Ganny, I think of her hands busy (usually her mouth too) as she meticulously needlepointed. She worked on many projects, but her most precious were stockings for her great-grandchildren," Jenna wrote.
Mila's stocking is traditional, "with her name stitched in cursive next to poinsettias," while Poppy's features a Christmas cat "watching Santa suspiciously, as only cats can do."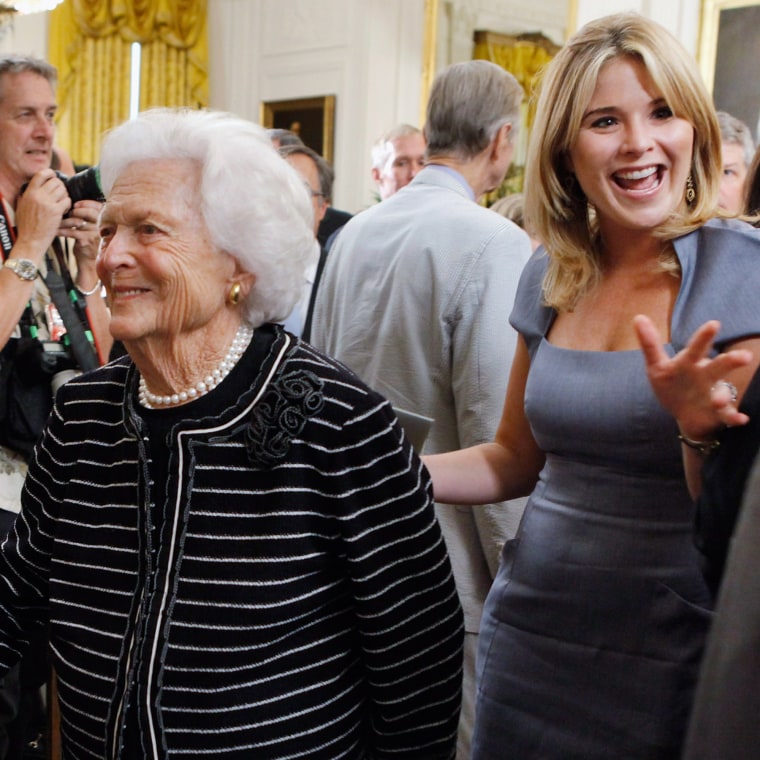 When Jenna was a child, Christmas meant festive yuletide trips to the White House to visit her grandmother and her grandfather, former President George H.W. Bush.
"On Christmas Eve, we drove to Camp David, the Presidential retreat in Maryland. The cabins, named after the trees in the area (Aspen, Red Oak, Maple, Elm), were just the right size for each of our families," she wrote. "We gathered in the main cabin, Laurel Lodge, for good food and plenty of laughter."
Of course, this holiday season, Jenna's sweet holiday memories are tinged with sadness.
"This Christmas, our first without Ganny, I'm nostalgic for the days when we were together," she shared. "This time of year is full of love but for those who have recently lost someone, that loss is illuminated."
She also shared heartbreaking lines from a letter her grandfather wrote after he and Barbara Bush lost their 3-year-old daughter Robin. In the letter, the grieving father called his little girl a "Christmas angel."
When Ganny died, Jenna revealed, everyone in the Bush family knew she and Robin were together again in heaven.
Though she left an enormous "void" behind, Ganny also left her family a lifetime of memories filled with love and laughter.
And Ganny being Ganny, she left behind something else — several more hand-stitched Christmas stockings for the Bush children she'd never meet.
"She wanted to make sure there were stockings on reserve for great-grandchildren who would come after she was gone," Jenna explained.
"That was our Ganny," she wrote. "She wanted to leave the world a little more beautiful through her work, her words, and even her needlepoint stockings."