Country star Jana Kramer is fighting back against mom-shaming critics after posting a photo of store-bought baby food meant for her 4-month-old daughter, Jolie Rae Caussin.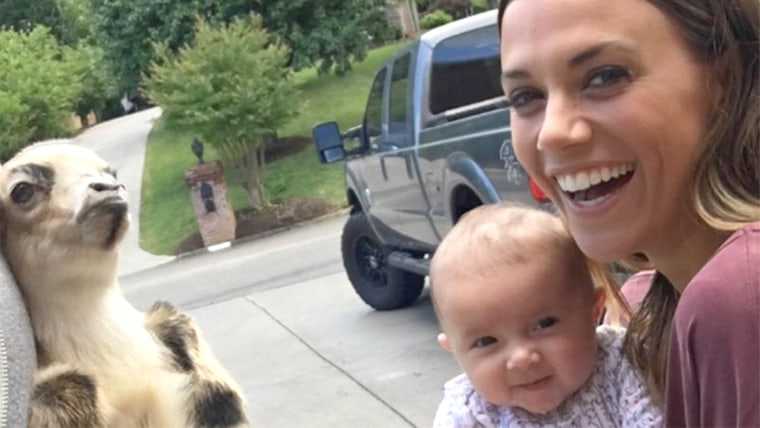 Last week, the 32-year-old, who starred in the television series "One Tree Hill," shared the Instagram snapshot showing baby food jars on a conveyor belt — marking a milestone for Jolie switching from formula to baby food.
"And it begins. #babyfood," she captioned the photo.
But Kramer, who is married to football player Mike Caussin, soon noticed not-so-nice reactions from fans and fellow moms, who weighed in on the matter with a number of judgmental comments.
"I make my own baby food. Store bought stuff stinks!!!!" wrote one commenter.
RELATED: John Legend defends wife Chrissy Teigen against mom-shaming haters
But Kramer wasn't about to let the mommy-shamers have the final say on her parenting. She followed up with another Instagram post of a message written in a notebook.
"Dear Mommy Shamers," she wrote, "Unless you are Jolie's doctor, her father, or her mom, do NOT tell me how to raise my child, or how to feed her."
RELATED: Mom's plea to strangers: Stop fat-shaming my baby
Kramer signed the letter "Sincerely, Jolie's MOM," underlining "mom" three times for emphasis. In the caption, she drove the point home: "I have been very open with pictures of my daughter and our journey because my true fans have been on my journey from day one and I want them to be a part of my new journey now. If you have negative comments about how I parent my child, keep it to yourself !!"
Since her reply, comments have shifted on her initial post to defend Kramer and her choices. TODAY reached out to her for additional comment but hasn't yet heard back.
The singer has continued to speak out about the situation by writing an op-ed piece for Time magazine's Motto blog.
RELATED: Pregnant meteorologist fights back against body-shaming critics
"I am trying to make a point here. The point is do what's best for you," she wrote. "Do what you can with what you have. At the end of the day, I hope for one thing and one thing only: That my child can grow to be healthy and happy...that she knows right from wrong and that never in her adult life does she shame someone for trying to do their best with what they have."