Have you ever wondered what toddlers do in the middle of the night? So did Jonathan and Susana Balkin — especially when they heard strange noises coming from the room belonging to their 2-year-old identical twins, Andrew and Ryan.
"We heard a whole bunch of giggling, so we started spying on them," Jonathan Balkin told TODAY.
The Balkins used the Nest home monitoring system to investigate their sons' nightly activities — which included building pillow forts, doing gymnastics routines, and of course, some brother-on-brother cuddling.
"We ended up spying on them for a little while on the camera just to make sure they weren't getting into trouble," Balkin told Carson Daly on TODAY Monday. "Then after a while we decided, OK, it's time to intervene and put them to bed. That didn't really work out so well."
He explained that the boys usually go down between 7:30 and 8:00 p.m., and will play for maybe an hour before nodding off. On this particular night, though, the party kept going until well after 10:00 p.m. — even after their parents busted in to break it up twice!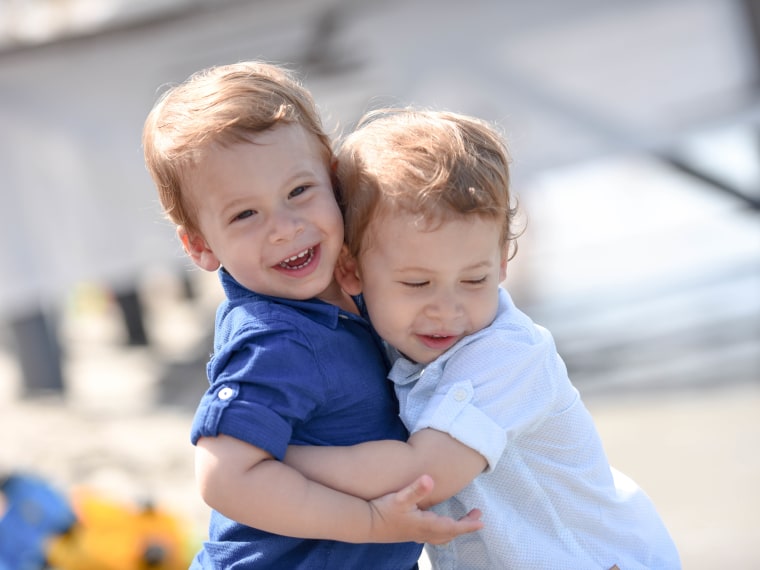 Some would say the Balkins, who live in New York, brought it on themselves — after all, they were the ones who taught the boys how to climb out of their cribs safely.
"They did it once, but they weren't really doing it (regularly)," Balkin explained. "We said, OK, if they're going to climb out ... we taught them how to carefully lift one leg over, then the body."
RELATED: Neil Patrick Harris' twins had the worst St. Patrick's Day thanks to leprechauns
Given how active the boys are, the bookshelves have been emptied and the furniture bolted to the walls. Even the firefly lights on their cribs are designed to create a soothing, sleep-friendly atmosphere.
The only moveable things in the room are the pillows and cushions, and as you can see in the footage, Andrew and Ryan put them to good use.
RELATED: Toddler rescues twin brother after dresser topples on them
"They're just happy and joyful and so busy," Balkin said. "They have a bond that other people who aren't twins can appreciate."
And with over 11 million views on Balkin's video at press time, it would seem the world agrees.