There's a new J.Crew ad that has some people's undergarments in the proverbial wad.
Let's see if you can figure out what has sparked the mini-controversy: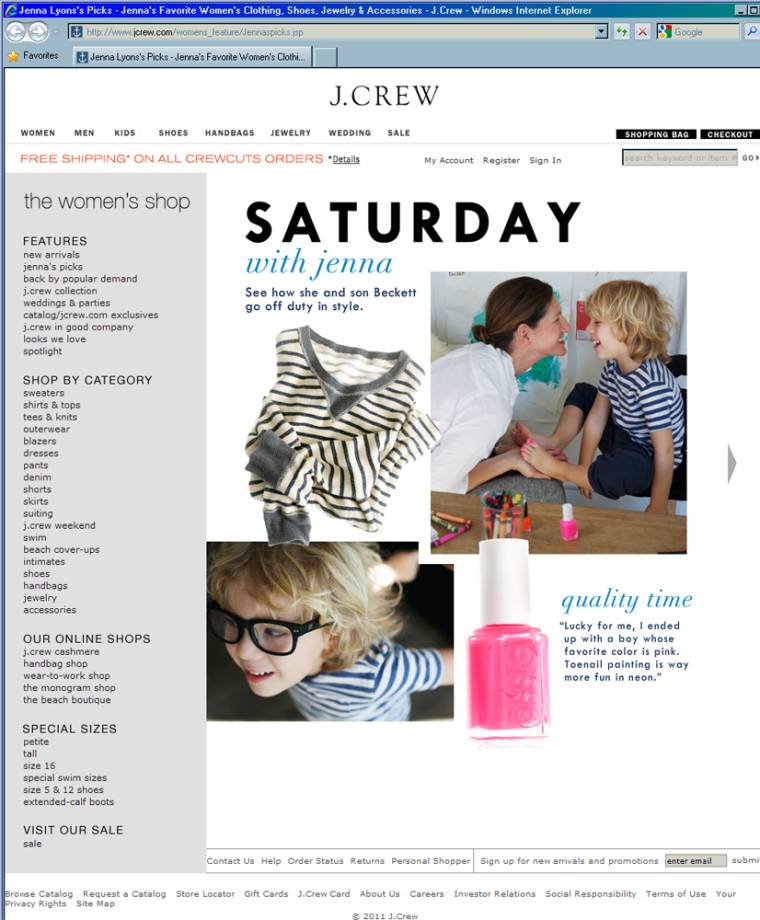 A. The mailer, sent out April 5, was a promotion for free shipping if a customer spends $150 or more.
B. The mailer, which featured J.Crew designer Jenna Lyons and her darling, tow-headed son Beckett, highlights a grey-and-white Coastline-stripe pullover, $65.
C. The photo shows Lyons smiling and holding Beckett's feet, which are painted in pink Essie for J.CREW nail polish, and has Lyons' quote, "Lucky for me, I ended up with a boy whose favorite color is pink."
Since free shipping is always nice, and nautical stripes are totally in this spring, the reason for concern must be "C." Or as this story from the Culture and Media Institute describes, it's that J.Crew is "targeting a new demographic – mothers of gender-confused boys."
Writes CMI's Erin R. Brown:
J.CREW, known for its tasteful and modest clothing, apparently does not mind exploiting Beckett behind the façade of liberal, transgendered identity politics. One has to wonder what young boys in pink nail polish has to do with selling women's clothing.
(Hmmmm. We think the reason J.Crew used the photo is that it shows a happy, stylish mom bonding with her kid. (Doesn't that make you want to buy a pullover, stat?) Plus, bright pink nail polish is all kinds of fun, especially on little toenails.)
Brown adds that the ad is part of something bigger:
Propaganda pushing the celebration of gender-confused boys wanting to dress and act like girls is a growing trend, seeping into mainstream culture. NBC's Today show on January 3 featured a segment on the 'Princess Boy' in which five-year-old Dyson Kilodavis was seen twirling in pink ballerina tutu, much to the delight of his mother Cheryl and host Meredith Vieira.
TODAY link: The Mom of a Princess Boy speaks out
Seattle-based Kilodavis wrote the children's book My Princess Boy, which was inspired by her own son who is partial to wearing dresses. We asked her what she thinks about the ad and Brown's story, both of which were sent to her by numerous Facebook friends.
Says Kilodavis: "I feel like the ad is very natural, very real.  I love the fact that it shows a mom who is supporting her son. Maybe the little boy likes pink and likes his toenails painted. Is it harming anyone?" She adds: "Why does it have to be categorized as gender confusion? We just have to get to a place of acceptance."
Kilodavis showed the ad to both of her sons and asked them what they thought.
Nine-year-old Dkobe responded: "Oh, he looks happy."
Meanwhile, 5-year-old Dyson said: "Can I paint mine pink, too?"
What do you think? Does this ad bother you?