Jessica Menkhausen and Derek Manion are a St. Louis couple who battled fertility issues, including two ectopic pregnancies, for the past nine years. Last September, Menkhausen had her eggs harvested live on TODAY.  
Following that, Manion's sperm was injected into Menkhausen's eggs in a Petri dish. Menkhausen later returned to the hospital for implantation and became pregnant. On June 16, daughter Chloe was born: 6 lbs, 5 oz. and 20 inches long. Today, Menkhausen shares a special letter for her daughter.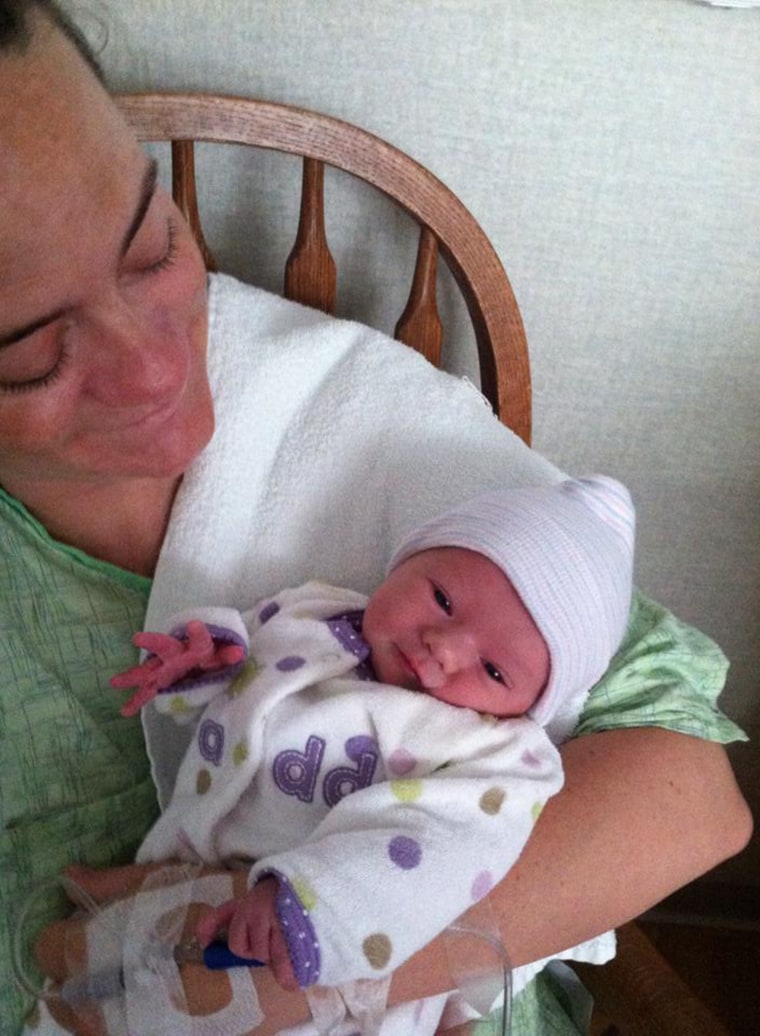 Dear Chloe,
One day your father and I will be able to show you the journey we took to realize our dream of having you. This journey started with just hopes and prayers, and now has culminated in you, the most beautiful baby girl I have ever seen and had the pleasure of holding, kissing, and loving. We were able to conceive you by using a procedure called in vitro fertilization. Even though we could not get pregnant naturally, we wanted you so badly that we went extra steps and called in help from doctors. Your father and I decided to share our journey to conceive with the world because like many other couples, we struggled with infertility and needed help bringing you into this world.
WATCH: Couple undergoes IVF on TODAY
The pregnancy – and waiting for you -- seemed to take forever. Every time I went to the doctor, I was excited to hear your heartbeat. And each time, it made me cry to think about you growing in my belly. The most exciting moment of my pregnancy was when your father and I first felt you kick. I remember the night very distinctly. We were lying in bed, getting ready to go to sleep, and all of the sudden you gave me a nudge. This trend continued throughout the pregnancy. When I would go to sleep at night is when you decided to wake up and start moving around. There were even times when I had already fallen asleep and your father laid there and felt you move through my belly.

The day you were born was the most exciting time of my life, but also the scariest. After many hours of labor the doctor decided you were not coming as quickly as he would like so we needed to do a Caesarian Section. At that point I wanted to hold you so badly I did not care what the doctors wanted to do. Your father was just as nervous as I was, but once he got to cut the umbilical cord the realness of your birth set in. The first time I got to hold you was like magic. I cried tears of joy. Every hope and prayer that I had for you had finally come true.
Now that we have been blessed to have you in our lives, I would like to tell you about all of our hopes and dreams for you. My hope for you is that you always follow your dreams and never waiver from what you want out of life. That you grow up happy, healthy, and secure. Your father would like for you to become a soccer star, but he said he would understand if you did not want to play.
WATCH: Couple shows off baby girl on TODAY
Ultimately, your father and I want to be able to give you all the advantages in life. We want to provide you with a home that is comfortable, where you can grow and blossom into the beautiful young lady we dreamed of for so long.