In this brave new world of IVF, surrogacy and gestational carriers, does it really matter how children enter the world?
After struggling with infertility and cancer, reality TV stars Bill and Giuliana Rancic announced this week that they're expecting their first child through a gestational carrier. Carolyn Savage may be one of the few women to have experienced both sides of that journey:  First, she was the gestational carrier of another couple's child due to an IVF clinic mistake; then she turned to a gestational carrier to help her have her own children.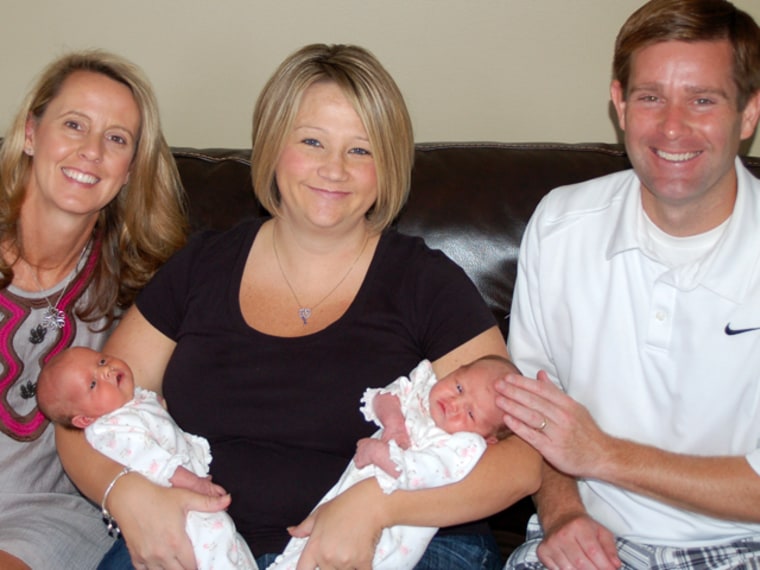 I keep a picture of each of my babies on my dresser in my bedroom.  My intention was to keep them current, but I can't bring myself to update them.  I suppose that's because staring at their newborn faces takes me back to the moment my eyes first met theirs and I fell instantly in love. I've had that moment six times in my life, which is nothing short of a miracle because I can't ignore my unusual journey to motherhood. 
When my husband and I turned to in vitro fertilization to conceive our third child after ten years of trying everything else, we were scared for a lot of reasons.  We were frightened that it may not work.   IVF is not covered by our health insurance and it's expensive.  We were also worried that some would insinuate that we weren't grateful for the two children we already had and others would criticize us for not adopting.  Then there was our Catholic faith that teaches that IVF is immoral.  Would we be willing to take the heat if the Church found out how our baby was conceived?   When our third IVF worked and I looked into my daughter's eyes after I delivered her, I knew it didn't matter how she had come to us.  I loved her in a heartbeat.
Related: Catholic school teacher fired for using IVF
During the IVF that brought us our daughter, we created more embryos than could be safely transferred.  Wanting to give all of our embryos a chance at life, we cryopreserved them for future pregnancy attempts.  When we found out I was pregnant after a frozen embryo transfer, we were stunned—not because I was pregnant—but because my fertility clinic had mistakenly thawed and transferred the wrong embryos.  I was carrying somebody else's genetic child. 
We immediately vowed to bring the baby to term and return him to his parents.  It was a decision that led to the greatest challenge of my life.  I spent a lot of my pregnancy wondering how I'd feel when I laid eyes on this baby, knowing that he wasn't mine to raise.  Imagine my surprise when my eyes met his and there was no difference.  Even though I wasn't his genetic mother, I loved him in a heartbeat.
Related: How do I thank the woman who gave me my children?
Related: Why 'just adopt' isn't the answer to infertility
Related: Frozen embyro 'open adoption' raises hopes, questions
For medical reasons, my mistaken pregnancy was my last.  We decided to work with a gestational carrier to bring our youngest two children into this world.  During the pregnancy with our twins I constantly wondered if I'd feel differently about our daughters since I hadn't carried them.  When their delivery day arrived I was a wreck with worry about our carrier, and I felt like a helpless observer.   But after the chaos calmed and our daughters were placed in my arms, I breathed a sigh of relief.  It was the same as the others. I loved them in a heartbeat.
When I learned that Giuliana and Bill Rancic were expecting a baby with the help of a gestational carrier, I was elated.  Hearing that another couple had beaten their diagnosis is a triumph for all who have battled infertility.  Their news started me thinking about what I've learned after having conceived two of our sons the old-fashioned way, turning to IVF for our third, being a gestational carrier for my fourth pregnancy, and working with a gestational carrier for our twins—that it doesn't matter how our babies come to us because the end result is always the same.  They are all loved—in a heartbeat.
This week is National Infertility Awareness Week.  More information about fertility treatments and support can be found at http://www.resolve.org/infertility101  or http://www.resolve.org/national-infertility-awareness-week/about.html
Carolyn Savage is the co-author of Inconceivable:  A Medical Mistake, The Baby We Couldn't Keep, and Our Choice to Deliver the Ultimate Gift.   She lives in Sylvania, Ohio, with her husband and five children.  You can follow her constantly evolving story at inconceivablebook.com.