/ Source: TODAY Contributor
By 1 year of age, babies normally can speak some form of "mom" or "dad," according to the American Academy of Pediatrics. And while most mothers take for granted that their child will say "mom," they never forget the first time it happens.
Beth Pledge had to wait until her son Chase was 2 1/2 before experiencing the thrill that comes with hearing that short, sweet word. Chase, now 6, has dyspraxia, a developmental coordination disorder that can affect oral motor skills needed to produce words correctly.
Although the milestone was so delayed, Pledge described the flood of emotions she felt when it finally did come. "There he was at two in the morning, standing up, saying it over and over again. 'Mom! Mom! Hi Mom!' But I couldn't get enough."
Indeed, families with special needs children say the hard-fought challenges their kids have in reaching developmental milestones gives them a unique pride over things other families don't have to work so hard for.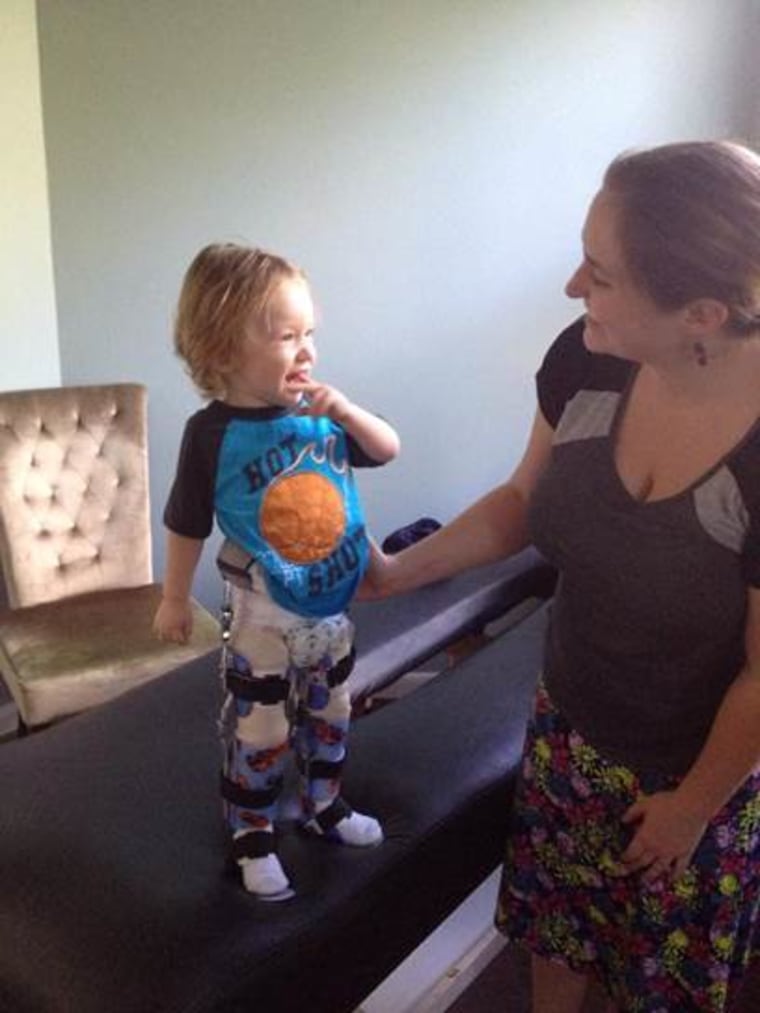 From the moment a child is born, pediatricians track the baby's cognitive, social and physical milestones to ensure that he or she is progressing healthily at each stage. While every parent knows there's variation and it's important to not become overly preoccupied by them, milestones help health-care providers recognize a developmental delay and intervene as early as possible. The Centers for Disease Control and Prevention provide parents with a checklist for children, age 2 months to 5 years, so families know when to tell a child's nurse or doctor if they notice signs of a potential problem.
And it can be heartbreaking for parents when they realize their child isn't progressing healthily.
Katie Myers of West Palm Beach, Florida, has been keenly aware of her son's missed milestones for over a year— and is emotional when they finally do arrive. Myers' 19-month-old son Kaden has spinal muscular atrophy (SMA), a fatal degenerative disease that affects all voluntary muscles.
At 7 months, when her son was diagnosed with SMA, he could barely sit up. Myers recalls doctors suggesting she take pictures and videos of Kaden because, chances were, he would lose all of the abilities he had, until he could no longer eat or breath on his own.
But this summer, at 15 months, he did roll over — all over the house. And in September, once again, the little boy defied the odds and stood for the first time — no bulky equipment or people propping him up — wearing his new set of leg braces and gently holding his father's hand.
"[Kaden] was so proud, and I was a puddle on the floor," Myers posted on Facebook with a picture from the doctor's office.
"You know, I sometimes feel we are the lucky ones," she told TODAY Parents. "The teeniest, tiniest thing is miraculous to us. With Kaden, we see miracles every day."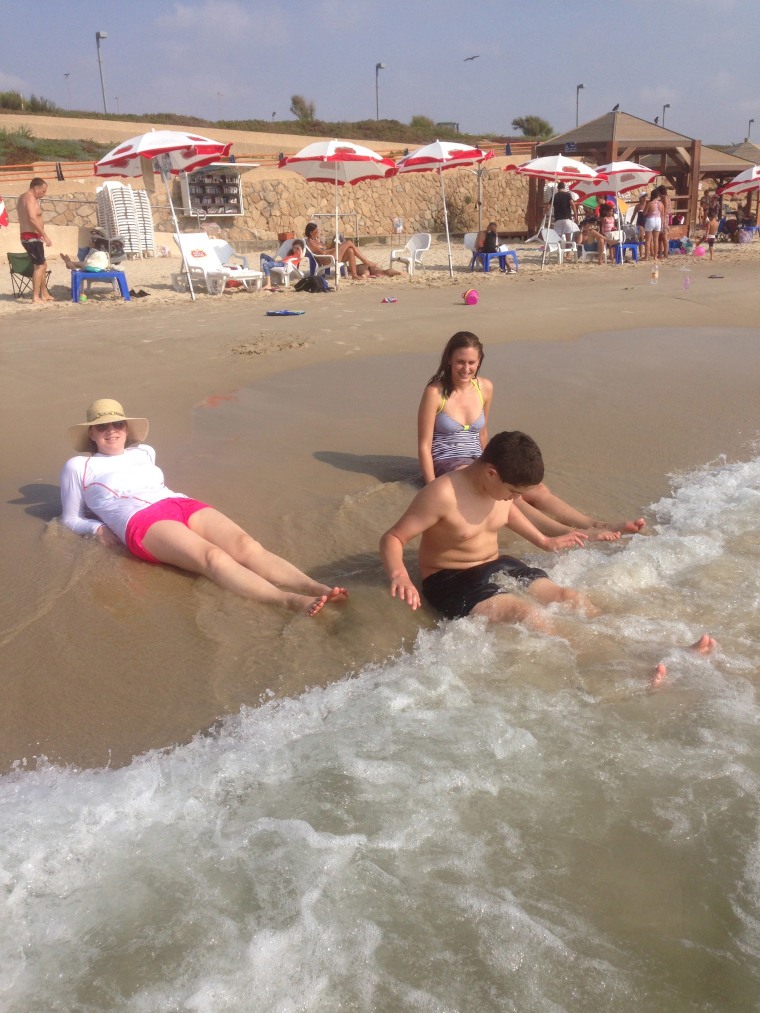 Ellen Seidman, founder of a blog for special needs parents, Love That Max, knows the elation when a milestone is reached after waiting so long — or thinking it might be beyond a child's grasp.
Seidman's son, Max, now 12, suffered a stroke, due to oxygen deprivation at birth, that resulted in brain damage and a diagnosis of cerebral palsy at age 1. Neonatal intensive care unit (NICU) doctors prepared Seidman for the worst: Max might never walk or talk.
"Max missed every single milestone in the book," Seidman said. "He didn't babble, pull to stand, talk or walk on time." She knew her child was on his own timetable; nevertheless, she describes the intense moment when he suddenly took his first steps — literally on his third birthday — in his bedroom, "walking tentatively" from her husband's arms to hers. "I had cried many, many tears since he was born," she said. "These were the first true tears of joy."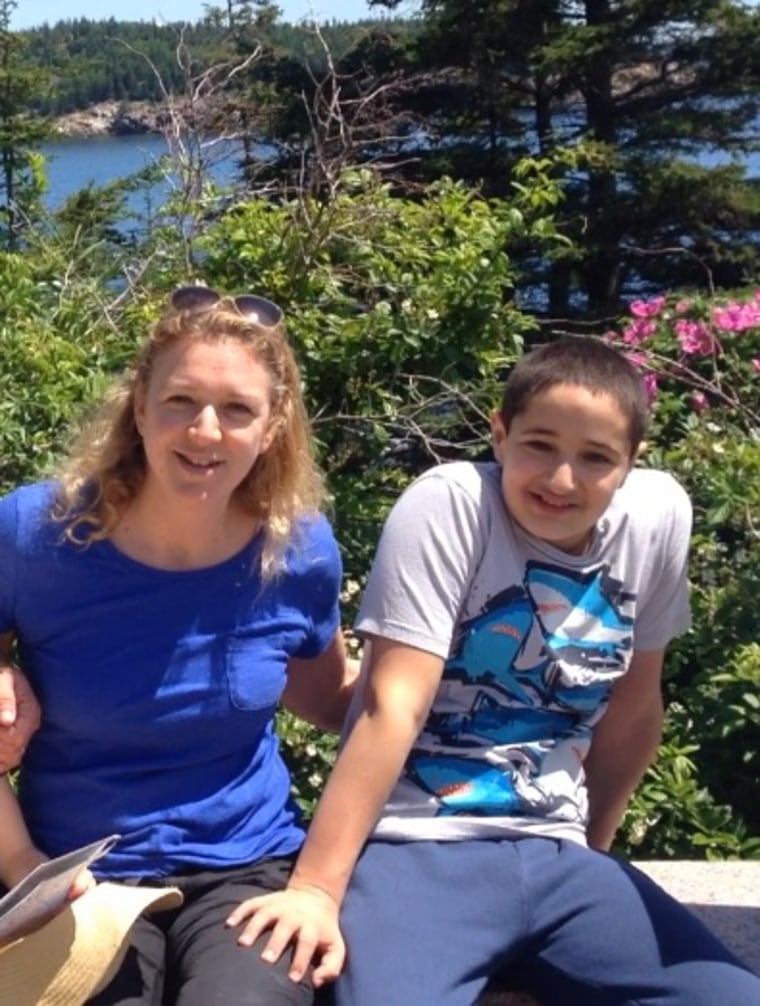 Sometimes, however, a child can achieve certain milestones and then much to his parents' heartbreak, backslide as he ages. Such was the case for Connecticut mom Shirley Blaier-Stein, who is author of Autism Mom and whose 11-year-old son Dan has autism.
For families of children with autism, there are also what Blaier-Stein calls "life-changing" accomplishments — things many of us take for granted. For instance, Dan was always afraid of water. He couldn't take a bath and would become distressed if more than an inch accumulated during his shower. Then, last spring, Blaier-Stein met a special needs swimming teacher and decided to enroll Dan in aquatic therapy.
"The instructor worked with us for three days, slowly but surely, coaxing Dan closer and closer and then into the pool," she said. Now, he takes him swimming nearly every Saturday — and doesn't think twice about baths. This summer, he was even able to enjoy a water park and visit the beach during a family trip to Israel. "He has completely overcome his fear," she said.
In other instances, some parents wait years to see their child do something — just once — that so many kids consider a normal part of daily life.
Beth Fordyce's 9-year-old son Ben has dyspraxia and attends a special needs school program in South Glens Falls, New York. Every morning, she and Ben wait for "the little bus." But one day this year, a standard-sized, yellow school bus came "barreling down the road." Fordyce recounted her son's reaction: "No that bus, my kind of kids. That bus, other kids." Indeed, it was Ben's bus — just for the day, as his had broken down. She described Ben's elation: "Oh my gosh, Mom! That my bus. Regular bus!" For one time in his life, Fordyce said, he got to ride "a regular school bus," just like other kids in his neighborhood.
That was a major milestone, Fordyce said, describing how as the bus pulled away, Ben, sitting behind the driver, flashed her a huge grin and a thumbs-up sign.
"I went in the house and dried my face off," Fordyce said. "I will never forget that morning. That bus made him so happy."
Jacoba Urist is an art, culture and health journalist. Based in lower Manhattan, Jacoba also writes for The Atlantic. Follow her on Twitter: @JacobaUrist.