TODAY's Jenna Wolfe returned to work this weekend, after a blissful (and occasionally bumpy) maternity leave with her baby girl, Harper, who was born in August.
While we at TODAY are thrilled to have her back, we know it's never easy. (In fact, I just got back from my own maternity leave last month!) With that in mind, we asked TODAY Moms readers for their best advice on navigating the transition back to work after having a baby. 
Thanks to everyone who sent in their tips. There's a lot that's hard about being a working mom, but one of the great things is the support you get from other moms who have been there, done that.
Here's what TODAY Moms had to say:
1. Regina Savini Duller: Try to stay focused at work; then focused at home with baby; and be sure to get sleep to do it all over again the next day.
2. Katelyn Carr: Have the babysitter send updates through text message with pictures. It's always nice to see how baby is doing when you are away.
3. Beth Lashley Rothwell: This is my first week back at work, too. It is hard, but I am trying to stay positive. Lots of tears this week, but it helps to know I have great child care (my mom and an awesome nanny) and I know that when I get home my baby is happy (he doesn't miss me too much). For those of you saying just quit —realize that some of us don't have that option. You can be a great mom and still work. Jenna will do a great job transitioning.
4. Monica Thomison: Just relax and try not to worry so much while away. When you go home, hold the baby when you get settled and stay there catching up with the day. It's all about balancing your time and emotions. Get rest and everything will fall in place.
5. Sharon Teig Magrill: You need a good support system! And while you may miss some firsts, as long as you know your baby is in good loving hands, that's the most important.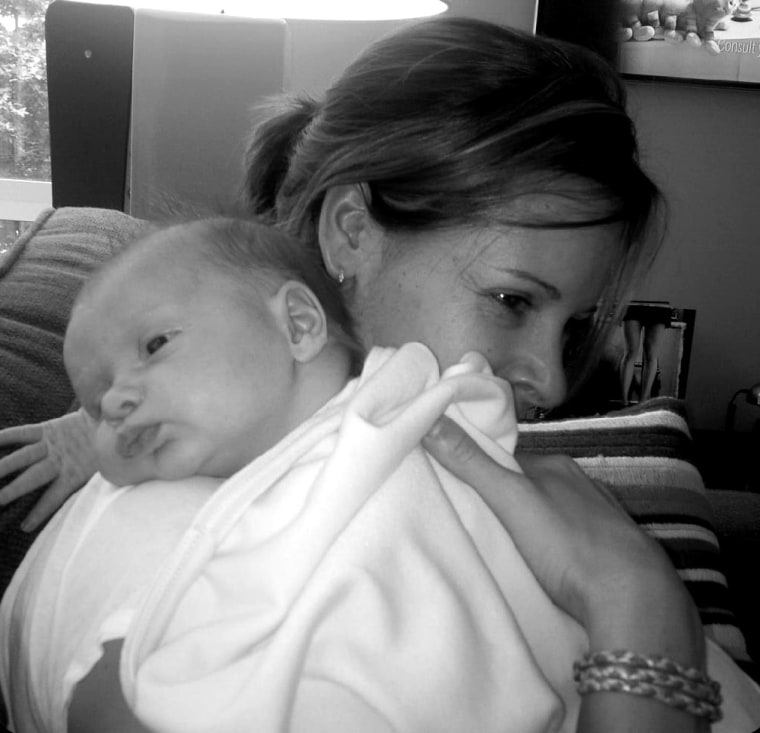 6. Beth Baden Bailey: Acknowledge the fact that it isn't going to be easy—realize it's OK to shed a tear or two— and then go home and do nothing but snuggle with Harper all night long!
7. Lorraine Smith: The best advice I received was from a lactation consultant just before I left the hospital. She said: "None of my children ever told me 'Gee, Mom, I'm sure glad you did those dishes!' Laundry, dishes, and cleaning can wait. Your baby cannot." Every moment with my daughter is precious, and I'm glad I gave myself permission to be a messy-bessy when necessary!
8. Whitney Shaffer: Keep lots of pictures around of your little one. Take it one day at a time and don't push yourself. It will be hard at first. Cry if you need to. Talk if you need to. Take a break if you need to.
9. Bethany Jameson: It's OK to cry. It will get easier. Snuggle all that you can!
10. Elizabeth Cox: The firsts (step, word, etc.) only count when you see it!
11. Darla Haines Mills: Remember to do whatever feels right to you and the two of you decide what is best for your family. My son loves the fact that I work. My work is important and he sees the lives I change through my work. My clients love him too so he feels like he has a huge support group of people who love him and love his mommy. Being raised by a strong independent woman makes him appreciate strong independent women. 
12. Amy Wohlever Naeem: Work or don't work, it's your choice! Don't be afraid to ask for help if you need it —it doesn't make you a bad mom if you can't do it all. Enjoy every moment and don't worry if your house isn't clean or the laundry doesn't get done. Take care of yourself so that you can be the best mom you can be. You will make mistakes— it's OK. Kiss your baby as much as you can!
13. Barbie Michael: As far as feeling guilty, get over it...you can't be with you baby 24/7. Relax, do your job, your baby will NOT forget you. And mostly don't forget about yourself...remember when she'll grow up and if you have made her the center of your world, you'll be empty...remember yourself!