/ Source: TODAY Contributor
Holding one another close with anguished expressions, this heartbreakingly beautiful sketch of a couple tells the story of their private, palpable grief and their deep love for each other.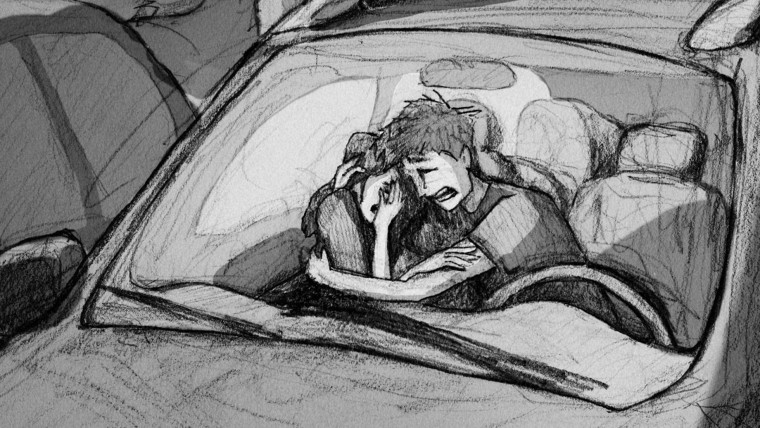 The emotional drawing by Curtis Wiklund of him and his wife is simply titled "Miscarriage," and it shows them experiencing the devastating loss as the world carries on around them. It's the latest sketch from the Michigan artist whose charming drawings of the joys of everyday life with his wife and two sons captured the Internet's affection earlier this year.
Wiklund sketched the real-life moment on July 22, the day he and his wife, Jordin, learned that her pregnancy was ending. After trying to stay composed at the doctor's office, where they were told there was no heartbeat at nine weeks of pregnancy, they retreated to their car and embraced and sobbed for a half an hour.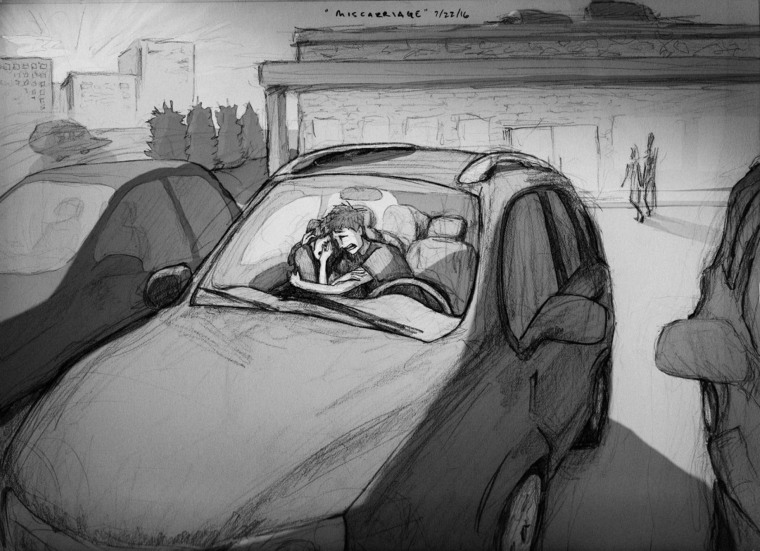 "As soon as we got to the car, both of us started crying and were pretty heartbroken," Wiklund said. "It was pure grief. It was no bitterness, no irritation. Not madness at each other. It was mutual, shared, 100 percent grief and crying and sadness."
RELATED: 'It's healing to talk about it': The story behind woman's miscarriage tattoo
To help comfort others dealing with miscarriage, he posted the image on Instagram and Facebook last week. "I hope by sharing it, those others out there who are quietly hurting, some far worse than we are, are comforted knowing at least, that you are not alone," Wiklund wrote on Facebook.
Miscarriage is not always discussed and some women feel guilty or isolated. In disclosing last year that his wife had had three miscarriages before becoming pregnant, Facebook founder Mark Zuckerberg called for more openness about miscarriage, and several women who suffered pregnancy loss told TODAY they hoped his words would help normalize the subject.
The Wiklunds, high school sweethearts who married in college, are both 28 and the parents of boys Casen, 3, and Hayden, 1. The Clarkston, Michigan, couple, who work together as wedding photographers, were thrilled to learn of Jordin's pregnancy, and believed they were expecting a girl. After two healthy pregnancies, the miscarriage was a surprising and very real loss.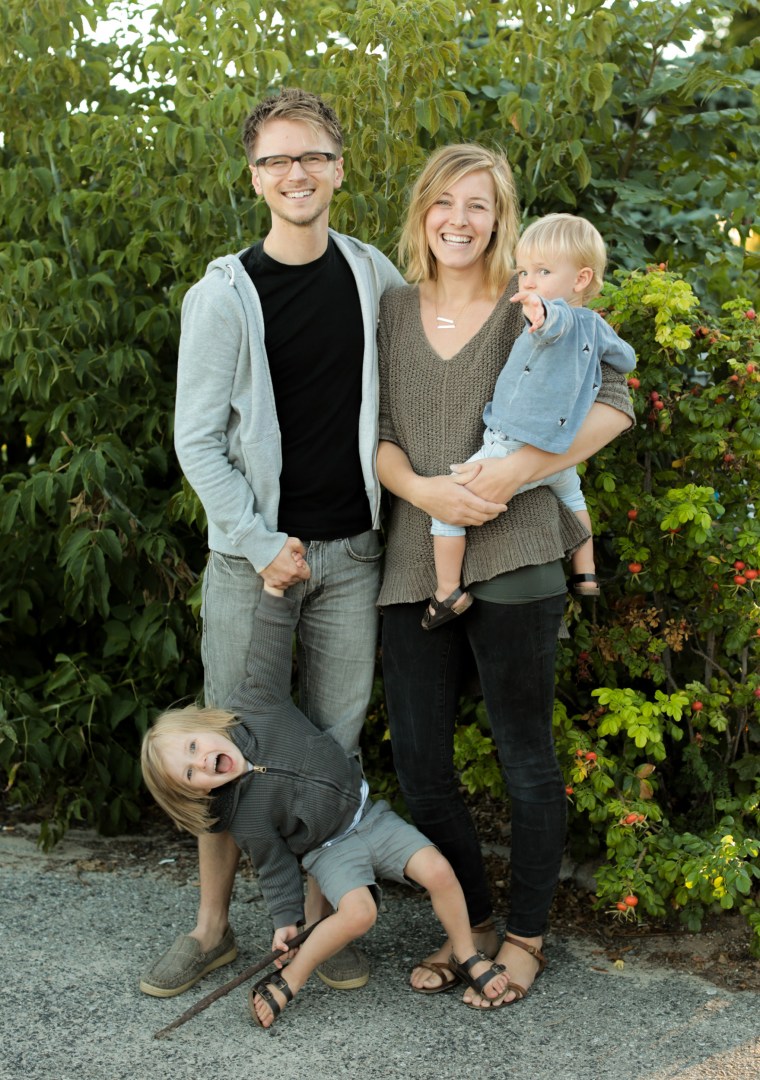 "It wasn't a fictitious loss," Curtis Wiklund said. "It was our daughter, who was very much there earlier and we had just lost her."
Jordin Wiklund was "completely crushed" and overcome with grief upon learning of the miscarriage. "Nothing about it is fair," she said.
RELATED: Husband gets real about infertility, miscarriage in pregnancy announcement
From the parking lot, they drove home and canceled plans to share the pregnancy news later that day with extended family and friends. Their private time in the car, his hand in her hair, stuck with Curtis Wiklund.
"We haven't lost something together or gone through mutual grief together so it was like an instinct to cling to each other in that moment," he said.
Never miss a parenting story with TODAY's newsletters! Sign up here
"We were both kind of numb and in shock and for some reason drawing felt like an outlet for me," he added. "It felt therapeutic to sit down and reflect on what was happening. That was all I could see."
"I wanted to somehow get the feeling of grief out onto paper," he added.
As hard as it can be to view, Jordin appreciates the hand-drawn pencil sketch.
"It is so real and it does, in a very sad, beautiful way, capture the fact that we did have each other in that moment and I am so thankful for that," she said. "That will be the image for me that defines that moment."
RELATED: 'It makes it real': Woman captures heartbreak of 11 miscarriages in moving pics
The sketch resonated with thousands of people online and elicited many kind words of support and personal stories. "This is so beautiful and touching. I've been there. I sat sobbing in my car," a woman wrote in the Facebook comments.
For the Wiklunds, who are depicted in so many happy, feel-good sketches that Curtis Wiklund drew, this sad memory is one more chapter in their love story.
TODAY.com contributor Lisa A. Flam is a news and lifestyles reporter in New York. Follow her on Twitter: @lisaflam