/ Source: TODAY Contributor
As many parents might know, the struggle is real when it comes to teaching a little one how to tie their shoes. Luckily, Kirsten Johnson, a mom of two and entrepreneur from Alberta, Canada, has a hack that is your ticket out of frustration town.
Her almost two-minute confidence-inducing tutorial, which has received almost 6 million views on Facebook, will have your kids out of velcro-strapped shoes in no time.
Johnson, the leader behind the digital community, Unstoppable Mother, is a former physical education teacher who hosted a lacing lesson on Facebook on August 12. The clip, featuring her 7-year-old son Rylan (a shoe-tying newbie who'd struggled to learn with more traditional techniques) presents four easy steps that stray from the traditional 'bunny ears' approach. "Is this the most ideal method? Absolutely not," Johnson told TODAY Parents. "It's kind of awkward to untie them afterwards, but it's a great stepping stone."
As Johnson explains: "Phys. ed was my major and math was my minor so I'm kind of into puzzles and fine motor development, and I studied a lot about it."
"When I became a [junior high] teacher, there were so many students that had autism or Asperger syndrome" — many of whom "didn't know how to tie their shoelaces, and they felt different," she said.
Having extensive knowledge on fine motor development, Johnson, along with a group of teachers, discovered a rudimentary approach to tying shoes. "I don't think that I invented it," she says. "I've seen people who have said that they've been using this method for years."
Johnson soon realized that the approach not only got stunning results, it also sparked a surge of confidence within the child that successfully attempted it. "For children with working on their fine motor skill, or with autism, [the results] are incredible!" Johnson says. And once they've mastered Johnson's steps, she believes that "the walls come down, the brain clears, allowing them to soak in some new information."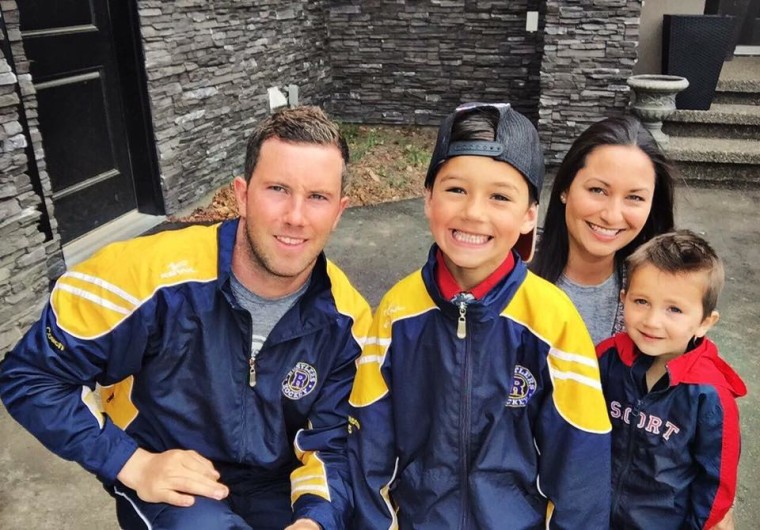 She adds, "When kids have confidence, and they start telling themselves 'I can do it, I can do it,' all of a sudden the traditional ['bunny ears'] method will become so much easier...that's what I noticed with my son."
In the tutorial, Johnson shows the steps to son Rylan. "He's been frustrated with the bunny loops, so we're going to try this [approach]," Johnson tells viewers. Within seconds, a beaming Rylan ties the shoelaces on his own, copying his mom's method.
The proud mom told TODAY Parents that Rylan had been struggling with fastening his laces for some time.
"I needed him to say the words out loud, 'I can tie my shoes'." And after showing Rylan the method, her son was able to then re-tackle the traditional method. "He did it in under five minutes!," she says proudly.
Follow Jacqueline Colette Prosper on Twitter.
Never miss a parenting story with TODAY's newsletters! Sign up here