Sean Anders was just kidding around.
For years, the writer-director and his wife Bethhad debated having kids but feared they didn't have the means to support a family of their own. So, when Anders' career took off — his credits include "Hot Tub Time Machine," "We're the Millers" and "Daddy's Home," among others — their next step seemed clear.
"I made this stupid joke one day where I said, 'I feel like I'm going to be one of those old dads. What if we adopt a 5-year-old? It'll be like we had started five years ago?'" Anders, 49, told TODAY Parents. "That joke made my wife look into foster care and adoption."
From there, the couple registered for orientation, began taking foster care classes and went to an adoption fair, where they met with potential matches. By 2012, they welcomed three siblings — now 13, 9, and 8 — into their L.A. home. Today, said Anders, "we're like any other family."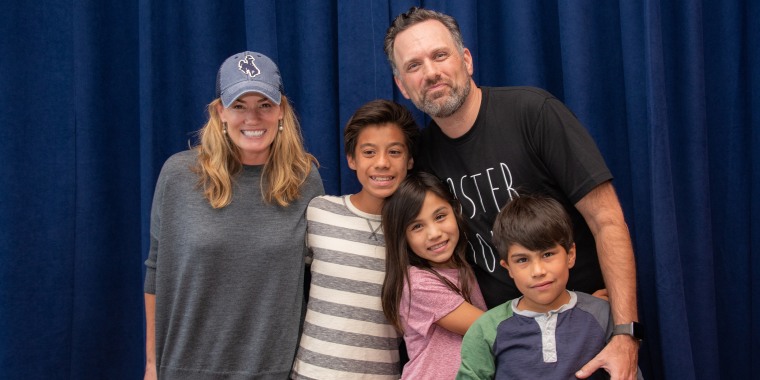 But building that bond wasn't easy. In the beginning, "You have these total strangers who come into your home. You're supposed to carry on like this family, but you just met," explained Anders. "You feel like you're babysitting someone else's kids. It's exhausting and you don't know what you're doing. They don't trust you and you feel lost and scared."
With time, that awkwardness and those fears slowly washed away. "When you think of the most basic love story, you get together, think it's going to be easy and then turns out to be a s--t show," he said. "But then, along the way, you fall in love and it becomes this incredible thing that's more special than you could have ever expected. We are able to look back and remember what it was like to fall in love with our kids."
Those highs and inevitable lows are deftly depicted in his new comedy "Instant Family," which stars Rose Byrne and Mark Wahlberg as married couple Ellie and Pete who foster a teenage girl and her two younger siblings. (Anders and his wife originally matched with a teen, but she declined the placement: "She was holding out hope that her mom was still coming.")
"Teenagers are so misunderstood and people have so much fear about bringing them into their homes," Anders explained. "Their prospect can be really grim if they ago out of foster care without any kind of family to back them up and love them. So, I really wanted to include that. I sat down with a lot of families who had adopted teens and learned their stories."
His own experiences and mishaps were added into the script, as well. "There's this scene where Pete and Ellie are in bed and they're at their wits end," he teased. "They're scared and lost and trying to figure out some way to go back to the quiet, easy life they had before. That scene is a very honest moment. I'm not proud of it, but it's very true. When general audiences see that, I hear people gasping. But when adoptive families see it, they laugh because they're like, 'Oh yeah, we totally had that conversation.'"
More than anything, Anders just wants audiences to walk out with a fresh perspective. "When people hear the words foster care, instead of having feelings of fear, pity and trepidation," he said, "hopefully it'll bring up feelings of empathy and positivity knowing that these kids just need families to love them. They're just like the rest of us."
And if you are considering adoption or foster care, Anders recommends heading into the process with an open mind — and heart.
"You don't have to commit to bringing children into your house. Just go to the orientation and see where it leads you," he said. "What's the worst that could happen?"
"Should you decide this is what you want to do, you have to find a way to commit yourself to those kids 100 percent," continued Anders. "People are afraid the kids aren't going to accept them or they're afraid the adoption isn't going to work out. Whatever it is, they're afraid and sometimes they will hold back. But the kids need to know that there's somebody there who's going to love them no matter what."