We've all been there: The little one makes a mess or causes a problem, and it's up to you as the parent to remind them to apologize for their wrongdoing. Being regretful for hurtful behavior or actions is something everyone should know about.
But sorry to be the bearer of bad news: It's not the right way to go, according to one expert.
"Apologizing can be a great way to make things better between children, but forcing them to do it is teaching all the wrong lessons," Laura Markham, author of "Peaceful Parent, Happy Siblings: How to Stop the Fighting and Raise Friends for Live" told Yahoo Parenting.
Why not? Mainly because forced apologies don't really change behavior (in children or adults) and only make the child feel shameful and angry.
Here's what Markham suggests you do instead: Get the child to acknowledge what their wrong has done, and help them figure out how to make changes.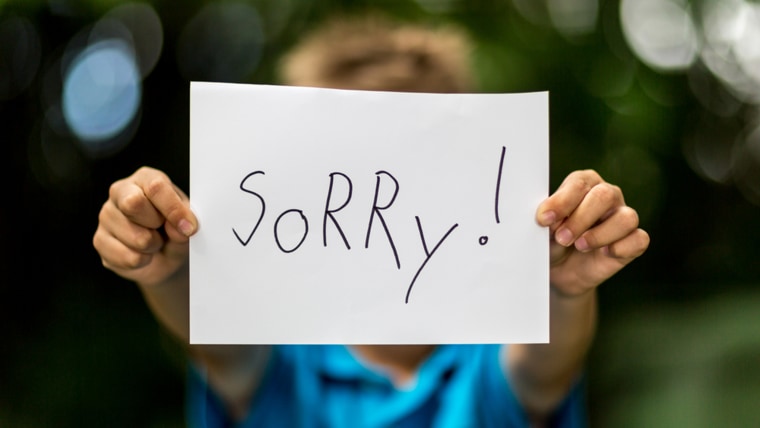 "If I were the parent of a young perpetrator, I would say to my child, 'Oh no, Henry is crying, let's see how we can help him,'" said Markham. "You want to empower your child to see himself as a generous person who can make things better when he's done something hurtful."
Then once things are back on track, the parent or guardian can demonstrate a better response. "I would put my arm around my son and say, 'We are so sorry that Gabriel hurt you; he forgot to use his words. We're so glad you feel better,'" she suggested.
In the end, "sorry" shouldn't be thrown away entirely. But getting kids to just say the words, without understanding the meaning or how to help fix what they broke, doesn't solve the bigger problem.
"Children learn from us how to repair relationships," said Markham. "Be sure that when you and your child have a relationship rupture, you apologize and find ways to reconnect."