One California couple have turned playtime into payday, making them more than $1 million by posting YouTube videos of their children playing with toys.
Known online as "ILoveMayThing," Mark and Rhea's "Hulyan Maya" channel averages several million hits a day and is on track to bring in an additional $1.5 million this year from advertising revenue. The channel has allowed the couple to quit their jobs, pay off their mortgage and fully fund college-savings accounts for each of their three young children: Hulyan, Maya and baby Marxlen.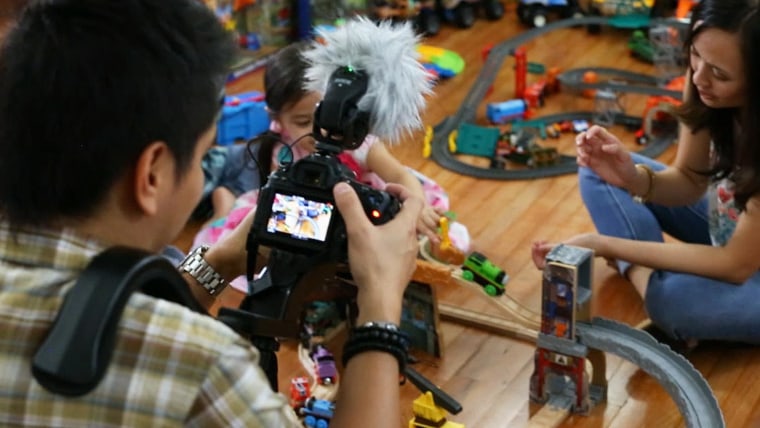 "We spend time with our kids. I do not go to the office. I do not go somewhere else, to work," said Mark, who along with his wife, would not give TODAY their last names because of privacy concerns.
"It's a lot of family bonding so the most important, I think," Rhea said.
The videos posted by the couple mainly feature their children playing with Thomas the Tank Engine toys. Some also feature them riding around in oversized, motorized vehicles. The videos also are long — many of them run 12 to 15 minutes.
The "Hulyan Maya" channel racked up more than 26.5 million views just last week alone, making it irresistible to advertisers, especially toy companies, that place ads before the couple's videos.
Once the toys start piling up, the family ends up donating them to the less fortunate in the couple's native Philippines.
"We always tell them, we don't need, like, hundreds of toys," Mark said. His wife added: "We teach them to share."
Videos for kids make up 20 percent of YouTube's most viewed channels — almost 18 billion hits since video content has been tracked. Mark said he's not concerned about what will happen to his audience as his children age.
"I personally think that even when Hulyan grows up, those subscribers are still there to follow you, to watch us," he said.
Follow TODAY.com writer Eun Kyung Kim on Twitter.