If you've ever been heavily pregnant, here's one viral video that's sure to make you smile with sympathy.
The moms behind the WhatsUpMoms YouTube channel have released their video "I'm So Pregnant," a parody of Iggy Azalea's pop chart topper "Fancy" that chronicles the discomfort surrounding those last physically challenging weeks before baby. Along with funny lyrics and the same "Clueless"-inspired references as Azalea's original, the video pokes fun at might-as-well-laugh-so-you-don't-cry pregnancy symptoms like acid reflux, sleeplessness, belly rubs from strangers — and those nonstop bathroom breaks.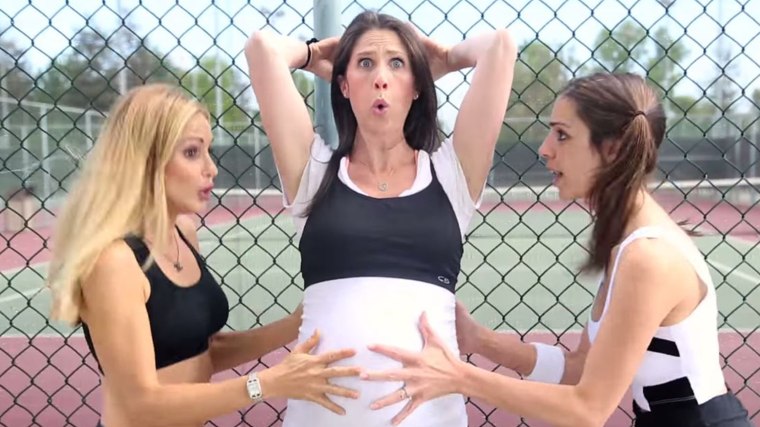 Check out a sample of the lyrics: "First thing first I'm the roundest. They don't ask, but the whole world feel it. And I pee every 10 seconds. I cannot bend down — that would defy the laws of physics."
Then it's onto the earworm chorus: "I'm so pregnant, you already know. I'm in the last month. I can't even see my toes!"
Not surprisingly, a funny video about those nearly universal pregnancy nuisances struck a chord with moms and moms-to-be all over the world: It's racked up close to 800,000 views in the five days since it posted.
Meg Resnikoff, who is the Los Angeles-based co-founder of What's Up Moms and the star of the video, is currently nine months pregnant in real life, with two other kids under 5. So she's not just paying lip service to the struggles of the late-pregnancy ladies in the house. 
As for her own off-screen experience, she tells TODAY.com that her least favorite thing about pregnancy is "all those strangers caressing my belly." But she admits there is a flip side: "(My) favorite thing is those trips to the doughnut shop after each doctor's appointment!"
Given that What's Up Moms is a resource for mom-minded videos online, Resnikoff says the women behind it are always looking for ways to introduce other moms to their content — and viral videos are a great way to do that. Past takes on pop songs have included parodies of "Gangnam Style" and "Thrift Shop." 
"We have gotten such great feedback from viral videos from people we would otherwise have never connected with," she says.
Alesandra Dubin is a Los Angeles-based writer and the founder of home and travel blog Homebody in Motion. Follow her on Facebook, Google+ and Twitter.