A pair of sisters from Utah have taken the notion that twins do everything together to a new level.
Identical twins Kelli Wall and Kerri Bunker, 36, each gave birth to twins of their own within the last six weeks. Not only that, but this is also the second set of twins for each woman. Wall gave birth to twins in October 2010 through in vitro fertilization, and then Bunker followed 11 months later with twins of her own.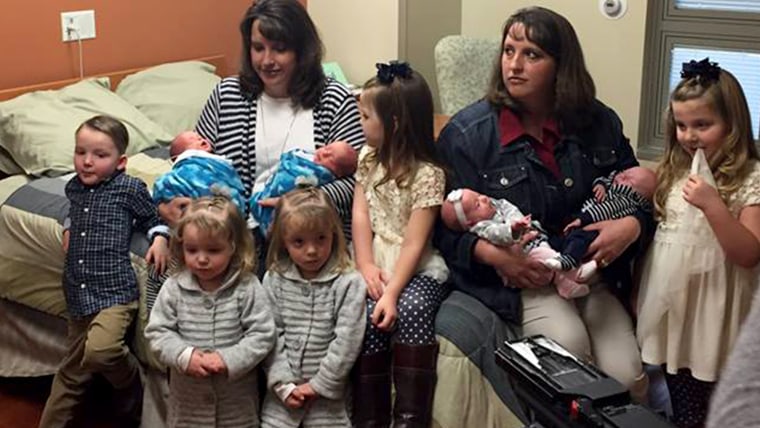 "Whatever perspective you look at it, I love it," Wall told NBC affiliate KSL. "I mean, I wouldn't want to change it for the world. But, it's crazy. We've only had the babies home for a few days, and so we really haven't gotten into the heart of what our schedule is going to look like, especially when I finally decide to go back to work. And so we'll deal with the crazy moments one day at a time."
RELATED: Twin brothers separated at birth have emotional reunion nearly 70 years later
In addition to their eerie similarities in giving birth to twins, the sisters also are married to a pair of best friends, teach at the same school, and are building houses right next to one another. Both women also used fertility treatments to conceive their twins.
This past summer, the two women found out six days apart that they were both pregnant with another set of twins. On Jan. 11, Wall gave birth to fraternal twins Kyler and Kenadee two months early at at Timpanogos Regional Hospital in Orem, Utah. On Feb. 13, Bunker gave birth to twins Kash and Jace, six weeks before her due date, at the same hospital.
RELATED: Two sets of identical twins marry in India, with twin priests and twin flower girls
"I actually hope that my twins have the same special bond my twin sister and I have," Bunker told KSL. "And I hope they always treat them as best friends and people to confide in...and talk to and I hope they always have a close relationship like my twin sister and I."
The Bunkers also have another child, Sadie, so the two couples now have a combined nine children who are five years old or younger.
"Life is about to get very crazy,'' Bunker said.
RELATED: Confused baby can't figure out which twin is his dad in viral video
Follow TODAY.com writer Scott Stump on Twitter.