Here's how charismatic little Chanel Marrow is: She can charm grown adults while she's fast asleep!
She proved her prowess on "The Tonight Show" Thursday, when her parents Ice-T (of "Law & Order: SVU") and Coco brought the snoozing tot out. Host Jimmy Fallon took one look at her and turned into a complete bowl of mush.
"Oh, my goodness, gracious," he said. "Are you kidding me? That is a beautiful, beautiful —"
"That's not my baby," interrupted Ice-T with a laugh. "She doesn't look like me!"
MORE: Ice-T's baby daughter rocks with blinged-out headbands courtesy of mom
The fact is, her parents are well aware of how delightful the 4-month-old is. Coco admitted she has her camera in little Chanel's face all the time, and Ice-T recently noted that he's become "that guy" in terms of taking pictures of his daughter and showing her off.
But seeing Chanel, with her little red flower headband and matching rose skirt and tiny faux-patent leather shoes (with her ankles crossed demurely), you understand why. And you also understand why Fallon just had to hold her for a little bit himself — which he did after getting on the floor in front of his desk for a picture!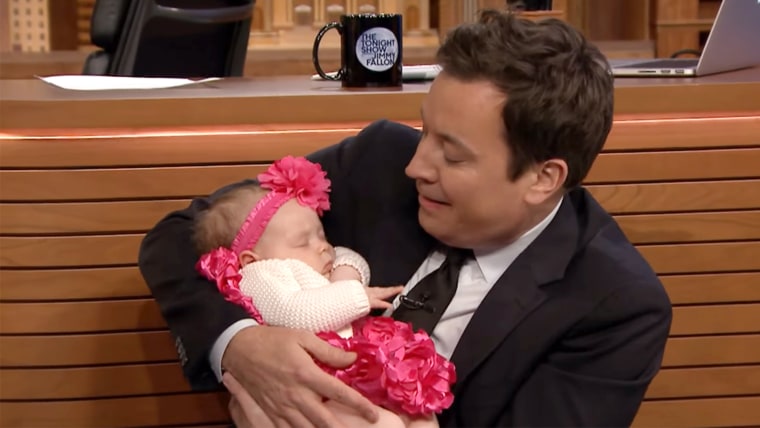 MORE: Ice-T 'could make a baby through a brick wall,' he assures Coco
"Chanel, say hello to your rich uncle!" Ice-T cried out as Fallon held the baby.
"I don't want to let go of her," said Fallon. "This is the best thing ever."
All the while, little Chanel played it so cool that she never even woke up!
Follow Randee Dawn on Twitter.