/ Source: TODAY Contributor
Two weeks after learning that she was pregnant with her first child, Amanda Bernier received news that was even more life-changing. The Connecticut firefighter was diagnosed with amyotrophic lateral sclerosis (ALS) and told that she and the baby she was carrying may not live long enough for a full term delivery.
Defying the odds, Bernier delivered a healthy baby girl, Arabella Grace, 10 months ago. And, although the 31-year-old's health has continued to decline — she has now lost all movement and breathes with the assistance of a ventilator — she continues to inspire others with her fight against ALS.
The young mother took to her Facebook support community, Amanda's Angels, last week to explain the difficulties she overcame in order to breastfeed her daughter Arabella, whom she affectionately calls "Peanut."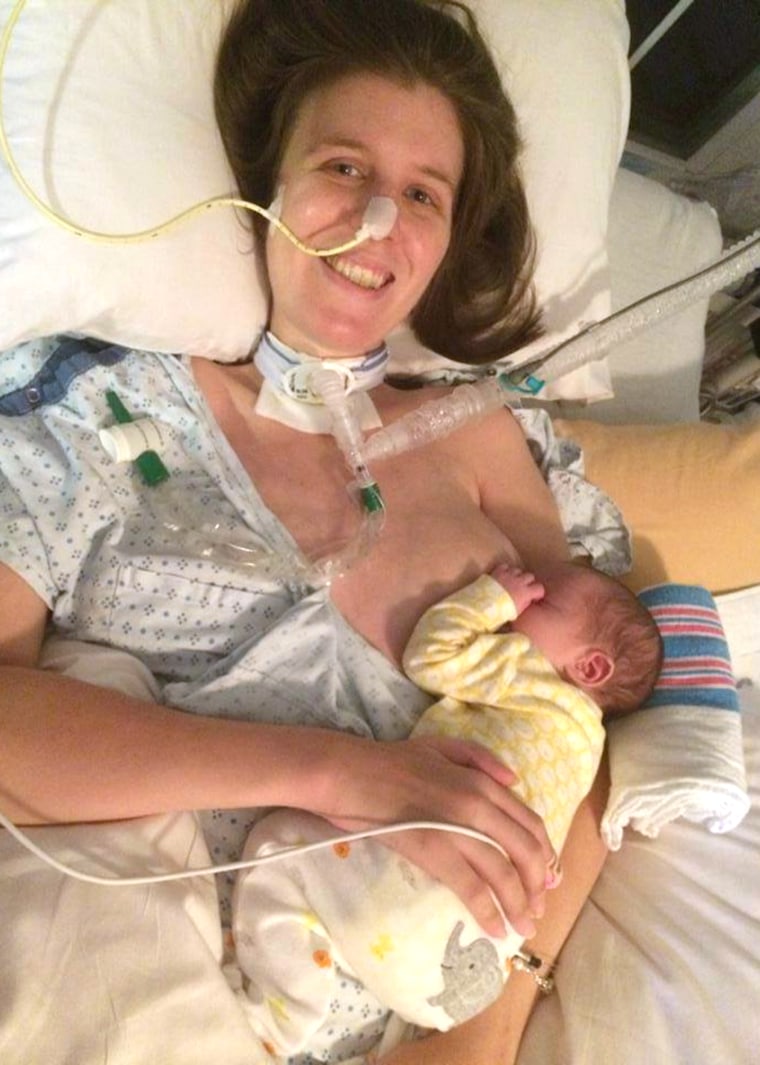 "I went from running races, working in a lab and firefighting to not being able to move anything but my head and on a ventilator in 5 months," Bernier wrote in her post. "I stayed in the medical ICU for 4 months until our beautiful and healthy daughter was born at 39 weeks. She was breech and delivered via a C-section. My neurologist did not know how my body would handle a major surgery or if I would live long enough to see her.
"As soon as I was rolled to my room Peanut was placed on my chest. I was blessed that she immediately knew what to do. The nurses that I had gotten to befriend over the past quarter of a year knew how important it was to me to breastfeed. They were determined to help me give that gift to her."
Bernier explained the challenges she encountered while breastfeeding Arabella. Because of her inability to move, nurses and family members needed to hold the baby to her breasts while she fed. And, while she is now exclusively pumping breast milk for her daughter, Bernier still needs two people to hold the pumps while her milk is expressed.
Pumping has presented other challenges as well.
"Now that I am solely pumping my nipples are starting to get calluses," Bernier wrote on Facebook. "I delay taking my pain meds so that I don't have to pump and dump. I can't take care of my daughter, but I can give her the gift of breast milk. I will continue on until my body no longer produces."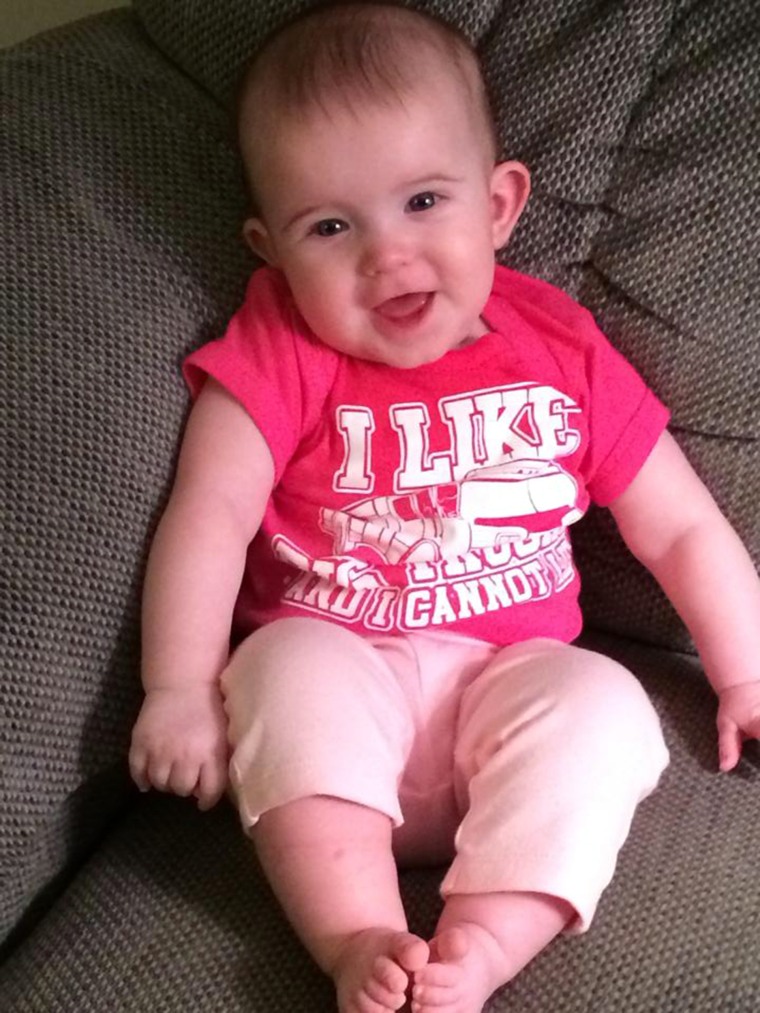 Bernier's post was a part of series she wrote to educate people about what it's like to live with ALS, and about what the ALS Ice Bucket Challenge is really all about. The young mom made local news headlines recently; she got interviewed by NBC Connecticut (WVIT-HD) for challenging Jimmy Fallon to participate in the Ice Bucket Challenge.
"I have not heard from Jimmy Fallon, but that is OK," Bernier told TODAY Parents via email. (Though she can no longer speak, Bernier can type using eye movements.) "My goal was accomplished, which was to create awareness of ALS. ...
"I have been watching (Jimmy Fallon) for years," she added. "Even my nurses in the hospital knew to turn the TV on to him every night. It's nice to fall asleep with a smile on your face."
Bernier's breastfeeding post has gone viral since she shared it on Facebook on Sept. 7. She said she's not surprised that it has because it's "about the purest type of love."
"Moms say they would do anything for their child and I have had that opportunity to do so. I have done everything that I can to give her the best start in life," Bernier said. "I think because I see the good in everything, it reminds people that there are so many things to be grateful for."
Amanda's Angels, the support community friends started for Bernier and her husband, Chris, also set up a GoFundMe page for the couple. That effort has raised nearly $400,000 to help cover medical expenses and allow them to build a larger house that accommodates the medical equipment Bernier needs to receive care at home with her baby.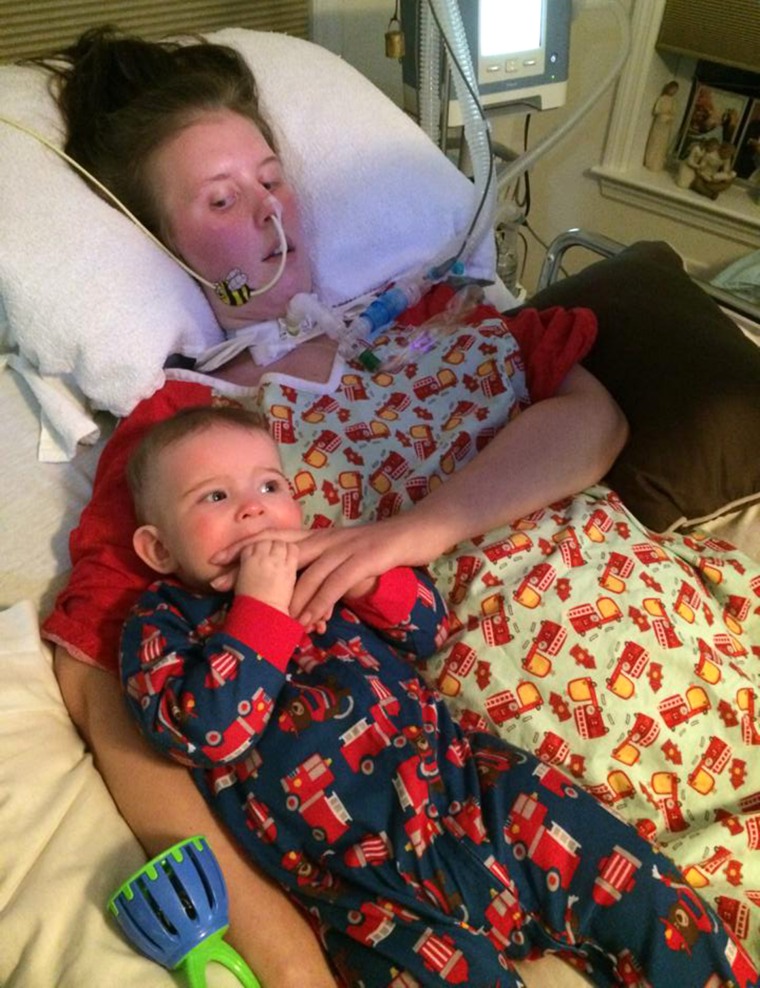 "The average out of pocket expense for an ALS patient is $300,000," Bernier said. "Being a young couple, there was no way we would be able to upgrade the house or pay for my medical bills."
Chris Bernier said he has been amazed by his wife's fortitude since her diagnosis.
"She has helped and inspired more people than we will ever know," Chris. "Throughout our journey we choose to focus on the positive of each day, as focusing on the negative isn't going to change the situation."
Bernier said she wants to focus on what she can leave behind: Memories for her daughter to cherish once she is no longer here.
"As difficult as it is to know that I am dying sooner than I would have liked, and that my daughter won't remember me, I came to terms with it after my diagnosis," she said. "There is no point for me to be upset every day. ... I enjoy each day, as it is a gift to be alive. I have tried to do as many things as I could think of to help Arabella know who I am."
Bernier has created scrapbooks and journals to leave behind for her daughter, as well as birthday cards and special notes for Arabella to receive on important days such as graduations and her wedding day. She's also prepared gifts for Arabella's first 21 Christmases.
While she's not sure how much time she has left, Bernier said she's thankful to have had the support necessary to give Arabella breast milk for as long as she needs it. She's also happy that her Facebook post has given other young mothers the necessary encouragement to continue breastfeeding.
"Anything is possible if you put your mind to it," Bernier said. "When it's getting tough, just remember that you have a special bond that only you and your baby have. Remember the love as you gaze into each other's eyes. Remember that you are helping their immunity and setting the foundation for a healthy body. And, if you don't make it to your goal, just think of all the positives you were able to do in the time you did breastfeed."